Looking for cheap but effective ways to update your home? Here are 10 amazing ideas to transform areas of your home with spray paint.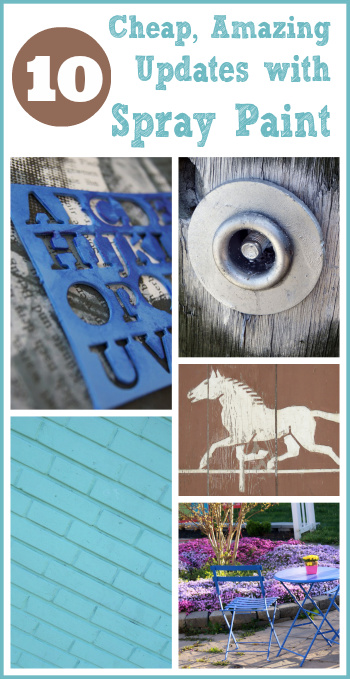 Note: This post was originally created for Cove Financial, however that site is now offline so I have moved the content over here.
Tired of looking at the same decor in your home and want to give it a makeover? Don't replace it. Repaint it! There's spray paint for almost any job and surface.
Doorknobs, hinges, and hardware 
Remove items and place them into foam blocks (this helps the doorknobs and hardware to stand up while painting them). Place a small amount of painter's tape into any locks before painting with Rust-Oleum® Universal® Paint and Primer in one – this amazing spray paint works on most surfaces including metal.
Glass vases, candlesticks, food jars and bottles
Spruce up your glass items, food jars and old bottles with spray paint for glass such as Rust-Oleum's Universal Paint and Primer in One or their Frosted Glass Paint. You can paint items in one color such as white or metallic, place painters tape around the top half of the item to block paint just the bottom half, or if your item has a flat surface, place a patterned decal or sticker and spray over the top with a color or frosted paint, and then once dry remove the sticker/decal. Tip: Spray with a light sweeping movement so that the paint doesn't run. You will need to do a few coats.
Picture frames
Whether they are wood or metal frames, you can spray paint all of your frames in one solid color by using a Universal spray such as the one listed above. Alternatively, paint them in complementary colors to make a collage of frames on your wall. Frames are also a great way to display your kid's artwork: paint a collection of frames in assorted sizes, leaving the back off. Place wire across the back and hang artwork using a small peg.
Terracotta and plastic pots
Try color blocking terracotta pots by covering the top half and just painting the bottom in a bright, vibrant color. Even plastic pots and urns can be painted so that they resemble stone pots (use Rust-Oleum Universal Hammered Spray Paint). You will need to apply 2-3 coats. There is also spray paint specifically for plastic available if you just want to change the color. Tip: If you are placing pots outdoors, make sure to spray with an outdoor sealer.
Chandeliers, light fittings, ceiling fans and lamp bases
Give your light fixtures, ceiling fans and lamps a pop of color with a Universal Spray such as the one listed above. Alternatively, soften their look by spraying them in a muted white.
Stained furniture
Spruce up finished side tables and chairs with a light translucent coat of Design Master® Home Decor Stain.
Stencils
You can add a quick design, saying, or patterns to just about anything with stencils. Place a stencil over a plain cushion and spray it with fabric spray paint, over a window and spray it with frosted spray paint, or on wood surfaces and spray with a stain or pop of color.
Outdoor metal table and chairs
Give your old worn out metal table and chairs a pop of color with Krylon® Rust Protector, which is available in a number of colors and finishes. Before painting, use a wire brush to remove any built up rust, then sand down until smooth.
Upholstery
Did you know you can spray paint fabric? There are fabric spray paints available. Chairs need a makeover? Spray them. Cushions, fabric headboards and placemats? Spray them all. Tip: You will need 3-4 light coats, depending on the color you are using and the color/patterns of the fabric being painted.
Upcycle children's toys
Spray paint animal figures and dinosaurs. Glue them to mason jar lids for creative storage, cut them in half and attach them to walls for fun hooks, or cut a section out of them and plant a succulent or two inside.
Here are a couple of projects I've done with spray paint: