This baby shower is inspired by Mo Willems book, The Pigeon Needs a Bath. You'll find hand-painted onesies, brunch ideas, a diaper cake, and more.
Disclosure: This post was sponsored by Disney-Hyperion Books. #ThePigeonParty
Mo Willems latest book The Pigeon Needs a Bath! hit stores on April 1st.
Host a book-themed baby shower centered around this book for a mommy-to-be with these tips and ideas.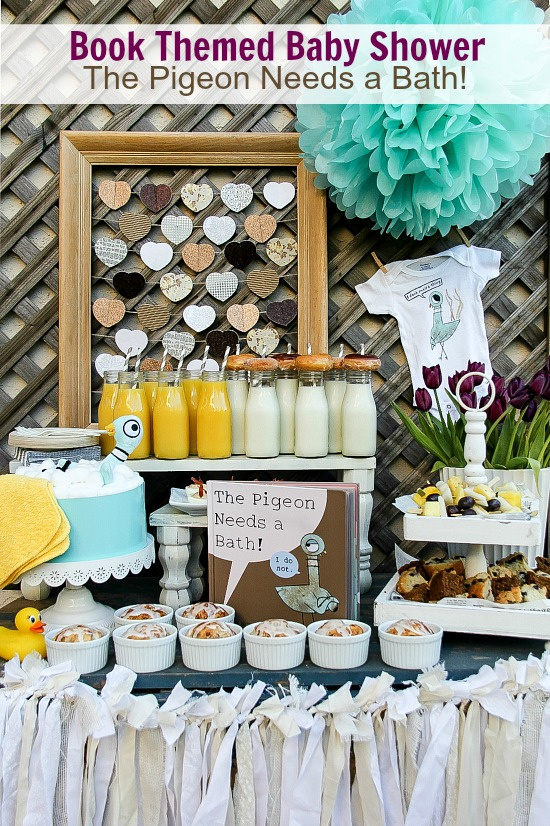 A book themed baby shower is a great way to introduce your favorite children's book author to your friends and family. Here are some ideas for getting the guests involved and to keep gift giving and activities simple.
Baby shower activity:

Buy plain onesies or plain t-shirts in assorted sizes and have the guests hand-paint a scene from a book, or fun sayings from the book onto the clothing with fabric paint. We have a sample for you below.

Baby shower gifts:

Give the guests an electronic list of items available to purchase around the book or author – for example, toys, other books in the series, or clothing. We also show you below how to make a diaper cake.
Decorations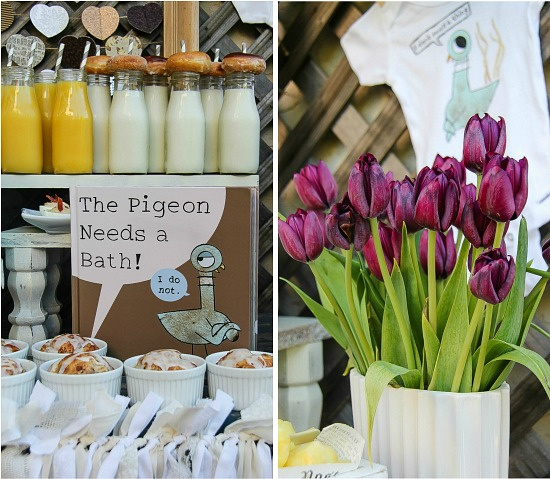 Party table decorations don't need to be expensive. Use what you already have if you can. 
Aqua pom-pom
Heart frame – using a staple gun, I transformed a thrift store frame that I had used previously and attached twine with a staple gun, and then hearts cut out of scraps of card stock with hot glue.  This makes for a simple, and color-neutral piece that you can use time and again.
Fabric backdrop – this is actually a new piece that was sent to me for this party and was made by an Etsy artist Chelsea from Twine with a Twist. I'm seriously in love with it and although I didn't use it for a photo backdrop, which is what it is intended for, it made a fantastic table skirt for this particular party table.
Flowers – fresh flowers will bring a beautiful pop of color and scent to every baby shower party table.
Baby gifts
Diaper cake
This The Pigeon Needs a Bath! diaper cake is simple to make. Using a round cake tin (fit the size to your cake stand if you plan on using one to display your diaper cake), roll diapers and place them inside making sure to fill all gaps until they are tight. Tie a piece of rope around the diaper cake before removing it from the cake tin. Cut and wrap card stock around the diaper cake securing the ends with double-sided tape. Pop The Pigeon soft toy into the top of the cake with his little feet sticking out as if he's in the bath. Place cotton balls around the top for bubbles and add in a face washer and rubber duck.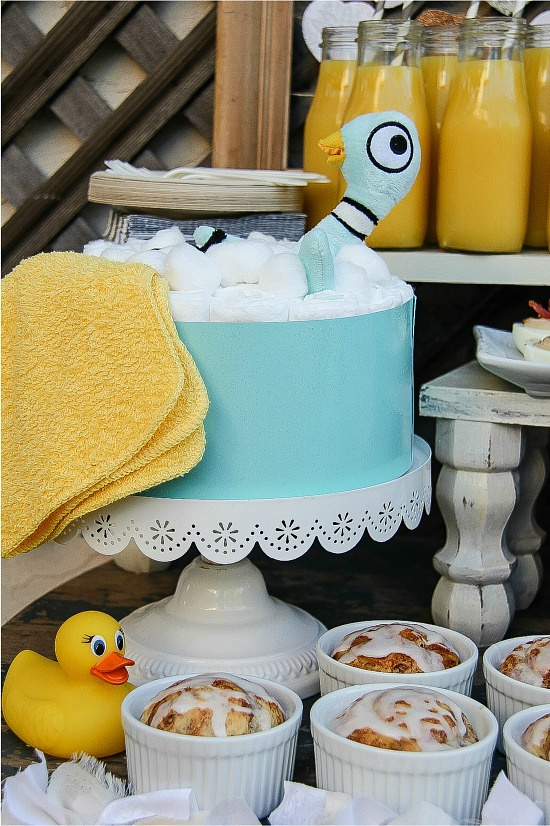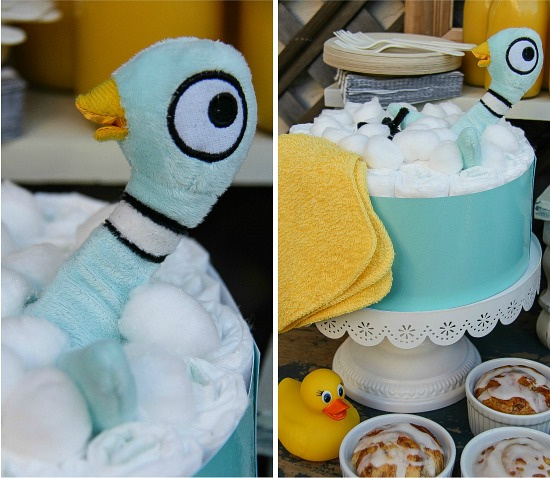 Hand-painted onesie
Sketch your design onto a piece of parchment paper (or tracing paper). Turn the paper over and sketch over the design. Turn the paper over again, this time placing it onto the onesie and trace over it once more transferring the image onto the onesie. Using fabric paint and a fine brush paint your design using fabric paint. You'll probably need to do two coats.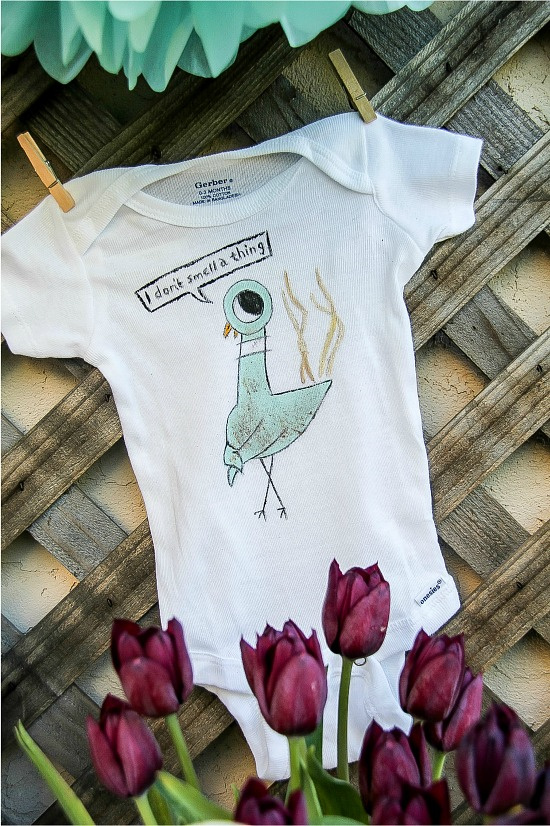 Baby shower food
I went with a brunch-style theme for this baby shower.
Cinnamon Roll French Toast Casserole: You can find my recipe for Cinnamon Roll French Toast Casserole here. Separate the mixture into ramekins before baking.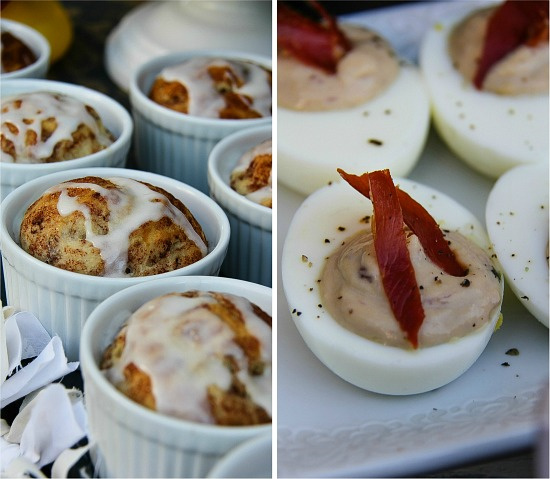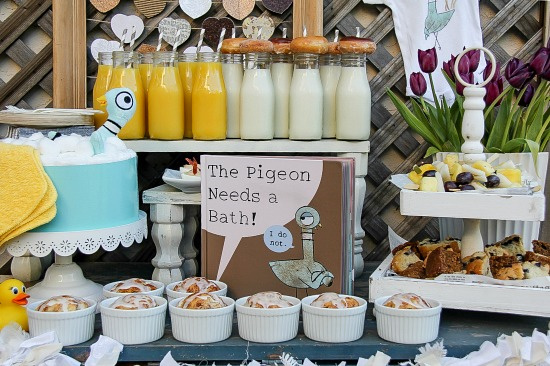 Ingredients
6 eggs hard-boiled - remove egg yolks after slicing in half.
6 tablespoons Elli Quark Plain
3 teaspoons fig jam
Salt and pepper to taste
Prosciutto
Instructions
Preheat ovens 350F
Line a baking sheet with foil or parchment
Lay prosciutto flat on tray
Bake 12 to 15 minutes until crispy being careful not to burn
Combine yolks with Elli Quark Plain and fig jam and mix until smooth
Pipe mixture back into egg white halves and garnish with crispy prosciutto
Recipe: by Tonya Staab tonyastaab.com
This recipe was provided to me by Elli Quark.
Beverages: I kept it simple with pineapple-orange juice and milk in bottles with straws. I topped the milk bottles with mini doughnuts.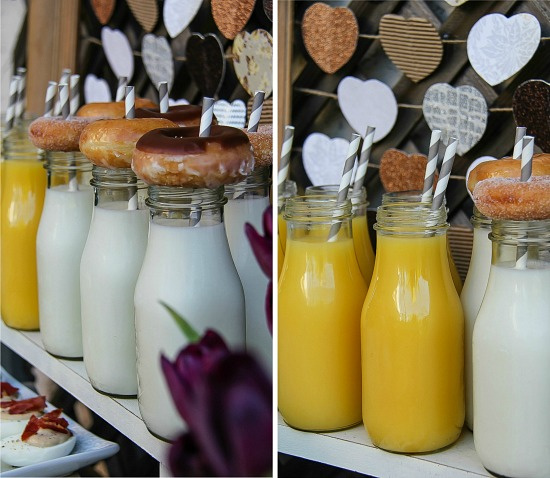 You could also set up a tea and coffee station with assorted herbal and breakfast teas along with a pot of fresh coffee.
Mini Muffins and Fresh Fruit: In a two-tiered tray I cut up assorted large muffins to make them bite-sized pieces in the lower tray. In the upper tray, I added pineapple, jicama, and grapes onto mini skewers.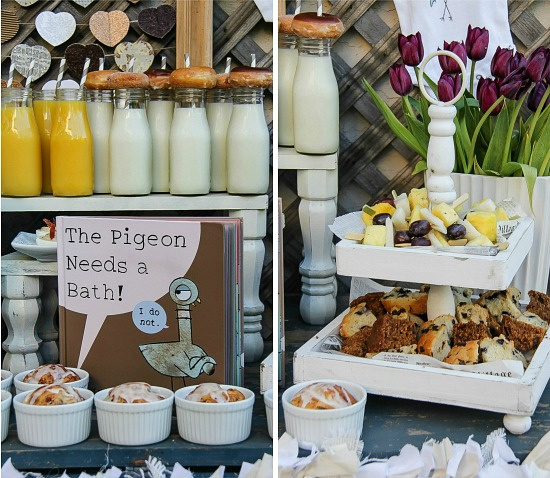 This simple party theme is sure to be loved by baby shower guests and the mommy-to-be.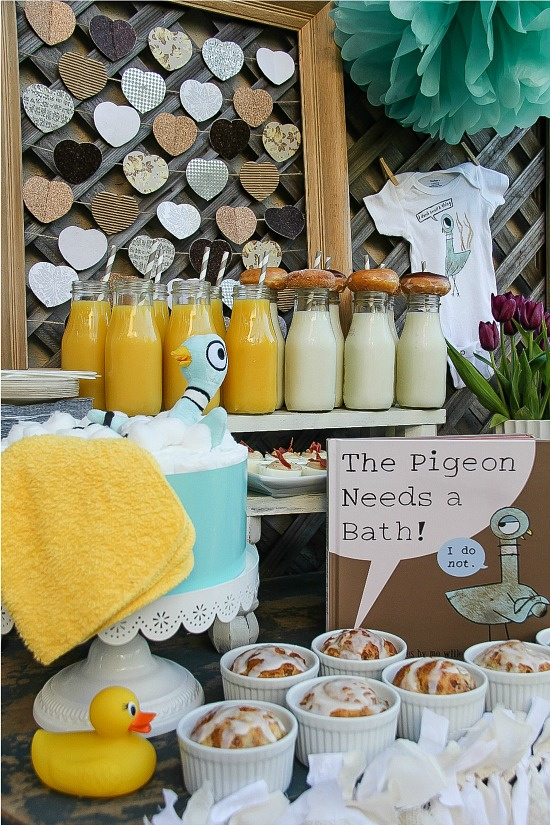 About Mo Willems
Mo Willems, a number one New York Times best-selling author and illustrator, has been awarded a Caldecott Honor on three occasions (for Don't Let the Pigeon Drive the Bus!, Knuffle Bunny: A Cautionary Tale, and Knuffle Bunny Too: A Case of Mistaken Identity). Don't Let the Pigeon Drive the Bus! was also an inaugural inductee into the Indies Choice Picture Book Hall of Fame. And his celebrated Elephant & Piggie early-reader series has been awarded the Theodor Seuss Geisel Medal on two occasions (for There Is a Bird on Your Head! and Are You Ready to Play Outside?) as well as three Honors (for We Are in a Book!, I Broke My Trunk!, and Let's Go for a Drive!). Other favorites include Naked Mole Rat Gets Dressed and City Dog, Country Frog, illustrated by Jon J Muth. Mo lives in Massachusetts with his family.
In this latest book, The Pigeon Needs a Bath! the Pigeon really needs a bath! Except, the Pigeon's not so sure about that. Besides, he took a bath last month! Maybe. It's going to take some serious convincing to try and get the Pigeon to take the plunge.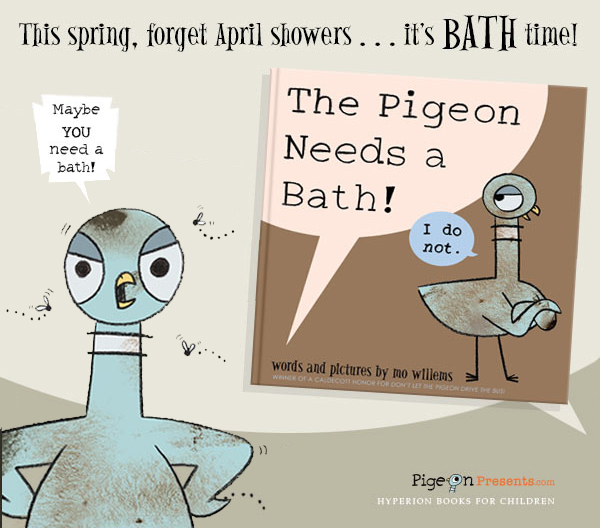 Please pin this post for later: