This delicious Citrus Chicken Taco Bowl recipe is quick and easy to make and perfect for Taco Tuesday or a busy weeknight.
My love of tacos is strong, but my love of food bowls is stronger lately. Food bowls are the perfect way to use leftovers, to meal prep for lunches, and to reduce or eliminate the amount of gluten in meals, such as tacos.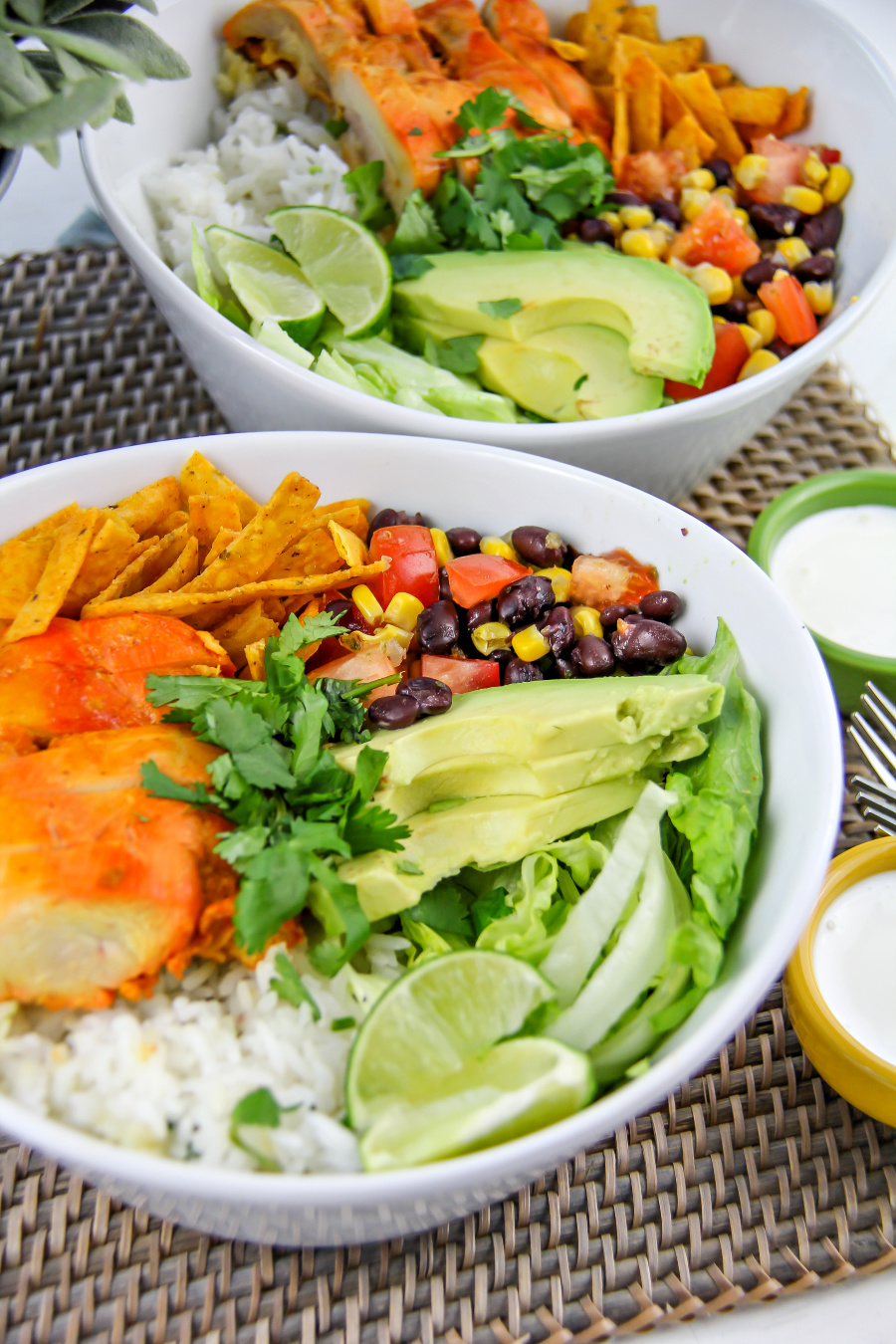 Do you shop at Aldi? I shop at a number of different grocery stores depending on what I need, but Aldi is one of my favorites. In the meat department, they sell citrus chicken thighs that have become a staple in our house. For about $6 there's enough for two nights when we use them in tacos, burritos, or bowls.
Ingredients for a taco bowl
There are so many different ways you can make these chicken taco bowls, here are just a few ingredients you can add:
Salsa – from a jar or homemade
Fresh produce: lettuce, tomato, avocado, red onion, bell peppers, sweet peppers, jalapeno or serrano chilis, lime, cilantro
Rice – Mexican, citrus, or plain rice
Beans – black beans or refried beans
Tortilla chips
Guacamole
Shredded cheese
Mexican crema or sour cream
Change your protein – use chicken, shrimp, or beef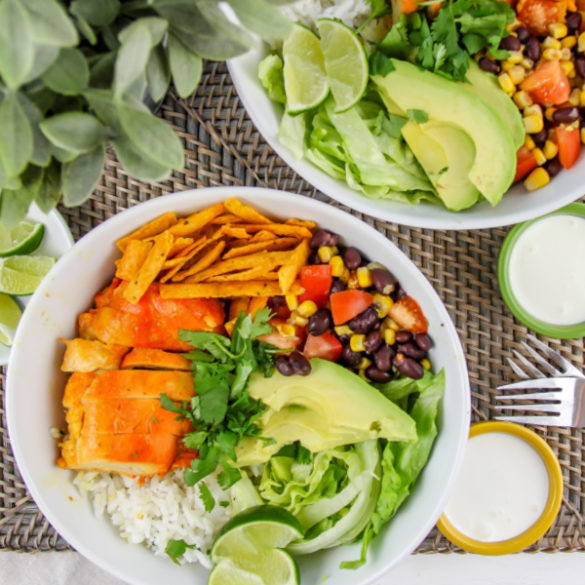 Ingredients
Citrus chicken thighs
Long-grain white rice
Cilantro
Lime
Avocado
1 can black beans (drained and rinsed)
1 cup chopped tomato
1 can Mexicorn or Southwest corn
Lettuce
Mexican crema
Tortilla strips
Instructions
Cook your rice in a rice cooker.
Grill or pan-fry the chicken. I prefer to pan-fry this chicken over medium-high heat with a little oil until both sides are slightly browned, then I turn the heat down, pop a lid over the pan and simmer for about 15 minutes, it keeps the chicken juicy.
Once your rice is cooked, transfer to a bowl and add in the juice of one lime, lime zest from that lime, and 1 tbs chopped cilantro per cup of rice.
Combine the corn with fresh tomato and black beans in a bowl
Add all ingredients to a bowl and serve with Mexican crema and lime wedges on the side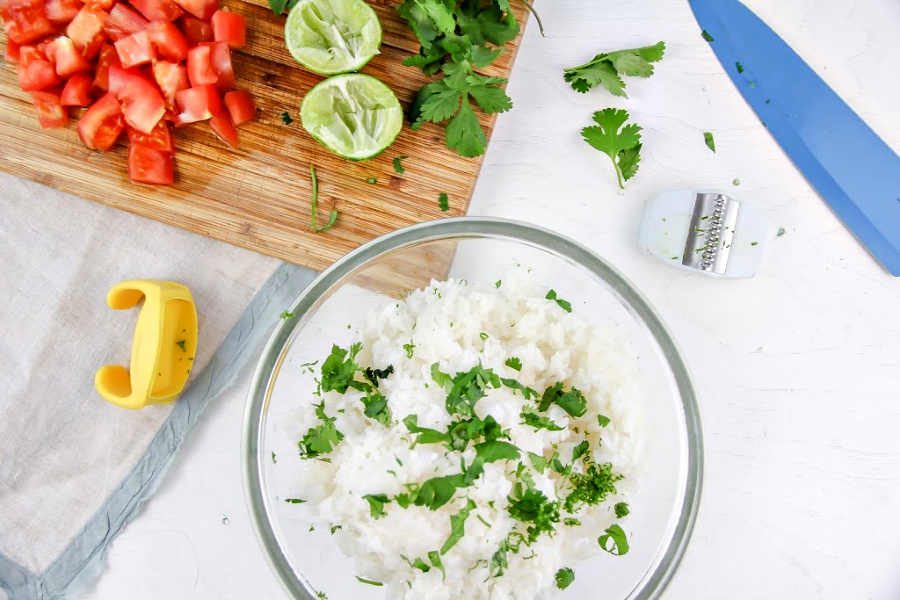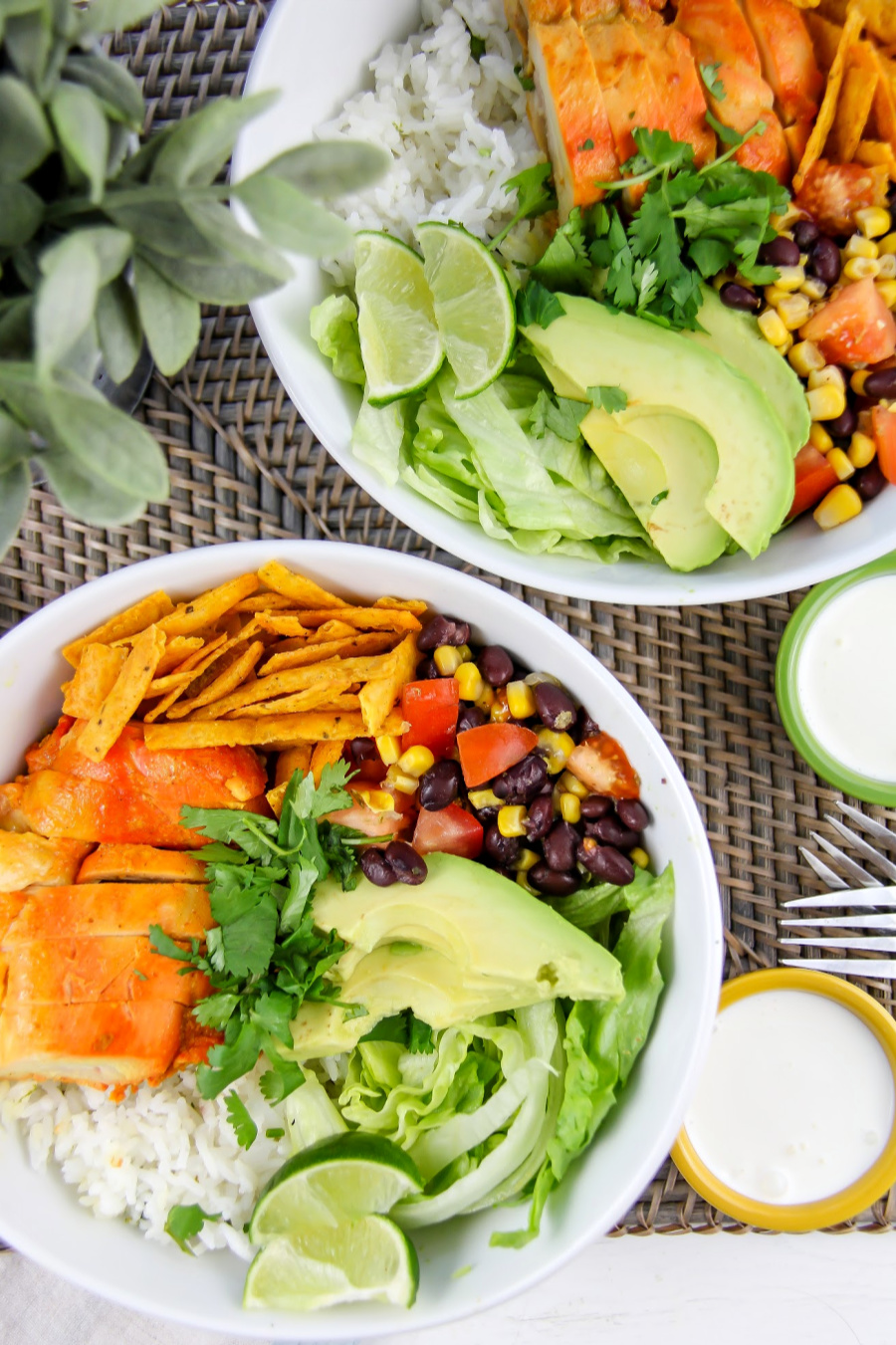 Looking for more delicious food bowl recipes? Take a look at these:
Please pin this post for later: