This ground turkey and cabbage stir fry recipe served with rice and peanuts is the perfect quick and easy weeknight dinner idea.
One night during the week I made Wonky Wonderful's Banked Ranch Pork Chops for dinner with mashed potatoes and cabbage with cooked apple slices on the side. It was delicious. It also meant I had leftover cabbage that needed to be used. I'm trying so hard to not be wasteful of fresh produce.
So, a few days ago I decided to make a stirfry using it. Flynn is finally eating rice (hooray), so I've been able to make more dishes with rice lately.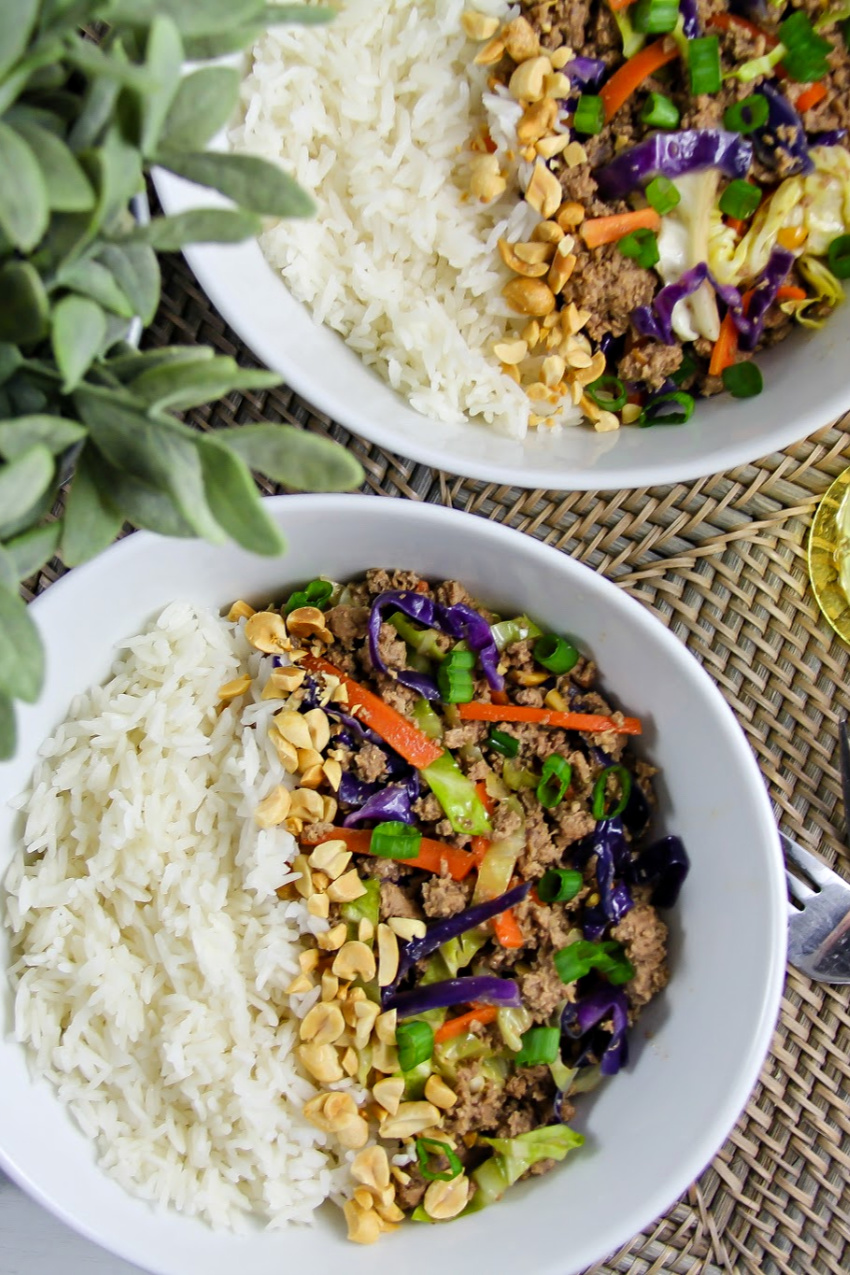 The best part is there were leftovers for lunch the following day for both Jay and I. Just make sure to add the chopped peanuts after you've reheated your leftovers.
Ground turkey and cabbage stir fry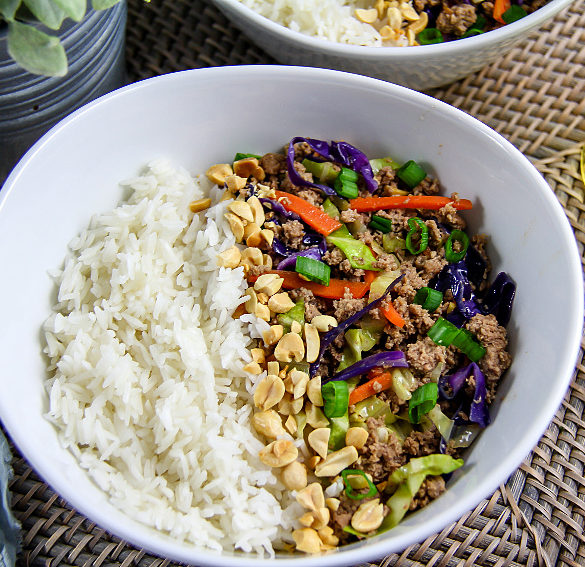 Ingredients
3 lbs ground turkey
2 cups green cabbage
2 cups red cabbage
1 carrot (cut into small sticks)
1 tbs chopped ginger
1 tbs crushed garlic
1/4 cup soy sauce (gluten-free if making this a gluten-free dish)
2 tbs sesame oil
1 tbs rice vinegar (I use Mizkan Natural Rice Vinegar)
3/4 cup chicken broth
1 tsp onion powder
2 green onions (garnish - green part only)
chopped peanuts (garnish)
Instructions
If serving with rice, get that cooking in a pot or rice cooker so your whole meal is ready at the same time.
Heat the sesame oil in a pan. Once hot add the ground turkey, cooking it until it's browned.
Add the ginger, garlic, and onion powder, stirring until combined.
Combine the chicken broth, rice vinegar, and soy sauce in a small jug and pour over the turkey, stirring until combined. Turn the heat down to medium-high.
Toss in the red and green cabbage and carrots. After stirring to combine, turn the heat down to simmer until the cabbage is cooked and rice is done.
Serve rice in one side of the bowl, stir fry in the other, and garnish with chopped peanuts and green onions.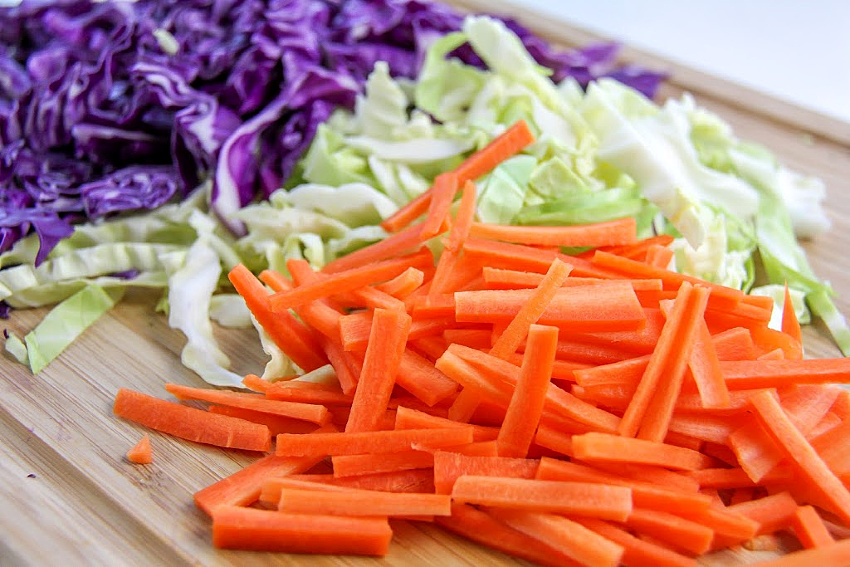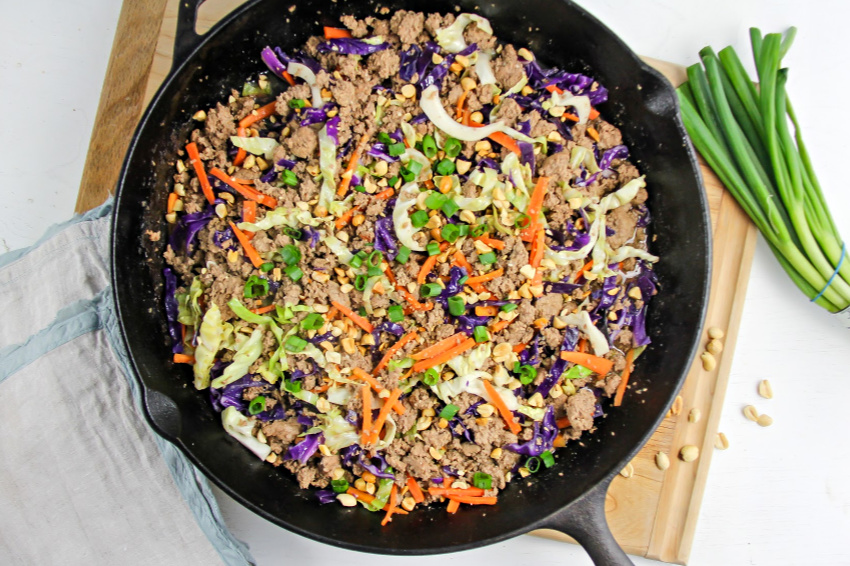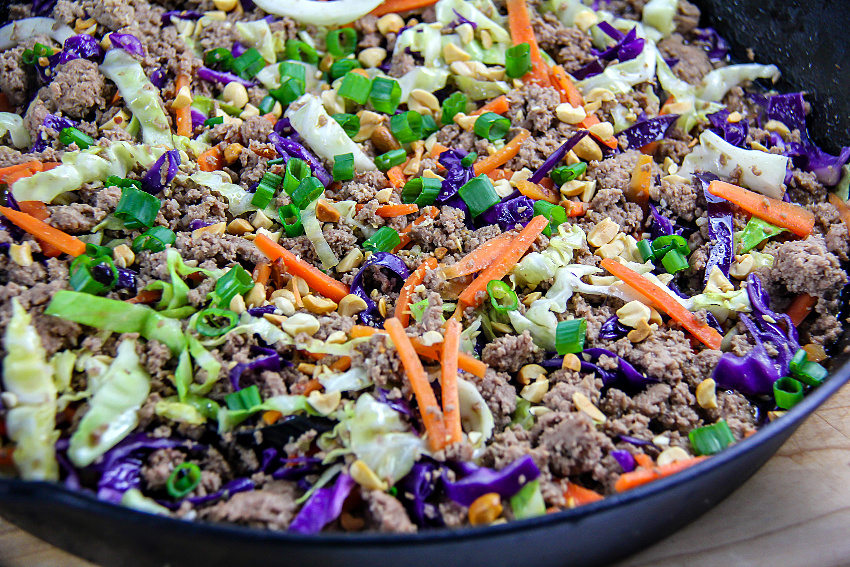 Looking for more delicious bowl food recipes? Try these:
Please pin this post for later: