How to put together an emergency comfort kit for kids.
Disclosure: I am being compensated for my role as Community Leader in the Horizon Healthy Families Back to School Community.
Recently the twins' teacher sent home a note asking us to prepare an emergency comfort kit for our children.  These kits are placed in a large barrel in each classroom and used in the event that there is an emergency at the school. I thought this was such a fabulous idea that I wanted to share it with you, especially in the wake of numerous tornadoes, hurricanes, emergency lockdowns in schools and earthquakes.
School Emergency Comfort Kit
This is the little man's kit. Miss M has one that is very similar.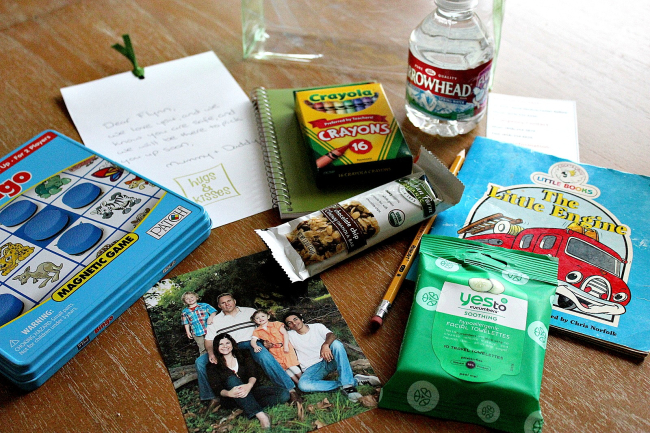 EMERGENCY COMFORT KIT FOR SCHOOL
Each kit contains:
Family photograph

Travel game

Book

Emergency contact card: allergies, medications, Dr's number, our phone numbers

Wipes

Water bottle

Granola Bar

Notepad with pencil and crayons

Letter from mummy and daddy
They suggested using a 1-gallon clear zip-lock bag for these, however, I used some clear zipped bags that had once contained body wash and lotions.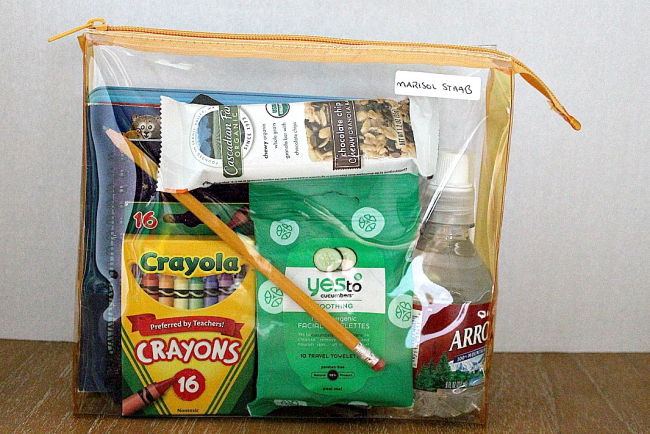 I plan on making two more of these kits for the home that we can take with us when we have emergency room visits.
EMERGENCY COMFORT KIT
If you did not hear, little man was attacked by a dog 2 weeks ago.  It pulled him over our fence while he was talking to the little girl who lives next door and mauled him.  He had claw marks across the side of his head, down his back, a graze across his stomach from the fence, a large scrape on one leg and his arm had been bitten quite severely.   This happened right as a blackout occurred in San Diego.  The local fire crew were the closest to us and came by within minutes, helped secure the bite and gave us a ride to the emergency room in their fire truck.  Unfortunately, emergency service crews were incredibly busy due to the massive blackout.   Of course, the hospital was without power too and was using back-up generators to help critical patients and those on respirators.  They were unable to operate on Flynn that evening and after about 5 hours in the hospital, we went home to sleep for a few while we waited for the power to come back.  Thankfully by 6am, we were able to head back in there to meet with the plastic surgeon.  He needed to have a few stitches in his head and have the bites in his arm stitched together (the bites stretched over halfway around his arm and required stitching inside as well as externally).
The point of all of that rambling is that in the chaos of calling 911 and getting to the emergency room I didn't have time to pack up a kit of things to entertain Flynn at the hospital while we waited.  I wish I had a small kit that I could just grab as I run out the door.  So this is what I will be putting into a home kit:
HOME EMERGENCY KIT FOR KIDS
Travel Game

Book

Change of clothes

Notepad with crayons and pencil

Coloring book or work book

Snack (for once your child is able to eat again)

Water (again for once hospital staff allow your child to drink)

Tissues (travel pack)

Wipes

Comfort toy
Let me explain why I suggest some of these items.
Clothing: The fireman had to cut Flynn's Shirt, he was covered in blood and missing a shoe when we got to the hospital.  That is how he then had to leave the hospital and spend his five hours there.  Seeing all of the blood upset him.  I wished I had a change of clothes for him so he did not have to see that.
Activities: During the blackout, we also had no cell phone reception and could not charge phones, this meant that Flynn couldn't even play games on my phone because I needed to conserve the battery in the event the power returned and I could make calls, he also couldn't talk to other family members.  To say that he was bored and needed distraction is an understatement.
Tissues and wipes:  As you can imagine there were a lot of tears shed, he was also covered in dirt so to have been able to clean him up a little would have been wonderful.
POWER OUTAGE KIT
For a few years, I have kept a power outage kit stocked at home.  This kit contains:
Flashlight (for each family member)

Candles

Batteries

Portable DVD player with a spare battery (that is charged) & DVD's

Lighter

Lightsticks (for the kids)
LIVE CHAT TONIGHT
From 6pm-7pm PST Ewa, Cat and I will be hosting a live chat in the Horizon Dairy Community discussing organizing ideas.  We would love for you to join us and share your tips for organizing your family.
If you cannot make it to our chat tonight there will be another chat on the 22nd of September 6pm-7pm PST where we will be discussing Fun Fall Activities to do with your Kids.  Join us that evening and you could win an iPad 2.
Please pin this post for later: