Do you want to set up a mid-afternoon treat table for dad for Father's Day? He'll love this one with his favorite treats.
Disclosure: We were provided with a gift card from Baskin-Robbins.
This party table, especially for dad, takes little time to set up, and will be loved by everyone.
Father's Day afternoon tea
Afternoon tea is a light mid-afternoon meal I grew up with. We would always serve a couple of sweet treats (often cake or cookies) with tea or coffee.
All you need for this table are a couple of treats that dad loves, his favorite beverage, and handmade gifts or cards from the kids.
For this afternoon tea party table, I served chocolate chip cookies and a Baskin-Robbins Father's Day ice cream cake, along with iced coffee.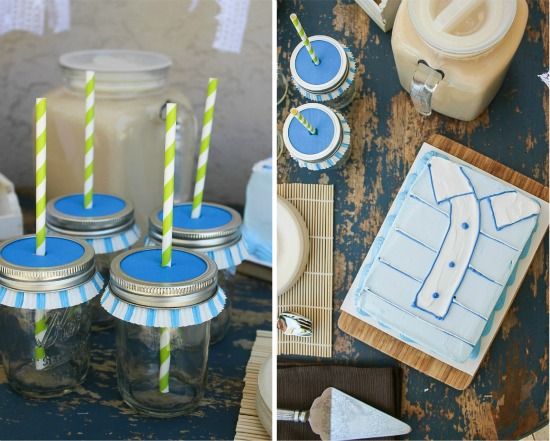 Canning jars are perfect for serving beverages. You can dress them up a little by placing large baking cups on top of the glass before screwing on the metal band (I purchased these blue and white ones at Ikea).
Adding baking cups to canning jars keeps bugs at bay, especially if you are entertaining outdoors. You can purchase custom metal lids that have a hole in the center for popping straws in, but if you don't have those, baking cups are a great alternative.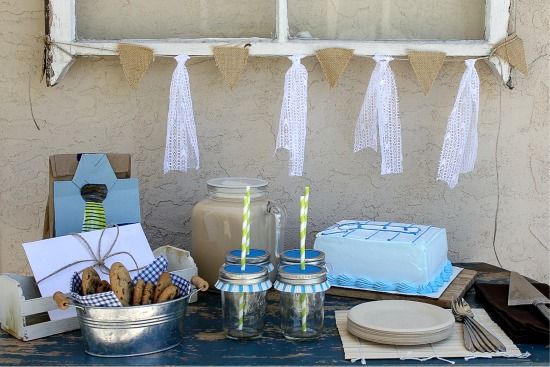 The banner hanging below the window in the photo above is something I have on hand for all parties. It takes just a few minutes to take the ribbon off and replace it with another color. You might remember it from my recent Despicable Me 2 party table where I used purple tulle. The main banner is a piece of twine with burlap triangles attached to it with hot glue.
Do you have special plans for dad tomorrow?
More Father's Day afternoon tea ideas
Are you looking for more delicious ideas for Father's Day? Take a look at these:
Please pin this post for later