Are you wondering what to make for Father's Day brunch or breakfast? We've got delicious ideas including this muffin and fruit grazing board.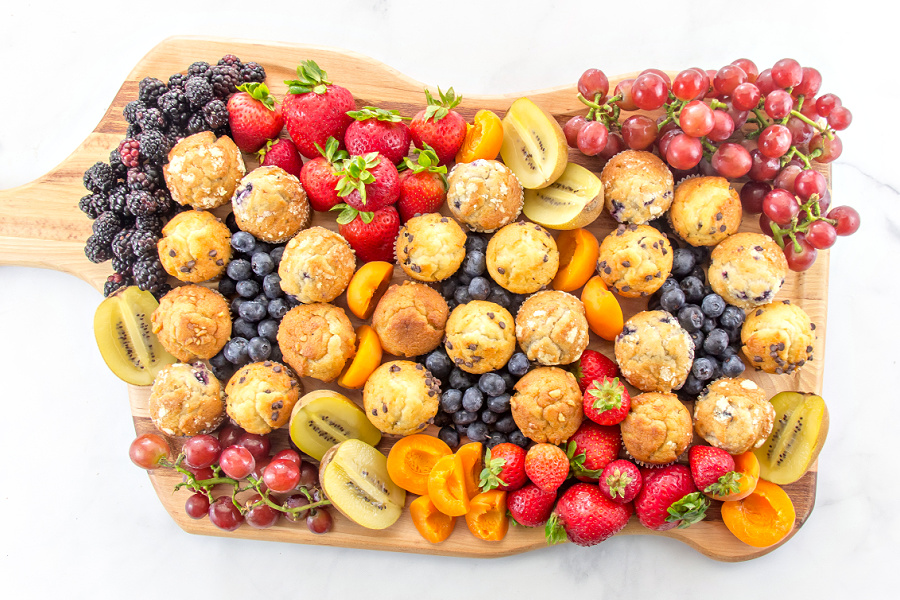 Father's Day brunch grazing board
Our grandkids are obsessed with brunch and mini muffins. I was going to spell out POPS on the board but there wasn't enough room so I settled for DAD. This was the perfect way to kick off our Father's Day brunch with them while we continued preparing hot food. This is what we included on our fruit and muffin board:
Mini muffins – we put out an assortment of chocolate chip, banana nut, and blueberry
Fresh fruit – we added apricots, grapes, blueberries, strawberries, blackberries, and golden kiwi fruit
Here are some more ideas for you:
More fruit options – orange slices, pineapple, melon, passion fruit, apple slices, raspberries
Hardboiled eggs
Mini cinnamon rolls
Mini bagels
Donuts
The hot dishes we also prepared included scrambled eggs, biscuits, bacon, and sausage, which we served with mimosas and coffee.
More brunch grazing board ideas
Are you looking for more delicious brunch grazing board ideas for Father's Day? Take a look at these:
Please pin this post for later