This grilled mac and cheese with bacon sandwich is perfect for busy weeknights and weekend fun and will be loved by kids (and big kids too).
Disclosure: This is a sponsored conversation written by me on behalf of Horizon Organic. The opinions and text are mine.
Grilled cheese, mac & cheese, and bacon are staple shopping items and go-to quick and easy meals in our house.
So I decided to combine them all into a yummy on the go meal, because often, as parents, we are busy shuttling kids from one thing to another, and I don't know about you, but we are sometimes out over times we would normally be eating a meal.
So I give you the Grilled Mac & Cheese with Bacon Sandwich.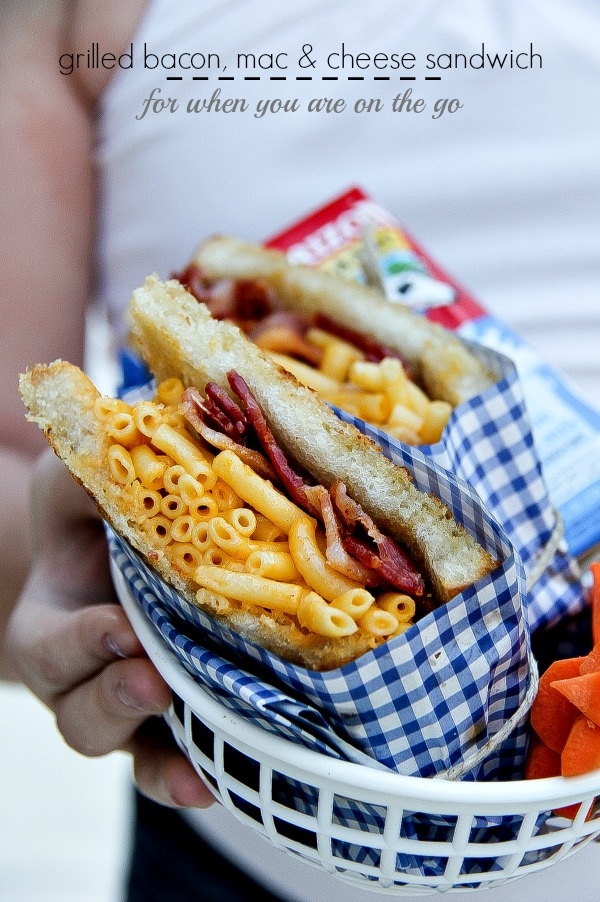 One of the great things about this sandwich is you can whip it up in under 20 minutes, wrap it, pop it into a container with carrots and milk and jump in the car. No drive-thru required.
These are so quick and easy to make, and of course delicious.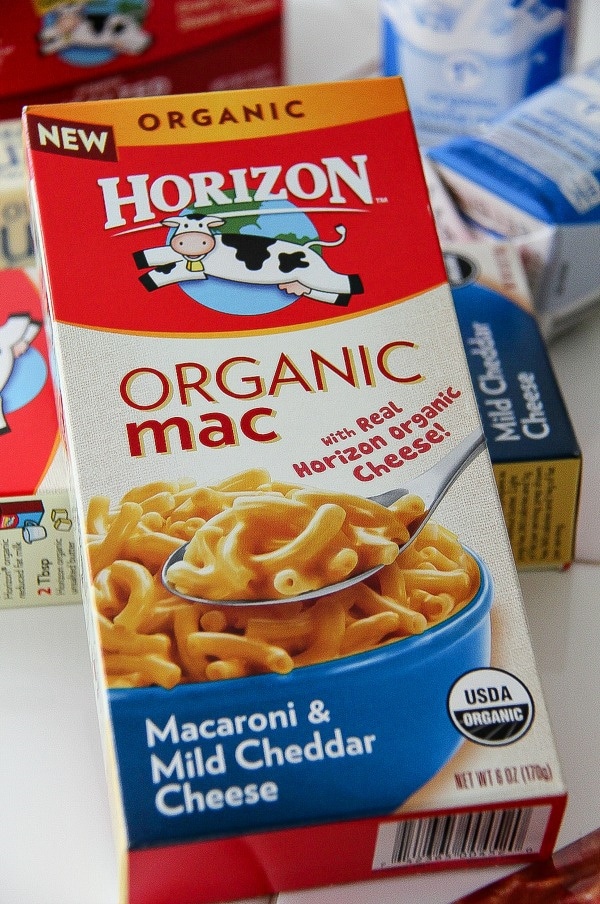 I did cook the bacon in small batches because I knew the kids wouldn't let me make and photograph the dish without jumping up and down demanding bacon immediately.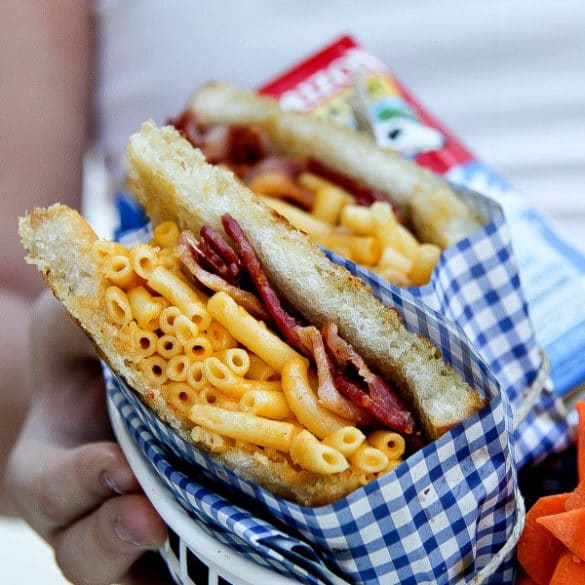 Ingredients
1 box Horizon Organic Macaroni & Mild Cheddar Cheese
1/4 cup Horizon Organic Reduced Fat Milk
2 tbs + 1tbs extra Horizon Organic Unsalted Butter
3 pieces of bacon per sandwich
2 slices of sourdough bread per sandwich
Sides:
1 Horizon Organic Lowfat Plain Milk Box
Carrot Sticks
Instructions
Turn on a couple of hot plates - one to grill the bacon, and another to boil the water for the mac & cheese.  
While the water is boiling and the bacon is grilling cut up your carrots.
Butter your bread.
Immediately after the mac & cheese and bacon are cooked, place bread butter side down on the grill for a couple of minutes.
Top one non-grilled side with mac & cheese and bacon and then place the top on.
Slice on a diagonal with a sharp knife ... don't forget to pick up all of the little bits of mac & cheese that fall out and eat them before the kids see.
Wrap your sandwich up in parchment paper - this will help keep the mac & cheese contained in the sandwich and not all over the person eating it.
Recipe: by Tonya Staab tonyastaab.com
One box of mac & cheese will make approximately 5 sandwiches - depending on the size of the bread you use and how much filling you add.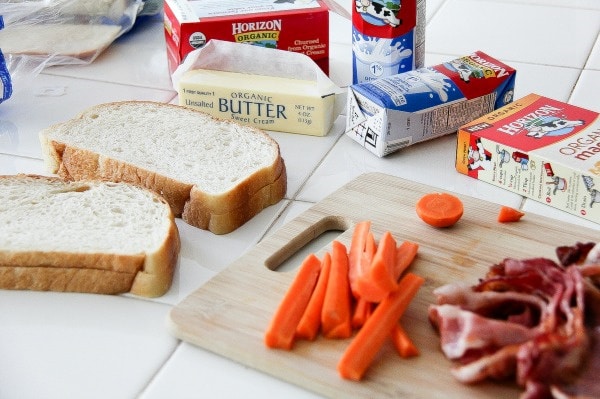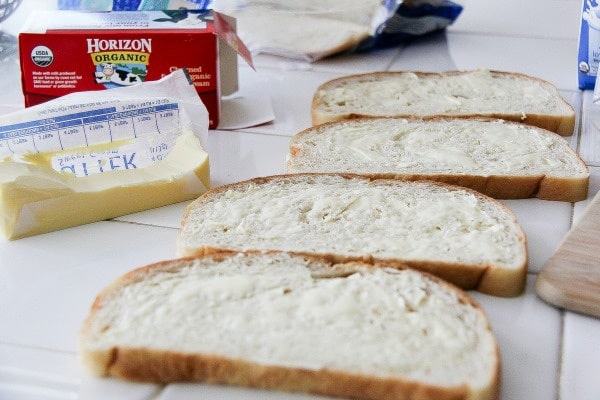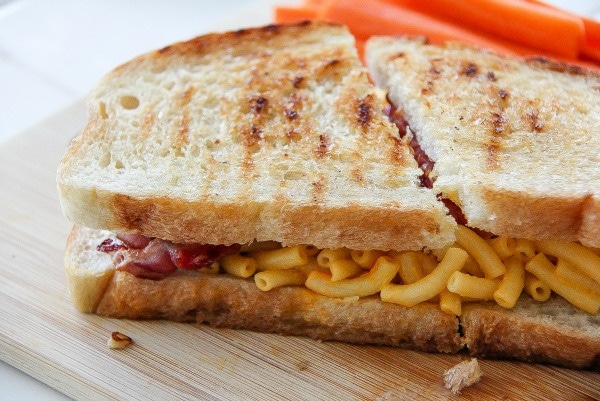 Place the sandwich into a container with carrot sticks and a milk box and away you go. Don't forget a napkin.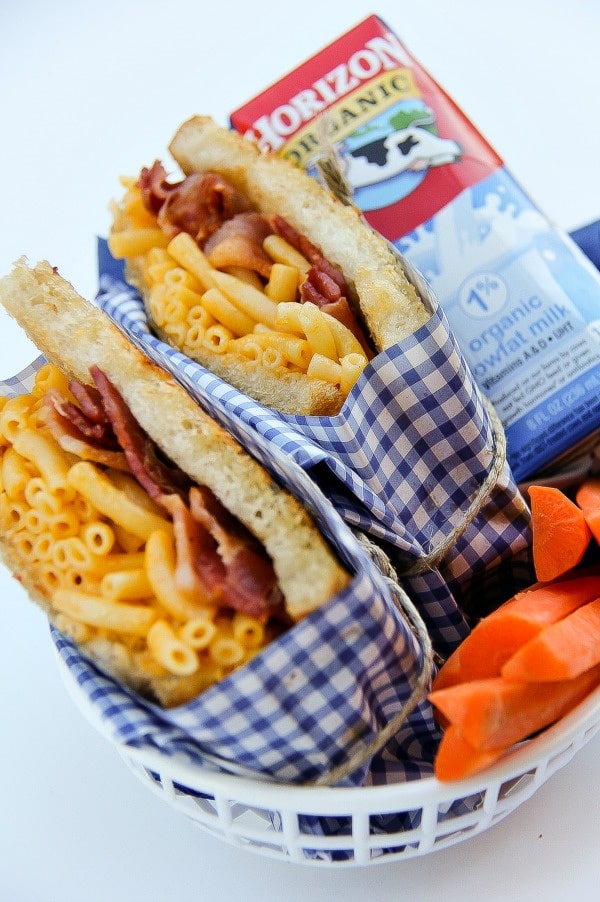 Want more delicious Horizon Mac & Cheese recipes?
Click on over to the Horizon MAC-N-ATOR, the mac-n-cheese recipe generator where you can input simple ingredients you already have at home and the MAC-N-ATOR will generate a mac & cheese recipe for you using Horizon Mac & Cheese. Also check out the MAC-N-ATOR on Pinterest.
Please pin this post for later: