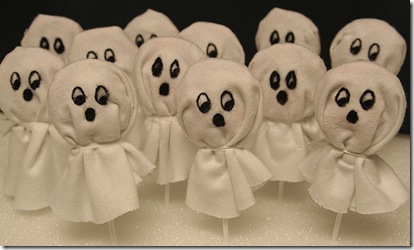 These cute little guys are so easy to make.
Grab your favorite lollipops (suckers).  I found these great ones at Oriental Trading for $6.49 per dozen.  What I liked about these are they are 2", which makes them just a little larger than the standard lollipops you would find at your grocery store, and they have a Halloween theme.
I used a large bowl to draw a circle on some white fabric.  Cut out the circles and draped them over each lollipop tying it on with white ribbon.  Using a Sharpie, I added the eyes and mouth.