These ghost sandwiches are perfect for kids this Halloween. Serve them at your Halloween party, or put them in their lunch box for school.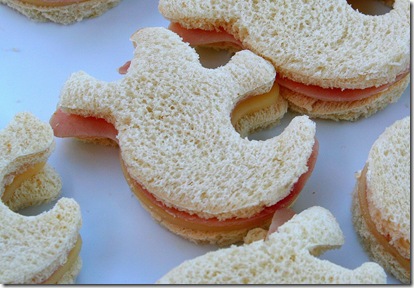 Ghost sandwiches
Supplies
Ghost shape cookie cutter
Your favorite bread – white, whole wheat, gluten-free etc.
Filling for your sandwiches
Edible candy eyes, sliced olives, or a food writer pen (optional)
Sandwich filling ideas for shaped sandwiches
Ham, turkey, or chicken with cheese
Nutella
Chicken salad
Peanut butter and jelly
Egg salad
Cucumber cream cheese
Turkey and cranberry sauce
Instructions
Using the ghost shape cookie cutter, cut out two slices of bread for each sandwich.
Put your filling on top of one slice of bread, and then add your second slice of bread on top.
If you want to add eyes to your ghost sandwiches, then use edible candy eyes, sliced olives, or a food writer pen.
Note: If you are not going to serve these right away, cover them with cling wrap and put them into the refrigerator until you are ready to serve them. If you don't do this, the bread will dry out and get hard.
Tip: Don't throw out the excess bread, use it to make croutons, breadcrumbs, or stuffing for your holiday meals.
More Halloween food ideas for kids
Are you looking for more fun food ideas for the kids this Halloween? You need to take a look at these:
Please pin this post for later: