Did you know that you can use styrofoam cones to make styrofoam Christmas trees to decorate your home this holiday season? We show you how.
Note: This craft project was originally created for the holiday craft, sew, and bake along at According to Kelly, however, that website is currently offline.
Styrofoam cones make fabulous Christmas tree decorations for the holiday season and there are endless possibilities on what you can attach to them. Here are six ideas to get you started.
Styrofoam Christmas trees
1st tree
Using Red Heart boutique Doodle Yarn in Aqua and Lime attach an end to the styrofoam cone with a small sequin pin and then wrap tightly around, securing the end with a sequin pin too. Repeat for the next color.
2nd tree
Attach an assortment of buttons to the styrofoam cone with pins.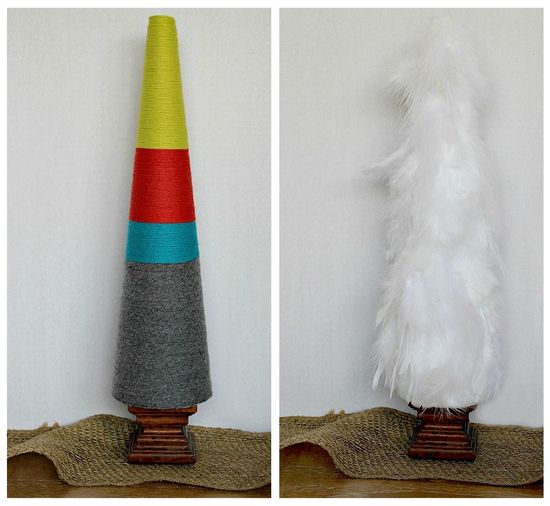 3rd tree
Choose an assortment of yarn colors, as many or as few as you like, and wind them very tightly around the tree securing the ends of each color with pins. For this tree, I used Impeccable Loops & Thread yarn in True Gray, Rouge, Aqua, and Grass.
4th tree
Feathers, feathers, and more feathers. Packets of plain feathers at Michael's craft stores are $1.99 a pack. It took two packets to fill this cone. Secure feathers using pins.
It doesn't get more sparkly than sequins and glitter.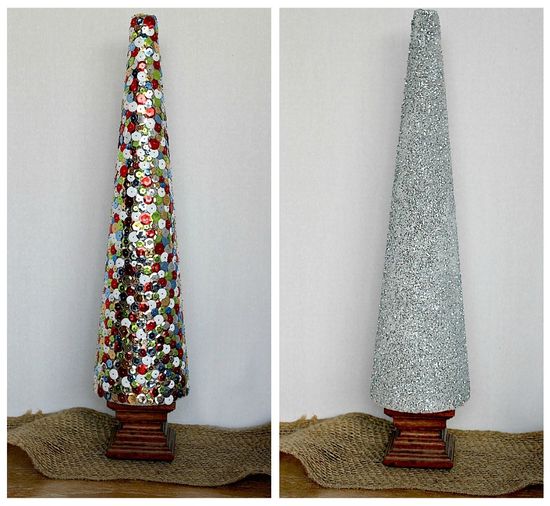 5th tree
Secure an assortment of sequins in different sizes and colors with sequin pins.
6th tree
Using a brush and Elmer's school glue, brush glue over the styrofoam cone in sections and pour glitter over the top. Once dry spray on a sealant.
Kids will have a great time coming up with ideas on how to decorate their styrofoam cones. 
More styrofoam Christmas tree ideas
Here are more ideas for decorating your styrofoam cone for Christmas:
Attach paper leaves.
Attach beautiful scrapbook paper using mod podge.
Pom Poms – try using green with the occasional red one
Tinsel – wrap it around similar to the Doodle Yarn
Scrunched tissue paper
Felt – either cut out felt leaves, or wrap a sheet of felt around the cone and attach felt balls
Tip: Put your finished trees on top of candlesticks or small pots.
Are you looking for more fun Christmas crafts? Take a look at these:
Please pin this post for later: