For a month or two Miss M had a loose tooth.  I took her in for a dental check-up before school went back and the dentist told her about the importance of the tooth coming out.  She refused to wiggle it, pull it, and barely even let us look at it.  She had convinced herself it was going to hurt too much if it came out, despite the fact that the new tooth had already broken the surface behind it a couple of weeks ago. 
Yesterday, I finally convinced her to pull it out.  It didn't hurt a bit, it was more than ready to come out.  The first thing she requested was a tooth fairy pillow for her bed so the tooth fairy would know where to find her tooth and leave her money. 
So last night, with her sitting beside me, we made a little tooth fairy pillow.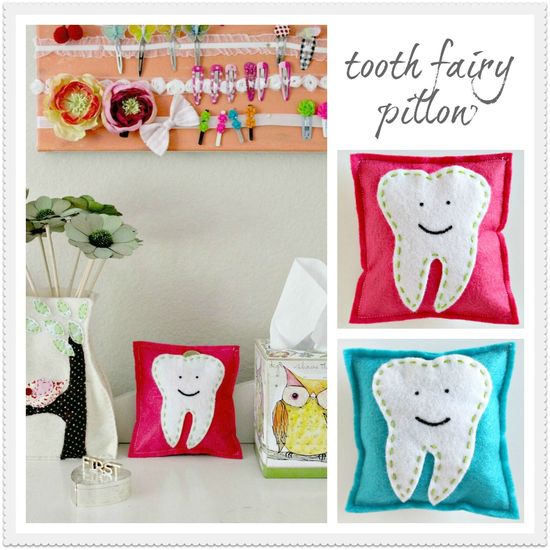 Of course the little man wanted one too.  These were sewn together in about 30 minutes.  It helped that I already had the felt teeth pre-cut from a felt creation board I had made for the kids a couple of years ago.
To make:
Cut 2 felt squares.
Cut out a tooth shape in white felt, and draw facial features on with a permanent marker.
Hand stitch the tooth to the front square using embroidery thread.  Leave a gap of about 1 – 1 1/2 inches at the very top of the tooth where you will stitch just the tooth, but won't stitch the tooth to the felt square.  This is so the tooth and money can be slipped inside.
Sew three sides of the squares together using a regular straight stitch on your sewing machine.  Fill with stuffing, then sew the last side together. 
Done!
I have heard a lot of discussion recently about the amount the tooth fairy is paying these days.  She gives one gold $1 coin in our house.  What does she give your kids?