Ever since moving into our house last year I have complained, and complained, about the lack of pantry space in my kitchen.  We only have one tall narrow cupboard for food, and to say that we could not find anything is an understatement.   So when I was issued a challenge to create something fabulous with Plaid's new Martha Stewart Glass Paint, I immediately knew what I wanted to do.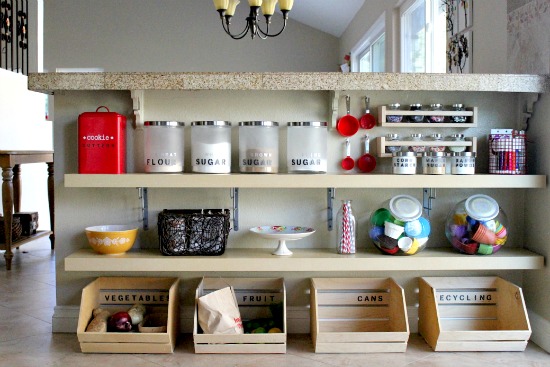 Doesn't it look pretty?  I just love my new kitchen storage space.
I purchased shelves and brackets and had my husband mount them under our breakfast bar.  We had never once used the breakfast bar as anything more than storage.  We didn't have seating there, and it had quickly become the dumping ground for school work, shopping, my bag, keys, and anything else that happened to find it's way on there.  Our dining room is on the other side of it so naturally we eat all of our meals there.
Once I had an idea of how much space I had to work with I headed out shopping for the perfect storage containers.   I had decided this space would be primarily used for my baking supplies, but I also had a set of wood crates that I had purchased on clearance quite a while ago at Michael's that I could finally put to use for fruit, vegetables, can collecting, and general recycling.
Armed with my new Martha Stewart Glass Paint, stencils, and tools, along with a dining room table full of containers, I set to work labeling everything I could.
The Martha Stewart Glass Paints are so easy to use, in fact I ended up using them (along with the stencils) on glass containers, metal, and wood.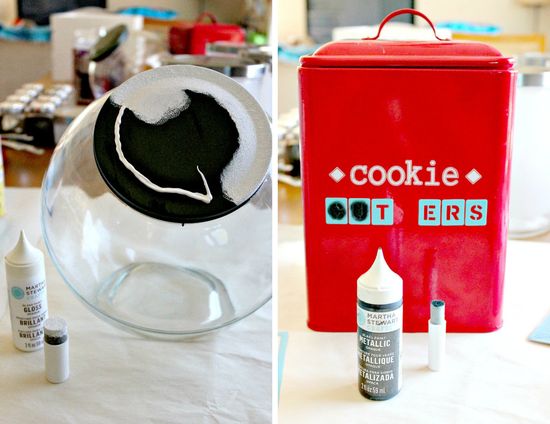 This project required these items:
Martha Stewart Glass Paint – Yellow Jacket Frost, Wedding Cake Gloss, Sterling Metallic, and Black Nickel Metallic
Martha Stewart Adhesive Stencils – Bold Sans Alphabet
Martha Stewart Stenciling Tools – pouncers in 3 sizes
rubbing alcohol
You simply clean the item being painted with rubbing alcohol, and then attach the adhesive stencil exactly where you want to paint it.  The stencils can be repositioned over, and over again.  Apply paint using the pouncer, using a different size depending on the stencil size.
As you can see in the image above I was missing one letter on the cookie cutter tin as there is only one of each letter per packet.  Simply paint the letter first, remove and reposition to paint it a second time.  Ensure there is no paint on the back of the stencil before sticking it down in a new spot.
Clean both the stencils and pouncers immediately after use.
You can cure some items in the oven, however I've chosen to use the 21 day air dry method.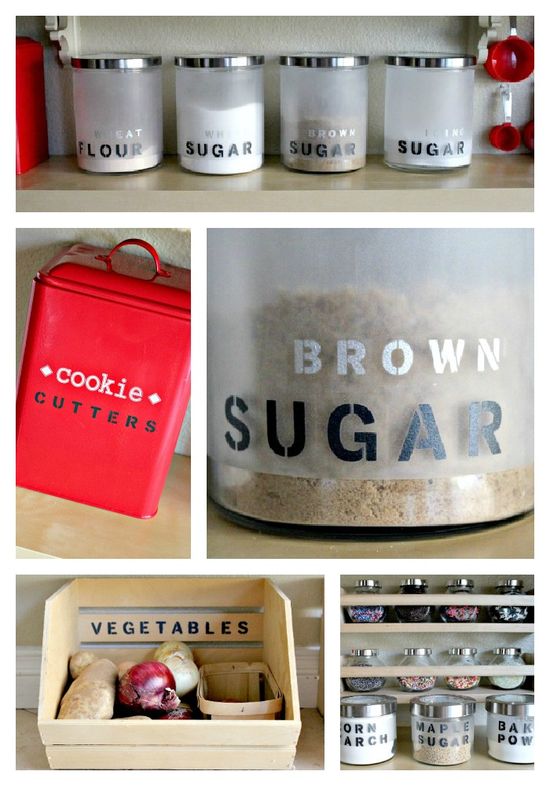 I love how the frosted glass jars turned out.  You can purchase Martha Stewart Glass Paint Frost, but these jars were already frosted so I simply used two different colors (Sterling Metallic and Black Nickel Metallic glass paint) to paint the labels on each.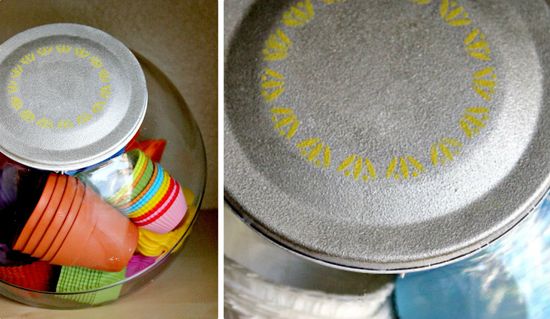 The two large glass containers above were part of my amazing thrift store haul.  One contains my silicone baking cups, the other, the paper ones.  Unfortunately though they had a horrid dark green and black marbled metal lid.   I began by applying a coat of Wedding Cake Gloss Paint, once dry I applied a layer of Sterling Metallic Paint, then using one of the pretty stencils that came with the letters, I created a lovely design on each lid with two coats of the Yellow Jacket Frost Paint.
These amazing glass paints are available at Michael's.
Looking for even more ideas on fabulous things you can do with Plaid's new Martha Stewart Glass Paint? 
Keep up-to-date with all things creative with Plaid Crafts here:
Disclosure: This post was written as part of a paid campaign with Plaid Crafts ~Martha Stewart Glass Paints and Blueprint Social.
AS SEEN ON:

DIY Network … Remodelaholic