This easy tutorial for a DIY dog bed will have you making a comfy bed for your best friend for $20 in 30 minutes with tips for the best fabric to use.
Disclosure: This post was sponsored by Supreme Source® as part of an Ambassador Program for Influence Central and all opinions expressed in my post are my own.
I recently shared 5 simple ways to keep your dog happy and healthy where our sidekick, Sparky, took part in the Supreme Source 10-day detox. He's feeling much healthier, and happier since doing this. He's loving the change in his food, and the extra attention from the kids, who took part in the 'fun' side of the detox trying to teach him new tricks, introducing him to new toys to keep him active, and giving him extra love.
And, as promised in my last post I would come back to share an easy dog bed tutorial too. So, here I am! I wanted him to have something a little special to celebrate the end of his detox, but also, he likes to chew things. He claims he's just always hungry, or trying to bury a ball, but we've lost rain boots, bedding, cushions, couches, and more to his antics. I've resigned myself to the fact that we just won't have nice things until the pets are gone, and the kids have grown and moved out. And, I'm okay with that.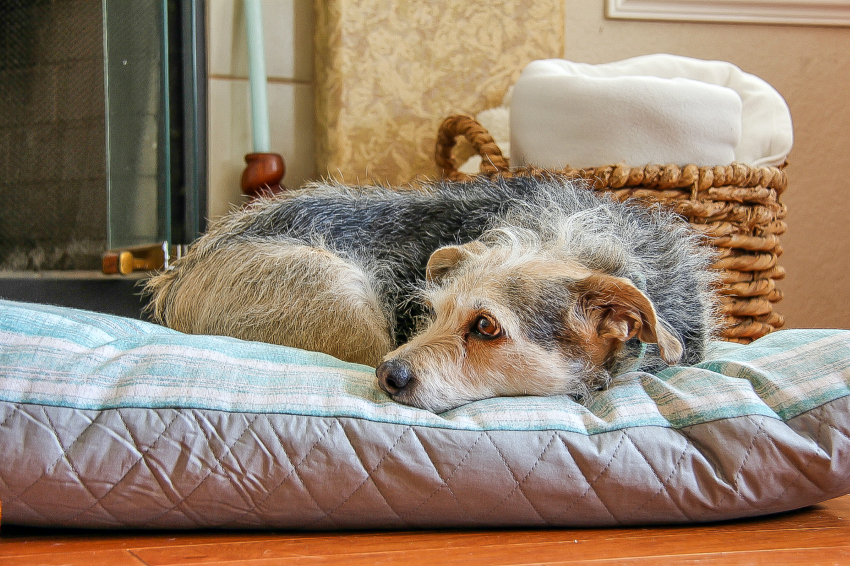 But, before we get into your rewarding your dog for completing their 10-day Supreme Source® detox, let's talk a little more about making our best friend happier and healthier.
The detox focuses on digestive, emotional and physical health benefits, and in just ten days your dog can be eating better. And, what better time to start than spring. It's the perfect time to tidy up the toxins that have outstayed their welcome from winter.
During the detox, you make a gradual change of your dog's food, so it's not an instant change from the food they've been used to having to an entirely new brand. You start by switching out just a portion of their regular food with Supreme Source® and then incorporate a fun activity that day too.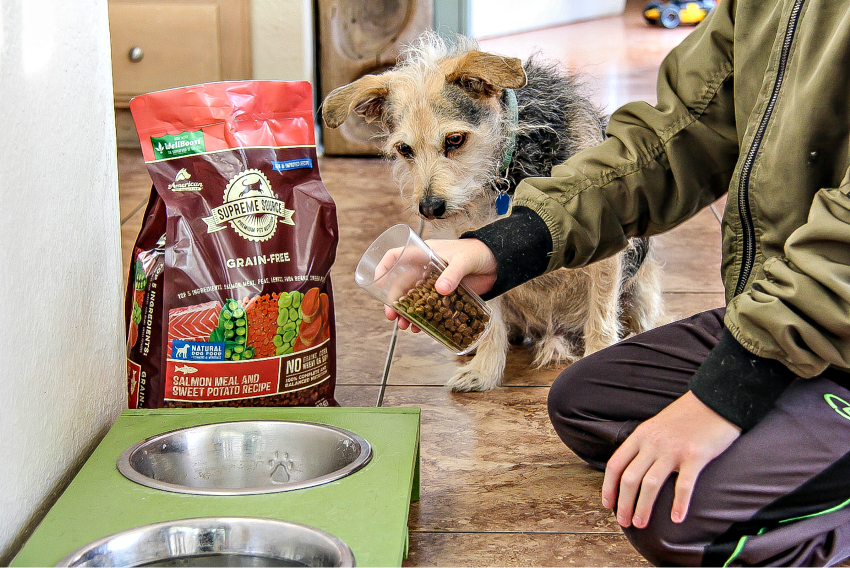 Sparky especially loved the activity where we hid a handful of Supreme Source® Grain Free Turkey Treats around the yard and let him look for them. It was like watching the kids on Easter morning looking for eggs.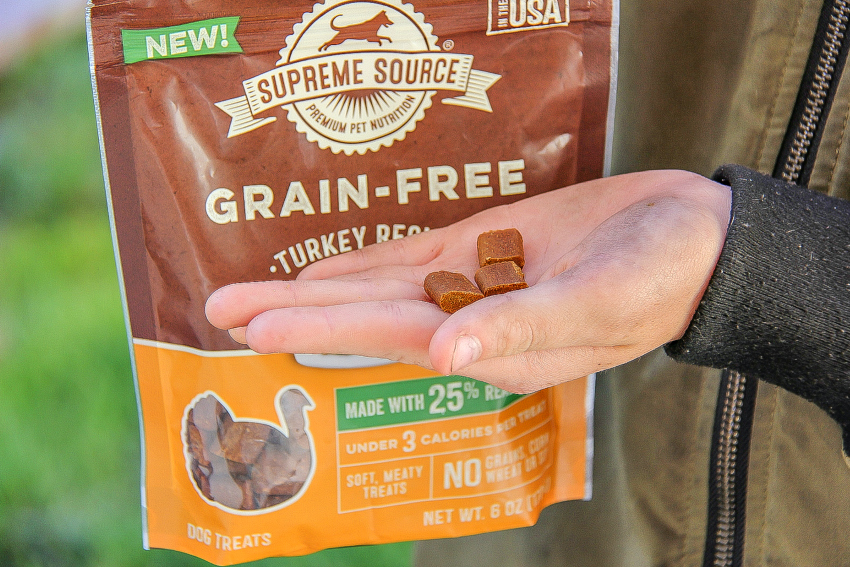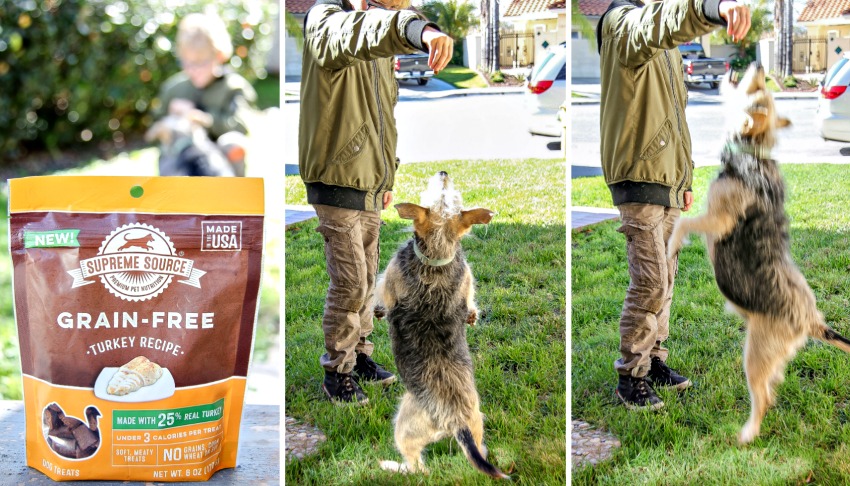 We found our Supreme Source® Salmon Meal & Sweet Potato Recipe Dog Food at our local Albertson's in the pet food aisle. Check the store locator on the Supreme Source® Pet Food website to find a store close to you that sells it.
Supreme Source® Pet Food is a premium grain-free (no corn, wheat, or soy) dog food, that's packed with healthy enzymes and prebiotics to cleanse and rejuvenate them inside and out. It also contains no artificial flavors or colors. What it does contain is a healthy blend of fruits and veggies, which are natural sources of potassium, fiber, vitamins, and minerals.
Improve your pet's mind, body, and soul in just ten days. Start your pet's 10-day detox today, This spring, visit www.superfoodswitch.com for a coupon to save on your first bag of Supreme Source® pet food and to sign up for daily emails with tips and instructions to a better relationship with your pet.
Watch the video below for a little peek into a typical day for Sparky.
Now, let's talk about rewarding your pet at the end of the detox with something special. As I mentioned in my last post, at night, Sparky sleeps in his crate. It's stopped a lot of the accidents and chewing during the night, which makes all of us (including him) a lot happier.
We started off with a reasonably expensive dog bed in there, which over time he chewed into tiny little pieces that he'd leave remnants of all over the house. Then he chewed a hole in Flynn's comforter while we were on vacation (I think he was punishing us for leaving him), so that became his new dog bed in the crate. Well, little pieces of that have slowly been making their way all over the house too, so it was time to replace that as well.
This dog bed takes about 30 minutes to make, and cost $20 in materials.  And, he loves it! The best part is that it fits perfectly in the crate, but can also be pulled out so he can be near me while I work in my office because he likes to follow me wherever I am throughout the day.
If you have a dog that likes to chew and dig (like ours does), then you want to go for a heavier fabric. You can buy utility fabric or rip-stop fabric. I ended up going with an outdoor furniture fabric (which is still fairly heavy duty) for the top of the bed, and ironing board fabric for the bottom, which is quilted, and thick, making it softer, but also easier to repair if he does tear it.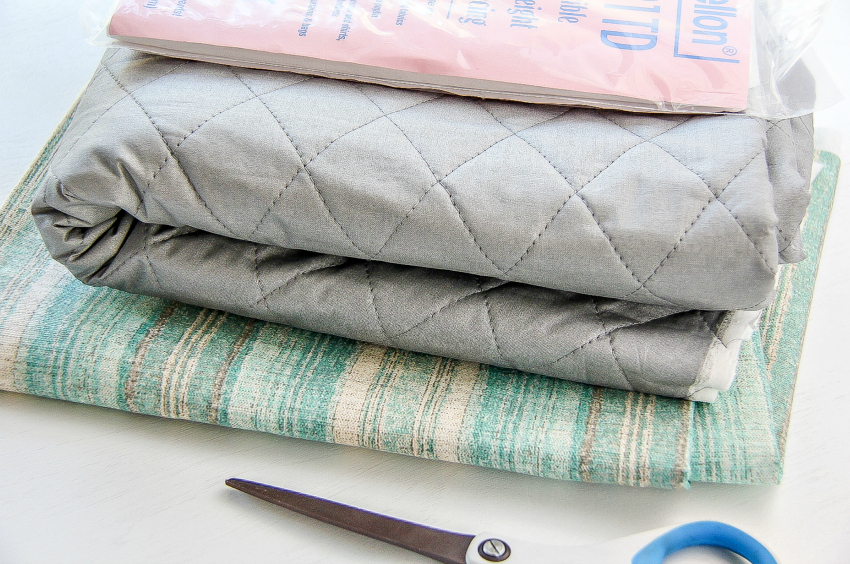 For the filling, I actually used the filling from the comforter he'd been pulling apart, mostly because I hate the thought of throwing things away and am always looking for a way to upcycle, but also because I knew it would be a familiar smell and feel for him.
What You Need To Make A Dog Bed For A Crate
Heavy-duty fabric – such as rip-stop, utility fabric, or outdoor furniture fabric
Fusible interfacing – recommended if you want extra strength if using outdoor furniture fabric
Filling
Sewing machine
Scissors
The first step to making your dog a new bed is if you are putting it into a crate you need to measure it. I added an extra 3 inches to both the width and length to accommodate for sewing, and also for the filling. Cut both pieces of fabric (your top and bottom) to size.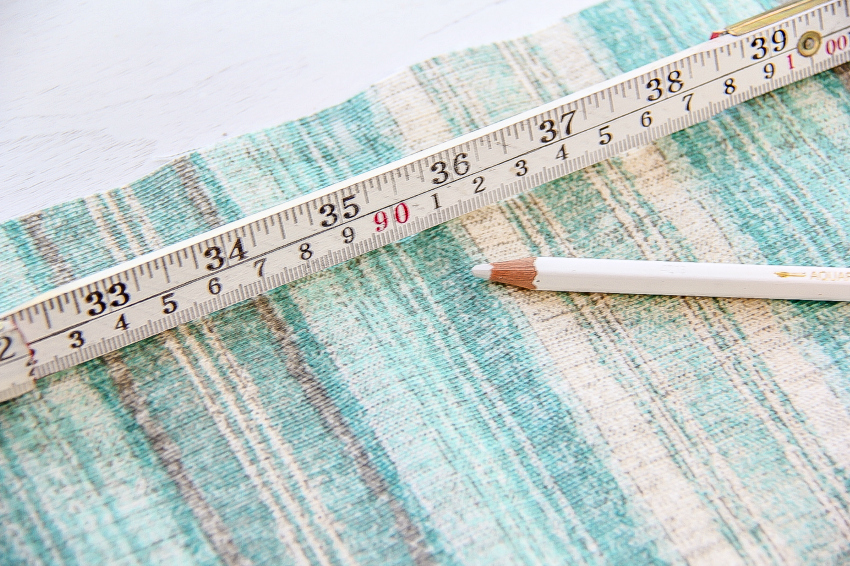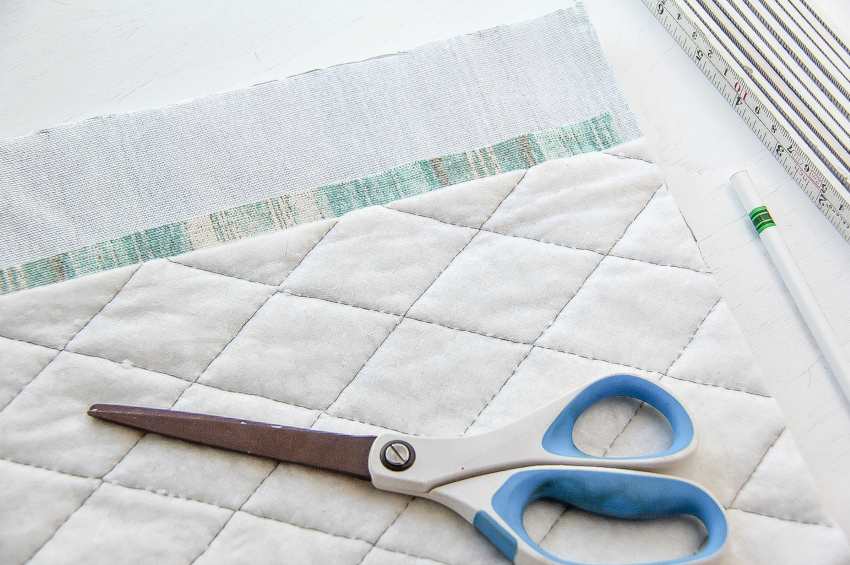 I wanted to add a little more strength to the top of the bed, because that's more likely where he will chew or dig, so I ironed a piece of fusible midweight interfacing to the back side of the fabric.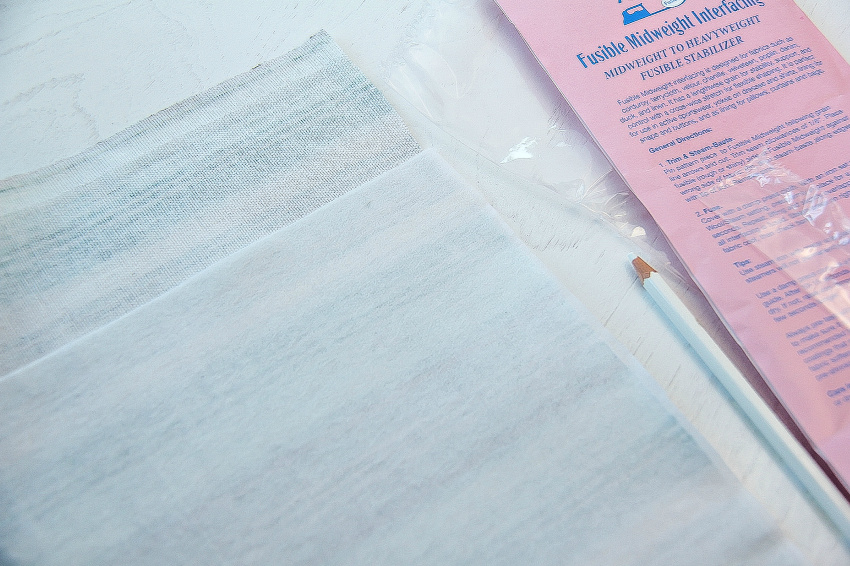 Pin your two pieces of fabric together, with the back side facing out, and then using your sewing machine, sew along three sides, and most of the way along the fourth side, leaving enough room to turn the bedding cover inside out.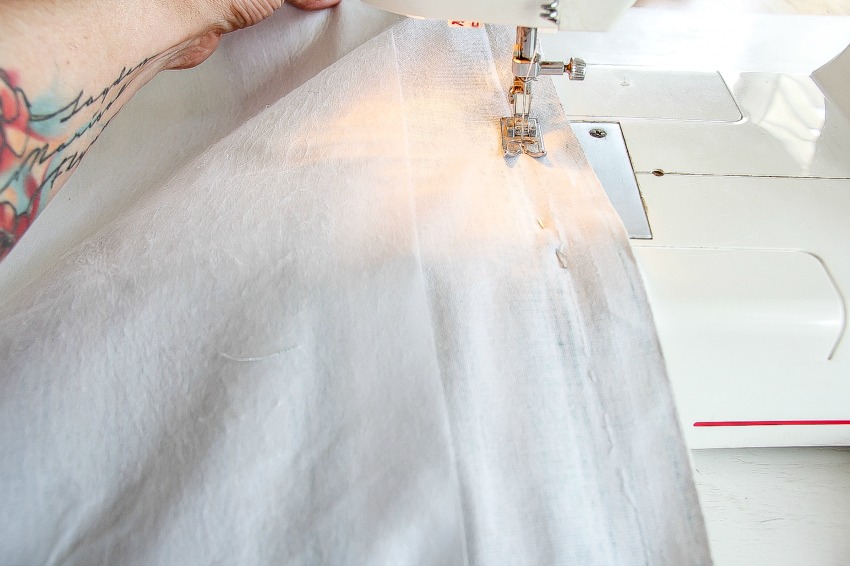 Once you've turned your bedding cover the right way, stuff it with filling (without over-stuffing and making it too firm), and then sew the last section closed.
And there you have it, a dog bed that can be moved from the floor to crate, and can even go on vacation with us.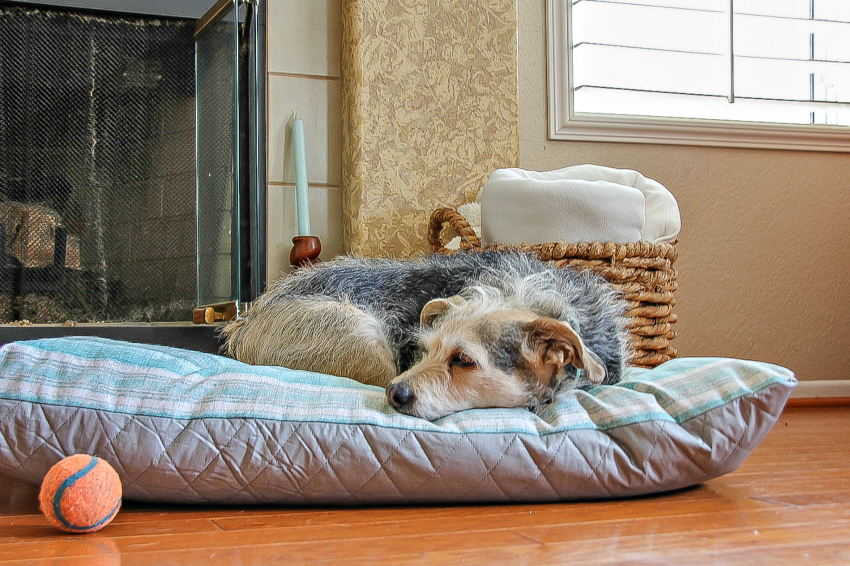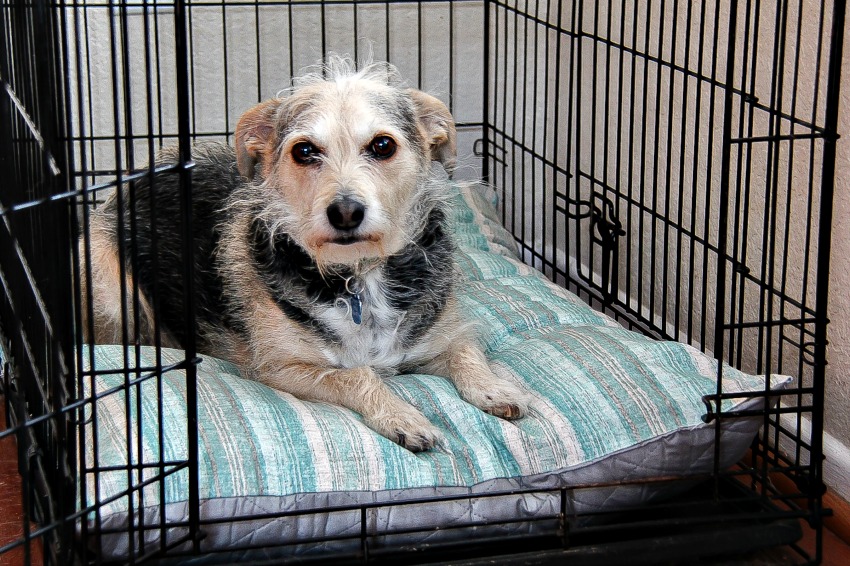 Please pin this post for later: