Football season is in full swing and the 'Big Game' is just around the corner. You can celebrate at home with friends and family and we have all the tips you need.
My dear friends Dawn and Elizabeth of Party BluPrints have teamed up with Knorr® Homestyle Stock and put together a fabulous Game Day Plan for you.
Based off their bluprint, I've thrown together a few ideas too.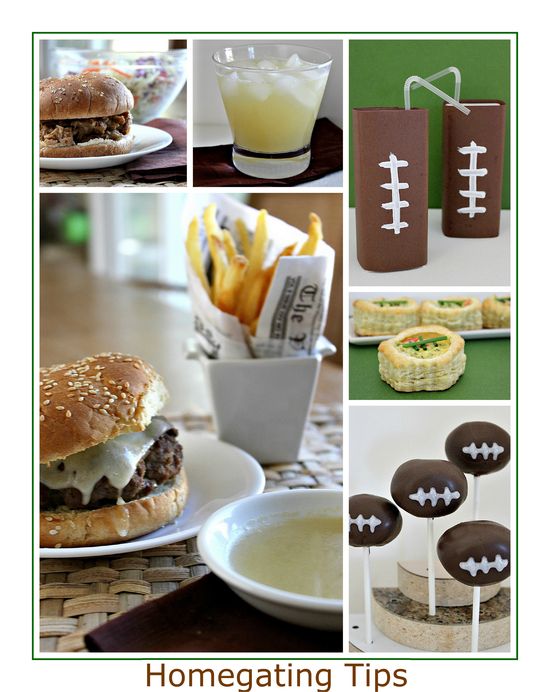 1. Slow Cooker Pulled Pork
The Slow Cooker Pulled Pork recipe is available on Knorr.com. Serve with homemade coleslaw.
2. Sauza-rita
This is no ordinary margarita. Beer is a staple for homegating parties for the men in our house, but let's make it a little more fun. I've previously made this Sauza-rita during a Tequila party and it was a big hit. And the best part, beer is one of the ingredients.
3. Football Juice Boxes
Make juice boxes for the kids more fun. Take some brown paper and wrap it around the juice box, sealing it with some glue, then add some 'football' details using white paint and a brush.
4. French Dip Burgers
You will find the recipe for these burgers on Knorr.com. These make a great alternative to the Slow Cooker Pulled Pork. Serve with individual tubs of french fries. I found some fabulous greaseproof and non-toxic newspaper liners at World Market that fold into a cone shape and can be placed inside individual cups, making it easy for guests to top with their favorite condiments such as ketchup, salt, or malt vinegar.
5. Broccoli and Cheese Puff Pastry Appetizers
Dawn and Elizabeth put together a fabulous Broccoli and Cheese SuperBowl on their game day plan. I followed their recipe for the filling, but I felt I had enough 'bread' dishes already with two burgers being offered for the main, so instead of using a bread bowl for this dip, I baked Pepperidge Farm Puff Pastry shells according to the instructions on the packet, then filled with the broccoli and cheese filling. I topped each with chives to turn them into a fun 'football' themed treat.
6. Football Cake Pops.
I've become quite addicted to making cake pops. Here are the basics for making cake pops: begin by baking a chocolate cake, then once cooled, cut off the crispy exterior and crumble the cake into fine crumbs. Mix with chocolate frosting until it becomes easy to mold. Chill for a while in the refrigerator, then shape. Melt chocolate candies (the kind you buy at craft stores). Put a little on a lollipop stick and insert into the cake ball, put aside until it is set. Once set dip the entire cake ball into the melted chocolate candy and set aside until it is dry. Once firm, decorate using an icing writer, sparkle gel, or ready to use icing tubes.
#NewKnorrStock Party Details
RT @TonyaStaab Join the #NewKnorrStock Twitter party 1/24 at 2pm EST for #homegating tips & prizes http://bit.ly/AdF6Yd PLS RT
Get the latest news from Knorr® by following them on Twitter and Facebook.
Twitter Party Rules:




NO PURCHASE NECESSARY. VOID WHERE TAXED, PROHIBITED OR RESTRICTED BY LAW. Subject to Official Rules. Open only to residents of the United States.

Enter by RSVPing for the Twitter party on the link above, be actively participating in the party and are using the hashtag #NewKnorrStock. To be eligible, entries must be received by January 24, 2012 at 2:55 p.m. EST.

Prizes will be limited to 5 gift cards. 4 $50 gift cards (4 winners) will be given away every 15 minutes during the 1 hour duration of the party on January 24, 2012. The grand prize of 1 x $100 gift card to 1 winner will be given away at the close of the party. All winners will be chosen using random.org from the RSVP link and winners must be present and participating in the party using the hashtag #NewKnorrStock at the time that they are drawn as a winner. Odds of winning depend on the number of eligible entries received. Winner will be notified via Twitter @ message by @TonyaStaab during the party on January 24, 2012 and must respond to @TonyaStaab within 5 minutes of being selected to claim their prize. All entries will be eligible for any unclaimed prizes after the close of the Twitter party via random drawing held on -two weeks after- .

To obtain a copy of the Official Rules, send a self-addressed stamped envelope to Collective Bias, 205 S. Main Street, Ste. 1, Bentonville, AR 72712.

SPONSORS: Collective Bias, 205 S. Main Street, Ste. 1, Bentonville, AR 72712


Disclosure: I am the Campaign Leader for the #NewKnorrStock campaign for Collective Bias and as such I am being compensated.