Kids will love looking for the pot of gold at the end of the rainbow with this special St. Patrick's Day bento style lunch.
UPDATE: This craft project was initially created for a website by the name of Kidzui, however that website no longer exists.
My latest post is up at Kidzui.  The kids thoroughly enjoyed this one, a fun St. Patrick's Day lunch – I'll be making it again for them on St. Patrick's Day.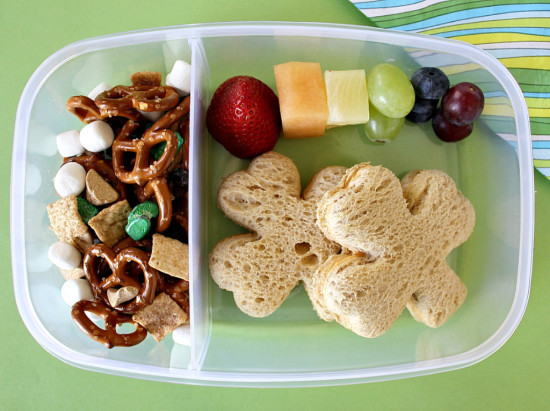 Bento style box lunches are a huge hit with kids and this one will be loved by all.
Sandwiches
Use a shamrock shaped cookie cutter to cut out the bread and cheese or deli meats to make a shamrock perfect sandwich for your lunch box.
Rainbow Fruit
Add fruit in the colors of the rainbow. Tip: don't put these on a skewer as most school's won't allow those.
Pot of Gold Trail Mix
This isn't just any ordinary trail mix, kids will find that there's a pot of gold at the end of the rainbow when you include green and gold chocolate rocks.
Save
Save