Are you hosting a Saint Patricks Day party with kids this year? They are going to love these fun leprechaun cupcakes.
These easy Leprechaun cupcakes are the perfect addition to your St. Patrick's Day celebrations with kids. The best part is kids can help make them too.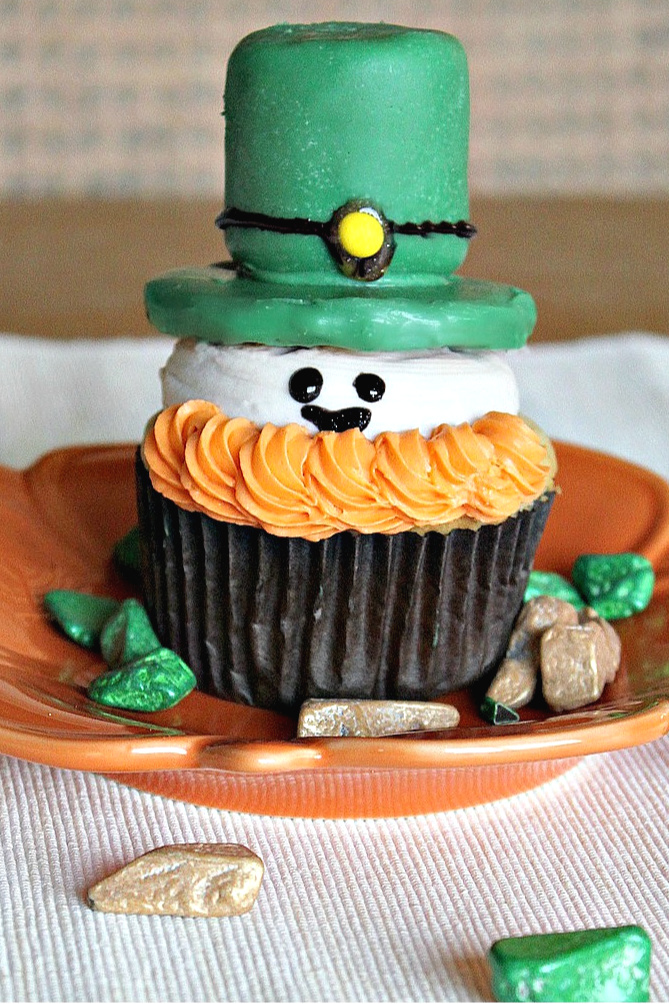 Leprechaun cupcakes
Ingredients
Basic Cupcake – whatever flavor you like
Keebler Cookies
Marshmallows
Green candy melts
Vanilla icing – 1/3 mixed with orange food dye
Icing decorator tubes – yellow and black
Frosting bags and tips (see below)
Instructions
Top the cupcakes with white icing in a large mound using an icing tip with a very large hole – an 8PT Magic Tip would be perfect.
To make the hat
Melt green candy melts, dip the flat chocolate side of a Keebler cookie in the melted candy and set aside on parchment paper to harden.
Place a large marshmallow on a lollipop stick and dip into the melted candy too. Set aside to dry – I use a cake pop stand, but if you don't have one, you can pop them into a narrow jar or glass. Once both the cookie and marshmallow are hard, add melted candy to the underside of the marshmallow and attach to the cookie.
To make the beard
I added a little orange coloring to white icing, then used a Wilton No.21 star tip to create a swirl for the beard.
Now you can use the black and yellow decorator tubes to add the facial features and details to the hat.
More fun Saint Patricks Day fun food for kids
Are you looking for more cute and fun food ideas for kids parties this St. Patrick's Day? Take a look at these:
Please pin this post for later: