These marinated pork skewers with a spicy Asian noodle salad is the perfect thing to spice up your summer grilling menu.
Disclosure: This shop has been compensated by Collective Bias, Inc. and its advertiser. All opinions are mine alone. #RealFlavorRealFast #CollectiveBias
I'm all about firing up the grill as often as possible this summer. Spending as much time outside, even if it's just cooking, is always time well spent.
We have baby birds in the eaves behind our house right now, the leaves are back on the trees, everything is green (well except the back lawn, apparently the sprinkler system needs to be fixed this week), and I love the sound of lawnmowers firing up on the weekends, followed by the smell of freshly cut grass.
But, I also don't want to throw the same thing on the grill over and over, so I'm getting a little more creative with our summer menu, and that includes spicing up our summer menu with this recipe for marinated pork skewers with a spicy noodle salad.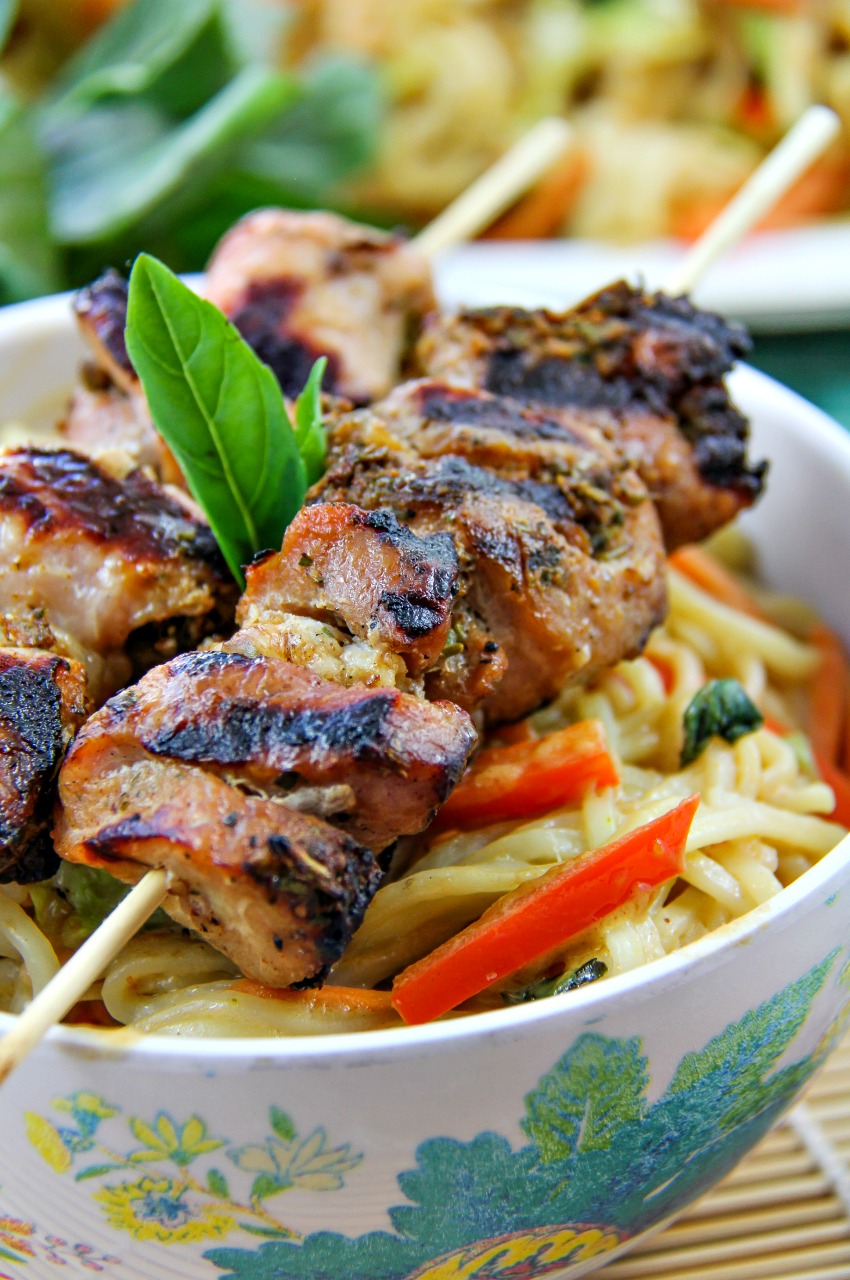 My obsession with sambal and Thai basil continues with this recipe. I know I've spoken about how much I love these two in dishes … actually, I just need jars filled with Thai basil inside my kitchen at all times I think. The smell is divine!
The best part is that buying the pre-marinated and seasoned Smithfield Roasted Garlic & Herb Fresh Pork Loin Filet means this recipe takes less than 30-minutes to make.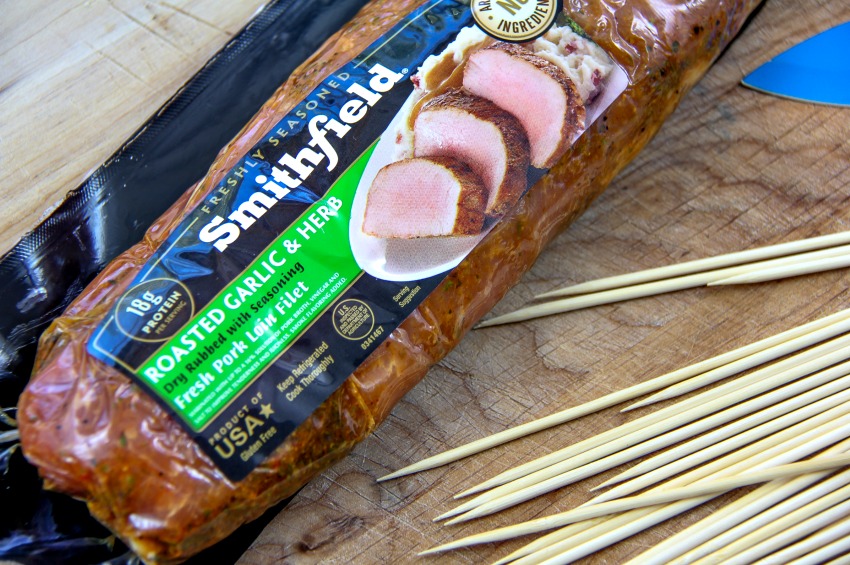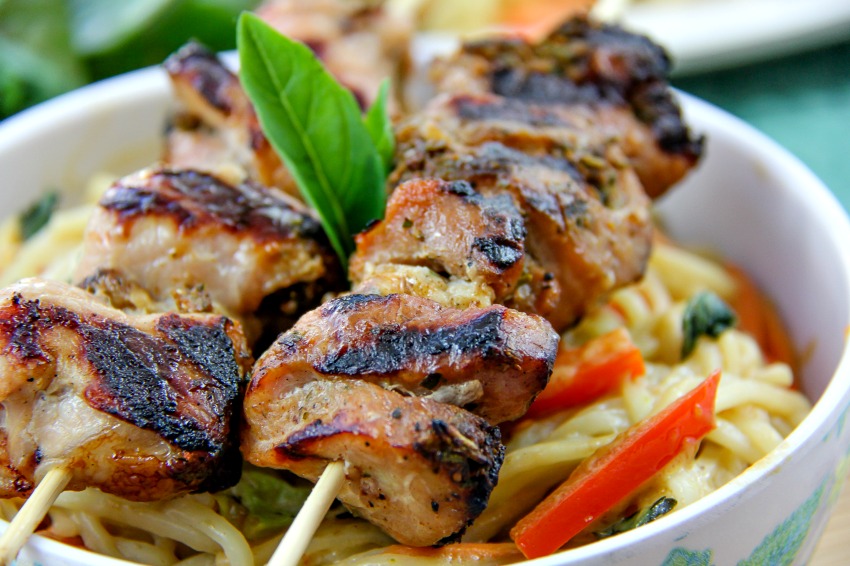 Ingredients
1 Smithfield Roasted Garlic & Herb Fresh Pork Loin Filet - makes approx 10 medium-sized kebabs
1 14oz pkg Lo Mein noodles
1 red pepper - cut into small strips
1 carrot - cut into matchsticks
1 cup Napa cabbage - shredded
4 green onions - white and green chopped and separated
1/2 tbs freshly grated ginger
1 tbs sesame seed oil
1/3 cup peanut butter
1/4 cup soy sauce
1/2 cup hot water
1 tbs rice vinegar
1 tbs sambal
2 tbs fresh Thai basil
Instructions
The first thing you want to do is get a large pot of water going on the stove (for the noodles) and fire up the grill outside. While the grill is preheating, prepare your kebabs.
Soak your wood skewers in water for 15-20 minutes, this helps to prevent them from burning on the grill.
While the skewers are soaking, slice the Smithfield Marinated Fresh Pork into thin pieces, and then cut those in half again. Put pieces of pork onto the skewers and grill until cooked through, turning midway through cooking.
As soon as the water on the stove is boiling, add the Lo Mein noodles and cook according to the package directions. Rinse with water once cooked to stop them from cooking any further and becoming sticky.
In a skillet on the stove add the sesame oil, heat, and then add the whites of the onions. Saute until translucent, and then add the ginger. Cook for another minute or so, then add all of your other sauce ingredients - hot water, peanut butter, soy cause, rice vinegar, and sambal. Stir until heated through.
Pour over the noodles and toss in the fresh Napa cabbage, carrots, red pepper, and Thai basil.
Serve with the pork skewers.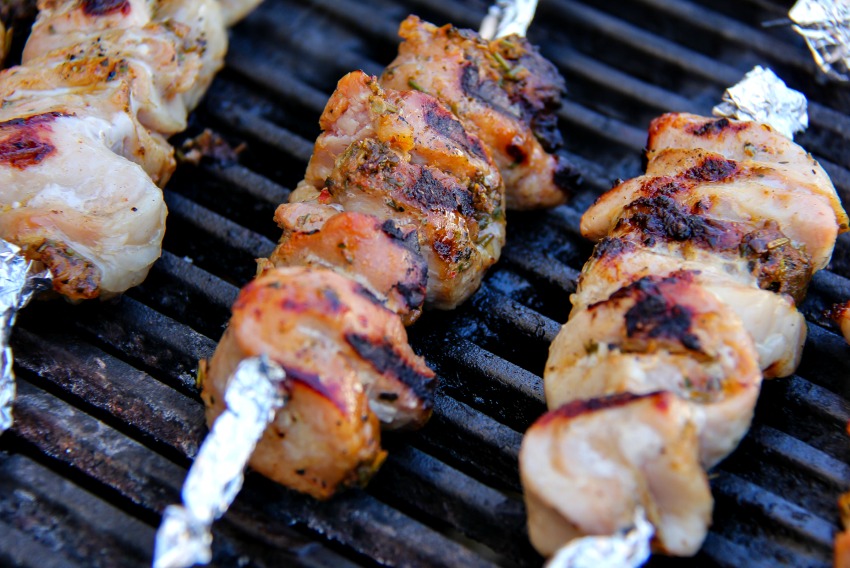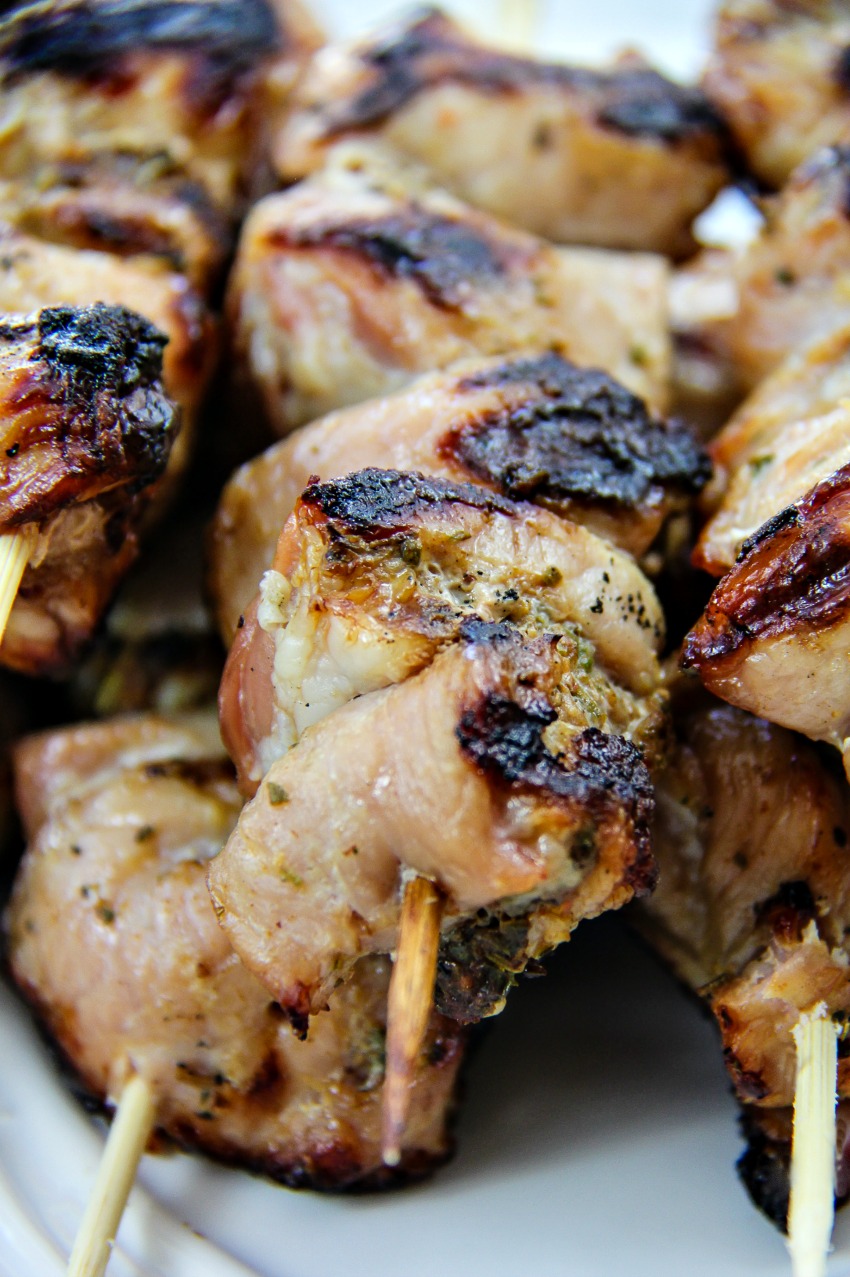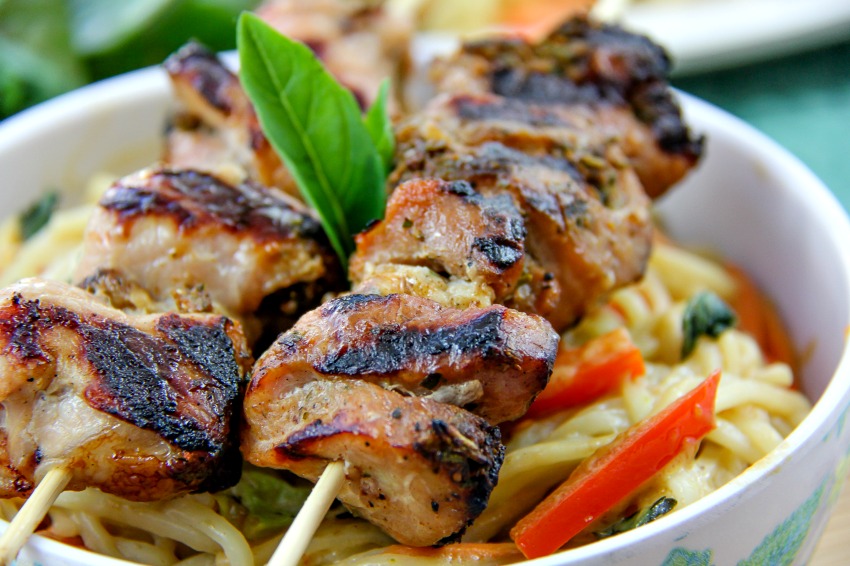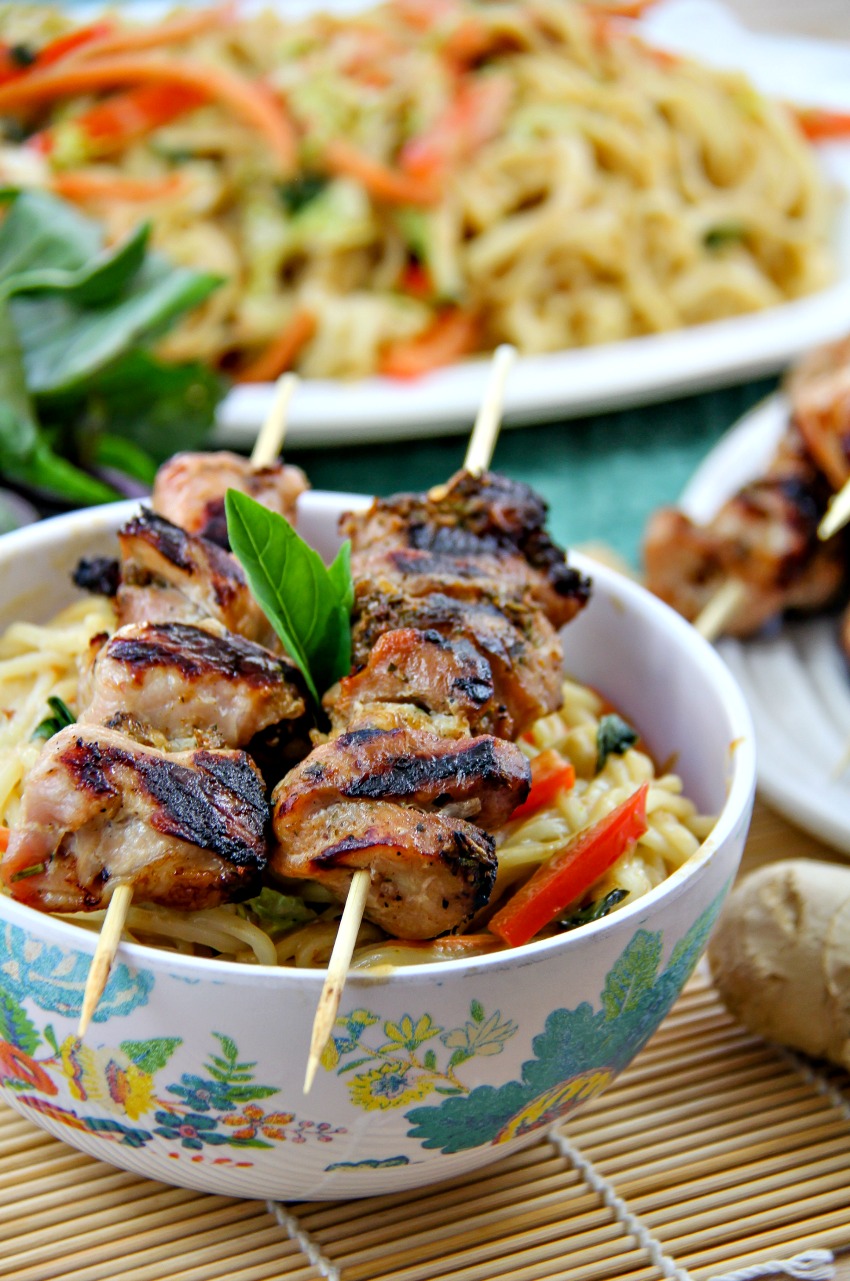 Make sure to check out the Hero of the Grill Contest and Sweepstakes at SmithfieldGetGrilling.com where you can share and nominate who inspired you to get grilling for a chance for your hero to win $5,000! Not to mention you can enjoy great grilling content and enter for a chance to win prizes EVERY DAY! I can honestly say it was Mike who inspired me to get grilling. I've always left it up to the man to grill. Always! It was my dad, then my ex-husband, and then Mike. But, it was he who taught me how to use the grill. He walked me through it so that even when he's not here I can still create delicious recipes outdoors for the kids.
Now, let me talk to you about grocery shopping for a minute. Have you tried Walmart's Grocery Pick-Up? I tried it for the first time and IT'S SO EASY! Why I've never done grocery pick-up before I'll never know, but there were no impulse purchases and no spending extra money. I ordered online the night before, they sent me a text message when my order was ready the following morning, I sat in my air-conditioned car and waited for my groceries to be brought out to my car, loaded into my bags (that were in the trunk), the trunk was closed, and I was on my way. This is so perfect if you aren't feeling well, have sleeping kids, don't want to drag your kids into the grocery store, or are in your pajamas … okay yes, I'd totally do this. If you download the app and check-in, they even track when your vehicle arrives in the parking lot so there's no need to call the number, someone just comes out with the groceries.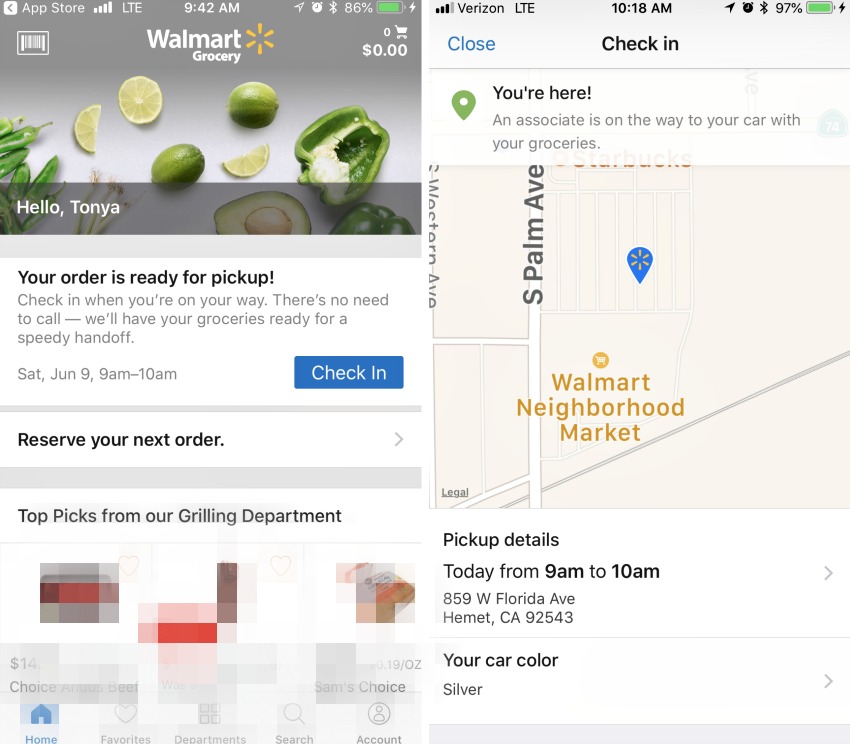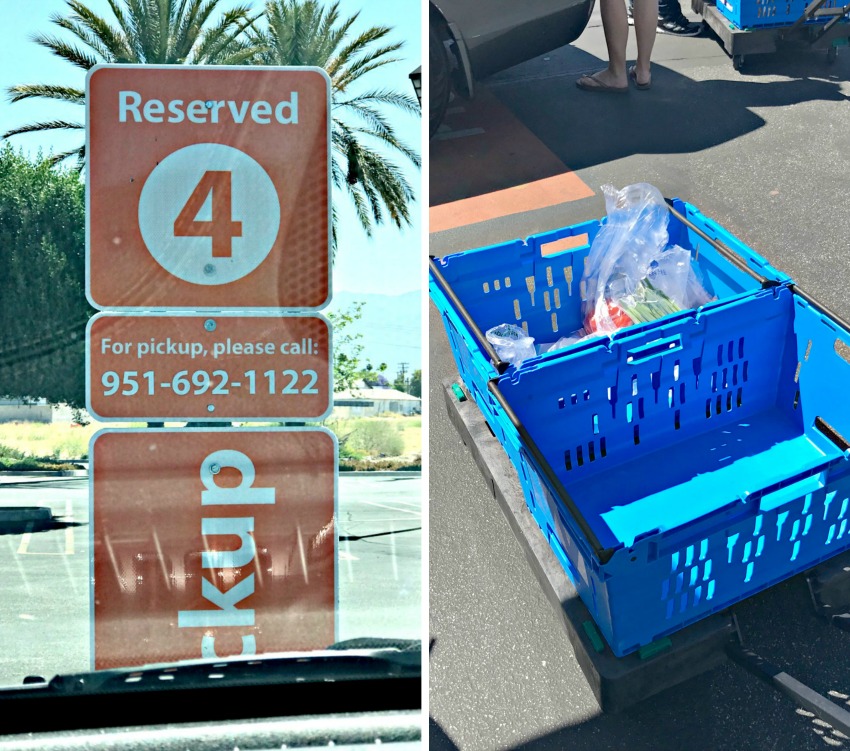 If you aren't ready to create this delicious dish right now, then please pin this post for later.