Looking for a quick and easy leftover pork loin recipe? Grab other ingredients you probably already have to make a yummy rice bowl.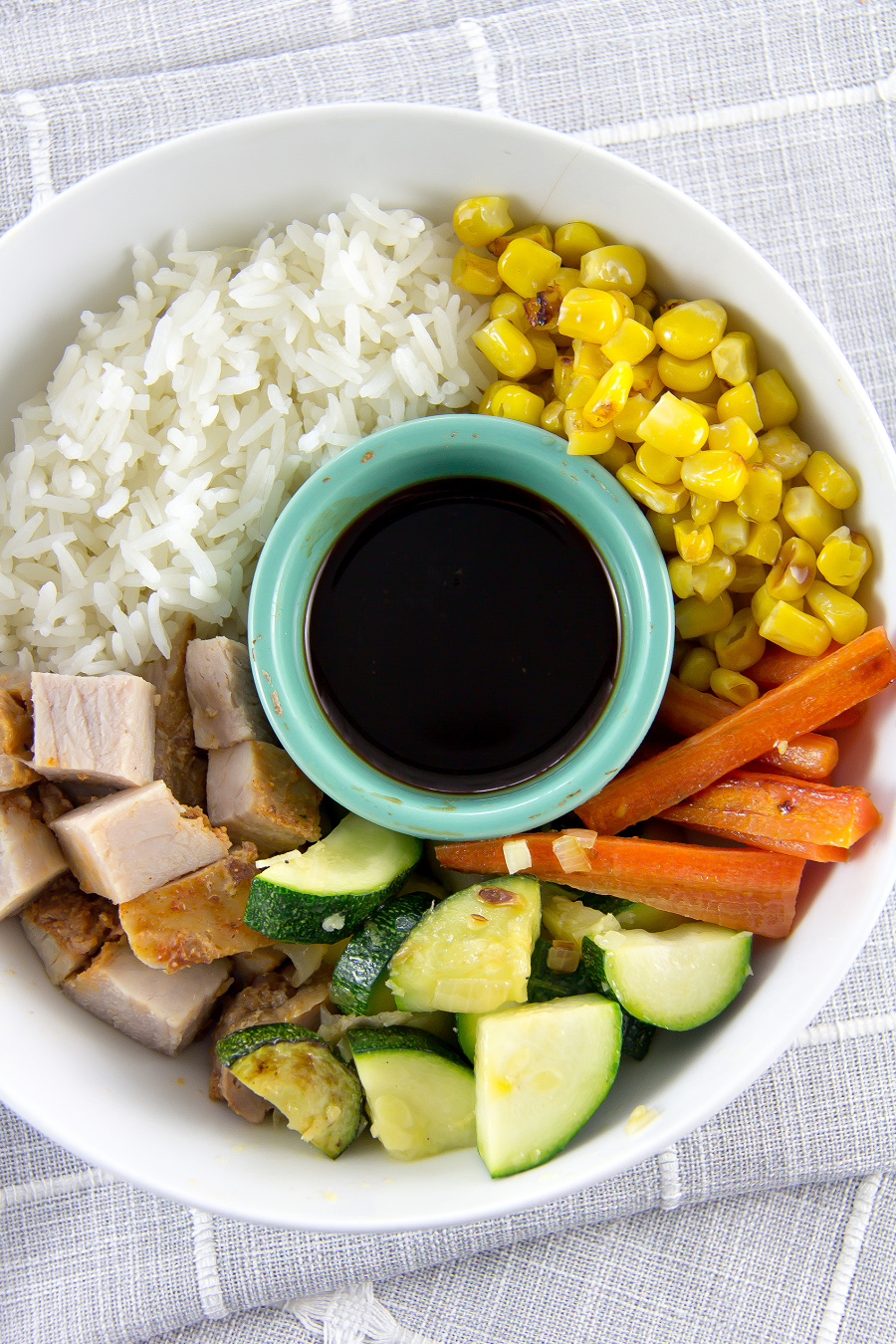 My future step-mom gave us five zucchini plants recently. We planted them in our vegetable garden and they immediately took off. We've been collecting about two zucchinis a day for the past week or so. We've already made grilled chicken thighs with stir-fry zucchini and mushrooms. We had leftover pork loin from dinner this week so I decided to make quick and easy pork and rice bowls with vegetables for the following nights dinner.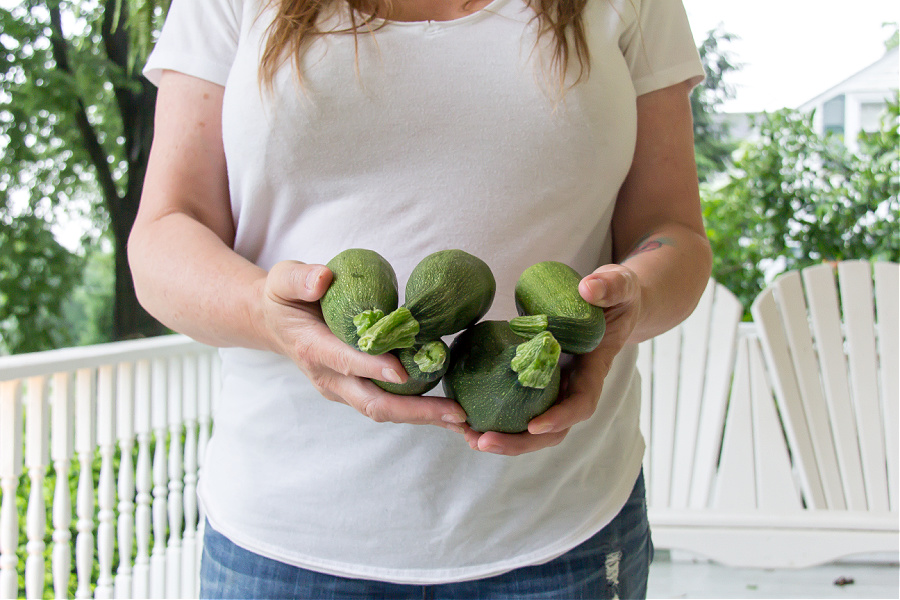 Leftover pork loin recipe
Quite some time ago we made a delicious one-pan pork tenderloin with bacon and apples for dinner. This is the perfect dinner on the first night, and then use the leftover pork loin to make this recipe the following night.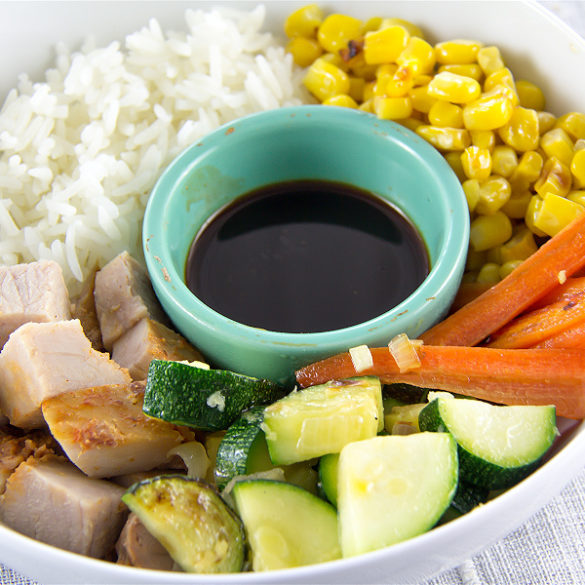 Ingredients
Leftover pork loin
2 large carrots
2 zucchini
1 shallot
3 cloves of garlic (crushed)
1 inch of fresh ginger
2 cups of frozen corn
3 cups of white rice
1/4 cup hoisin sauce
1/4 cup soy sauce
2 tablespoons mirin
Instructions
I use a rice cooker to cook my rice, but if you don't pop that pot of water on the stove and start the rice cooking.
Chop up the garlic and shallots, and then dice the leftover pork, the zucchini, and cut the carrots into sticks.
In a hot skillet with olive oil, cook the shallots and garlic and grate the ginger over the top. Move it to one side of the skillet.
Over the onion and garlic mix add the zucchini. Put the carrots and corn in the other spaces of the skillet. Let them cook and toss them occasionally so they don't burn.
Cover the pork in the microwave.
If you would like to add a sauce over your pork and rice bowl you can use soy sauce, or mix 1/4 of a cup of both hoisin and soy sauces in a bowl, and add 2 tablespoons of mirin.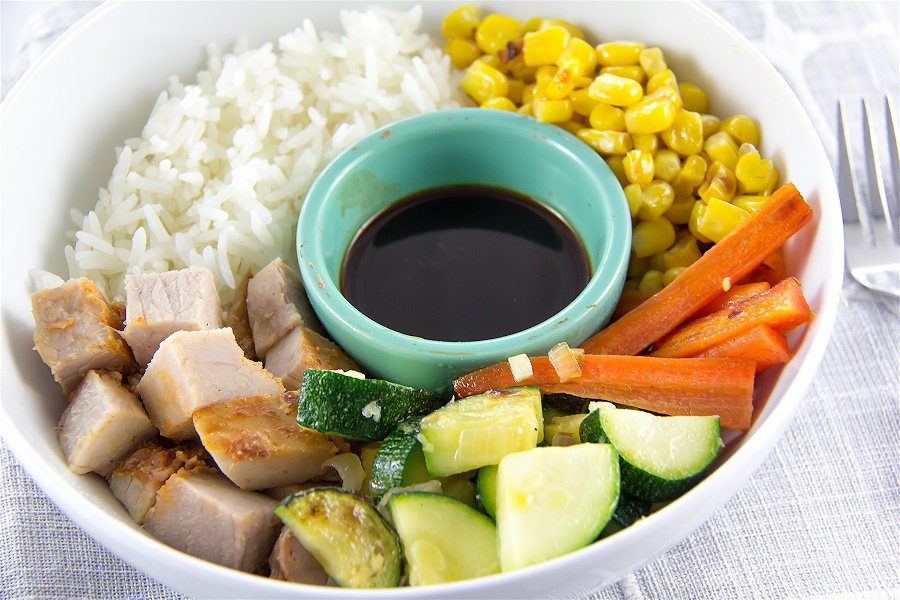 Looking for more delicious bowl food ideas that are perfect for using leftovers? Try these:
I've got more delicious pork recipes too:
Please pin this post for later: