Our living room is still a work in progress, but I wanted to share what I have been up to since I posted my before shots 2 weeks ago.
This was how our living room looked before I started making it over:
I absolutely love the yellow wall.   It brings so much more light into the room.   The color I used was Vintage Yellow by Glidden.  It took 4 coats to cover the horrid salmon color.  I'm so glad it's gone now.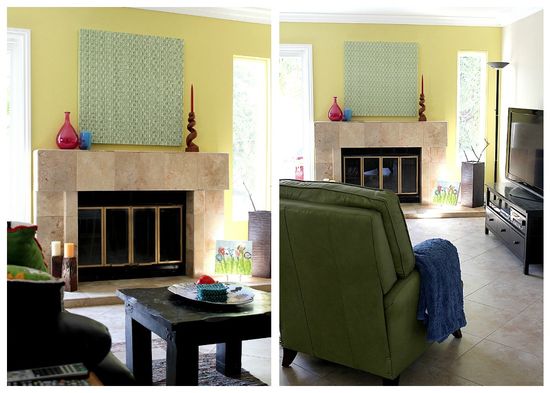 Can you see the large brown vase on the floor by the fireplace.  You might remember in the before shot I had the vase that I recently made over sitting there, but have since moved that to the bedroom.  This new one I picked up from Target for $14.  It was white and so was completely the wrong color for the room.  I painted it using the Dark French Chocolate Glidden Tester.  I saw this on Pinterest recently and so that is what we will be doing with it once we have finished collecting sticks and I have tracked down some brown floral wire.
The artwork above the fireplace was simple to make.  I purchased a large square canvas from Aaron Brothers (they are currently having a buy 1 get 1 for 1c sale).  After driving all over San Diego for days I finally found a fabric I fell in love with at my local Home Fabrics store.  The green is the same color as the chair.  I cut the fabric to the shape of the canvas, leaving 3 inches excess.  I rolled it over to hem it and then went to work with my staple gun.
As you can see we also purchased a new couch and recliner.  I am absolutely in love with my new green recliner.  The color is kiwi.  Isn't it divine.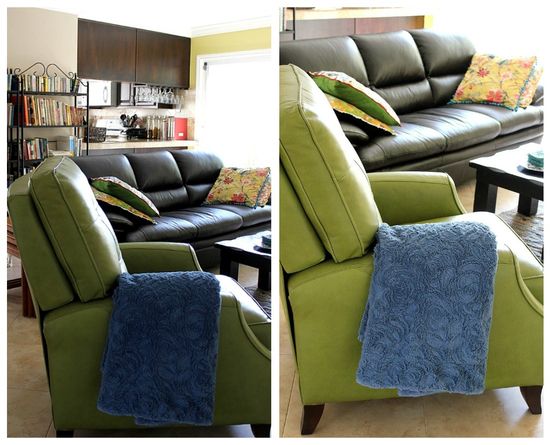 I'm looking forward to seeing what my husband thinks of our new living room when he comes home this week.  He's been away since I began the makeover and has only seen photographs of it.
There were a few of us working on room makeovers for this campaign.  If you want to check out some of the others, head on over to Glidden Testers.  I've only shown you how I have used a few of the 12 Glidden Testers I picked up so far, so it looks like I have lots more projects coming up in the future to share.   Don't forget to take a look at my previous projects: the table makeover and vase makeover.
Next up I plan on making a lovely hemp banner to hang from the mantel and of course finishing our scrap paper tree – although I'm still undecided as to whether I should use fabric or paper to make the leaves.  What do you think?
Disclosure: This project has been compensated as part of a social shopper insights study for Glidden Testers/Paint Collective Bias #cbias