These easy-to-make ladybug cupcakes in silicone pots are the perfect springtime treat.
Got a little ladybug lover?
These cupcakes are delicious and so easy to make.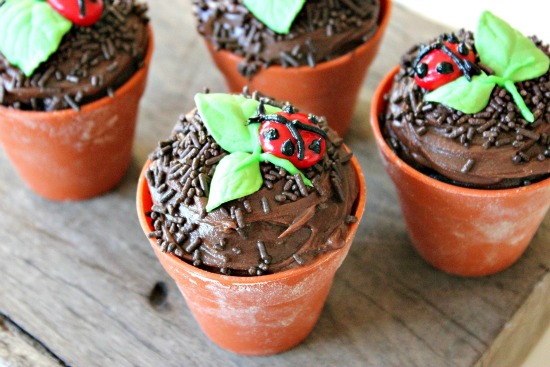 What you need:

Silicone cupcake 'pots'
Chocolate cupcake mix
Chocolate frosting
Chocolate sprinkles
Frosting (pre-made tubes you can put icing tips on work just fine) – red, green, and black
Simply make your favorite chocolate cupcakes, baking them inside the silicone pots.
Spread a little chocolate frosting over the top once they are cooled, and then dip them into chocolate sprinkles.
Now comes the fun part.
You can follow the method here on the Wilton site to make the green icing leaves. You'll need a fine round piping tip to make the stem on the leaves too.
To make the ladybug, you'll need a round piping tip, and then the fine piping tip you used for the stem on the leaves to create the details on the ladybug.
Enjoy!
Please pin this post for later: