These carrot cake muffins are delicious on their own but topped with cream cheese frosting and OREO carrot cake cookies they are even better.
Disclosure: This post was sponsored by OREO as part of an Influencer Activation for Influence Central and all opinions expressed in my post are my own.
Did you know that OREO has launched two NEW flavors, OREO Dark Chocolate, and OREO Carrot Cake?
They are delicious! And, they are perfect for entertaining too. I'm showing you two fun ways to wow your family and guests with delicious carrot cake muffin treats (recipe below), and dark chocolate hot chocolate.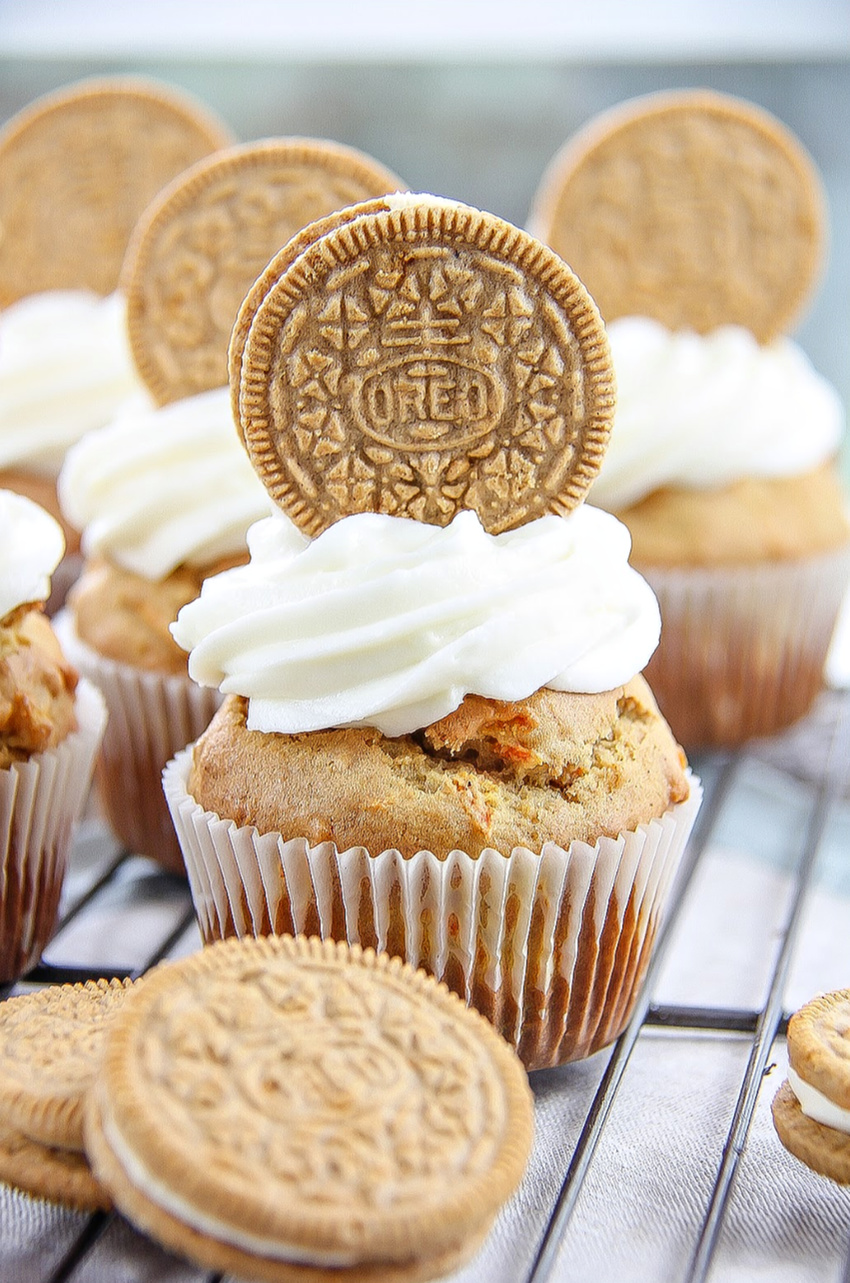 Carrot cake muffins recipe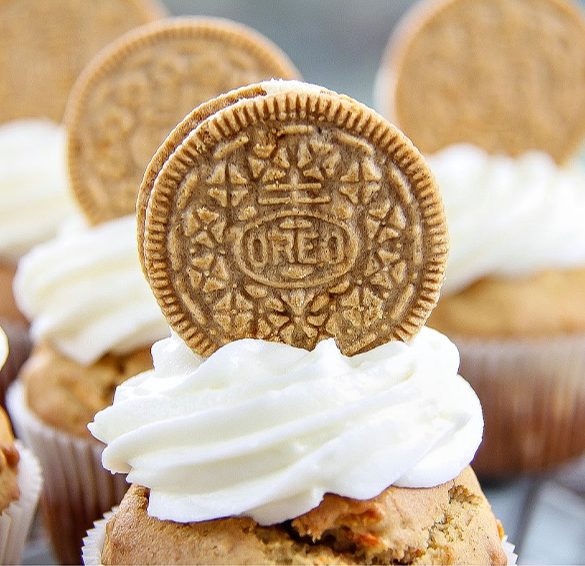 Ingredients
2 cups all-purpose flour
1 tsp baking powder
1 tsp baking soda
pinch salt
2 tsp cinnamon
1/2 tsp nutmeg
1/2 tsp ginger
1/2 tsp cloves
2 large eggs (room temperature)
1 small tub applesauce
1 tsp vanilla extract
1 cup brown sugar (packed)
1/2 cup coconut oil (melted right before adding)
1 large carrot, shredded
cream cheese frosting
OREO carrot cake cookies
Instructions
Preheat the oven to 375F.
In a medium bowl whisk together the flour, baking soda, baking powder, salt, cinnamon, nutmeg, ginger, and cloves.
In a separate large bowl whisk together the eggs, applesauce, vanilla, and brown sugar.
Melt the coconut oil, allow it to cool a little (you don't want to cook the other ingredients), then add to the mixture.
Gradually add the dry ingredients to the wet ingredients, stirring together.
Fold in the shredded carrots. Bake in the oven for approximately 20 minutes.
Top with cream cheese frosting, and then an OREO Carrot Cake cookie.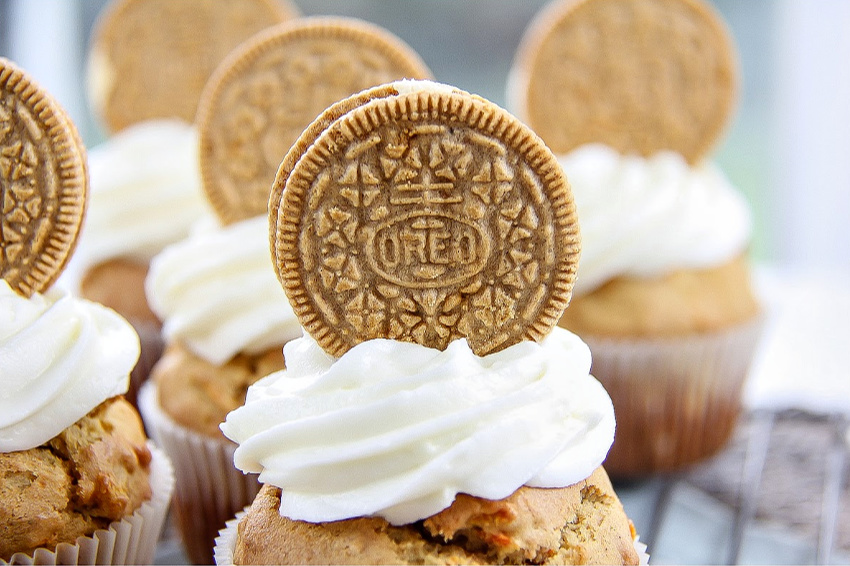 These carrot cake muffins are perfect for weekend brunch with friends, morning tea, and afternoon tea. Serve them with coffee, tea, and fresh fruit. You could even set up a delicious muffin and fruit grazing board for your guests.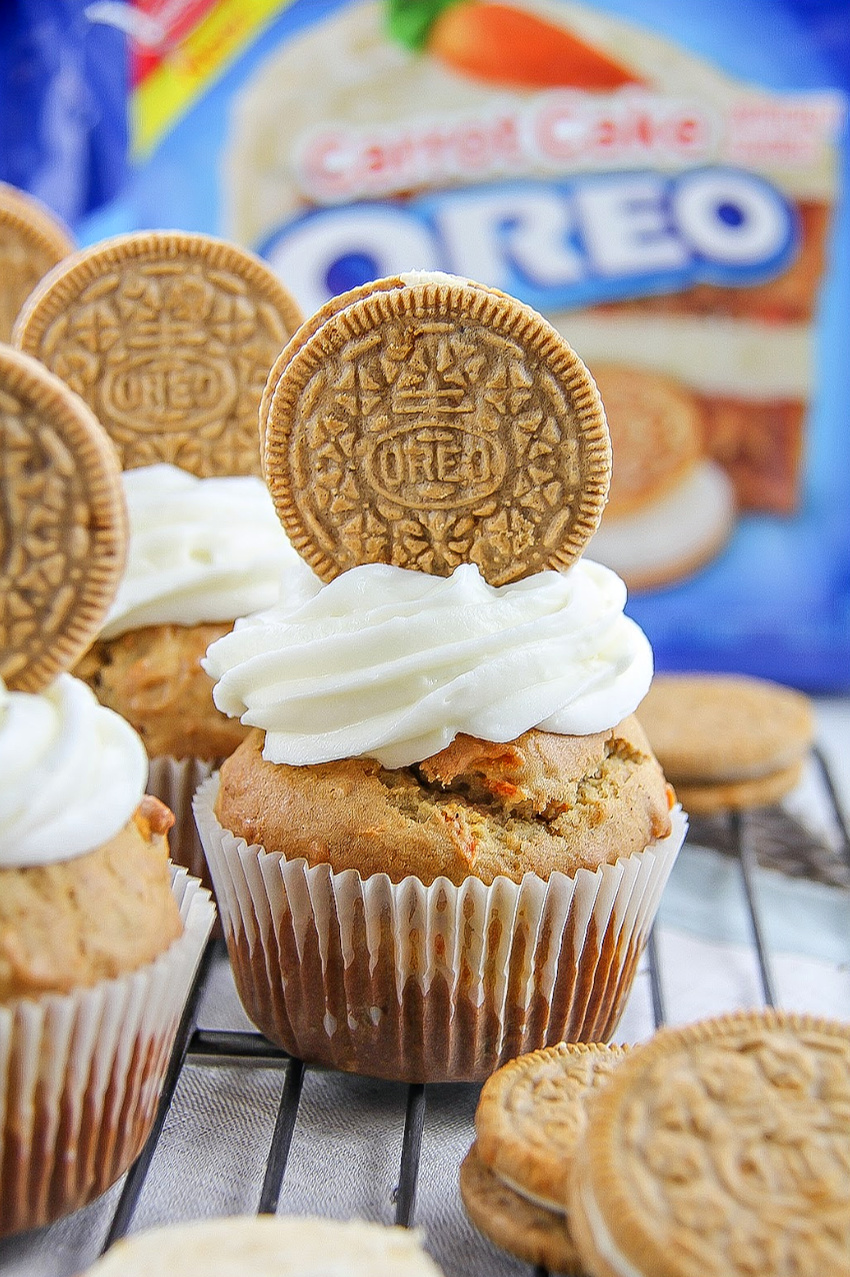 OREO Carrot Cake cookies: Have your cake and eat it too with OREO Carrot Cake Cookies filled with cream cheese frosting flavored creme.
More muffin recipes
Are you looking for more delicious muffin recipes? Grab a whisk and muffin tin because you will love all of these too.
Please pin this post for later