This semi-homemade Despicable Me Agnes costume is so easy to put together and perfect for girls of all ages to wear this Halloween.
Do you remember when I took the kids to Universal Studios, Orlando over the summer?
Well, while we were there I told each of the kids I would buy them a souvenir to bring home. Of course, Marisol chose the biggest unicorn from the Despicable Me store that she could possibly find … yes "It's so fluffy, I'm gonna die!" She naturally named it 'Fluffy'. 
So, come time to decide what elaborate costumes I have to make for Halloween, she decided that she just had to be Agnes so she could go trick-or-treating with Fluffy. I must say I was just a wee bit excited about this, because I knew that very little actual work would need to be done by me for this one.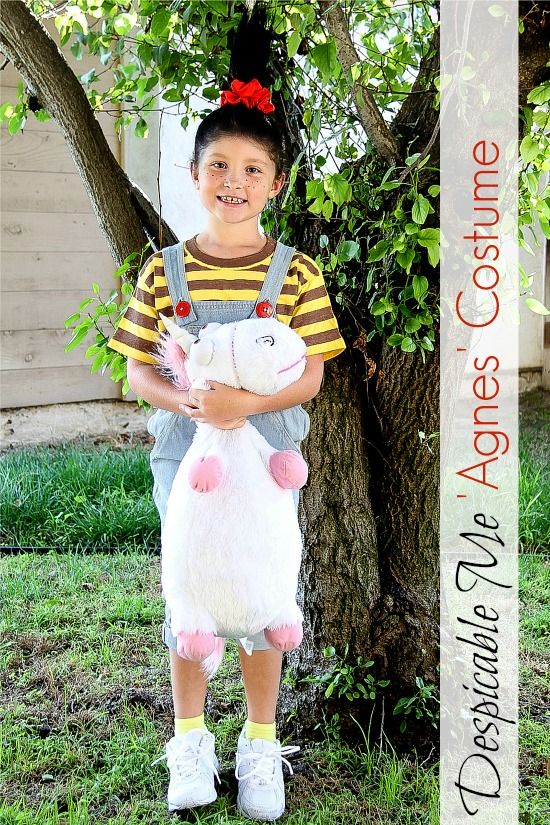 Despicable Me Agnes costume
What you need
Overalls with red buttons – instructions below
White sneakers
Yellow socks
Yellow and brown striped t-shirt – instructions below to make your own
Red scrunchie
Black hair spray
Brown face paint – or you could use an eyeliner or lip liner
Unicorn
Instructions
There was a little crafting to be done. How many pairs of overalls have you seen with red buttons on them, or pre-striped brown and yellow tees?
Agnes overalls
They came with a traditional buckle that just wasn't going to do. I removed those, hemmed the bottom of the shoulder strap, hand-stitched buttonholes, and then stitched on large red buttons.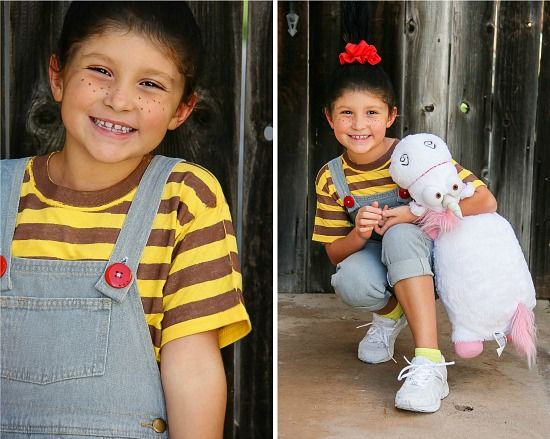 Striped tee
Yellow t-shirt
Fabric paint
Sponge brush
Tape – I used the Duck Brand 'Ducklings' tape, which peels off fabric really easily
Something to place inside the shirt to protect it
Make stripes on the t-shirt using the tape and paint in between. It's that easy.
Note: Don't forget to put a piece of cardboard inside the shirt so the paint doesn't go through the fabric to the other side.
The final touch to the costume was a few extra freckles on her face.
She wore her new Agnes costume during the past week to the school Halloween bash and was thrilled to win the 2nd-grade costume contest, and for those who know Miss M and how shy she is, it took a lot of courage for her to enter. Although, she was a little embarrassed when the local high school girls who were volunteering at the event kept asking if they could take photos with her.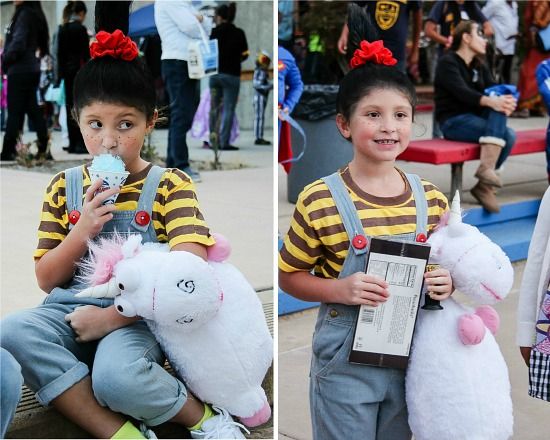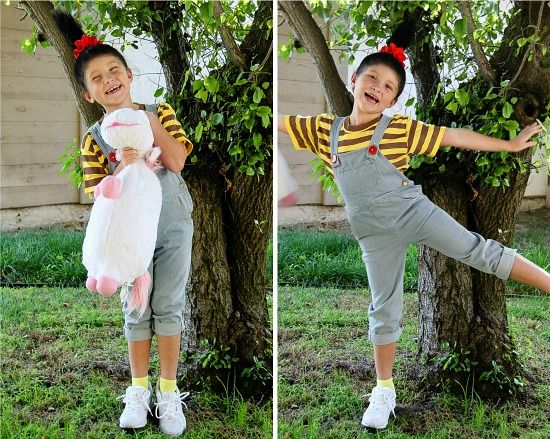 She and Flynn both got to showcase their costumes on the Fox 5 San Diego morning news Halloween costume segment too.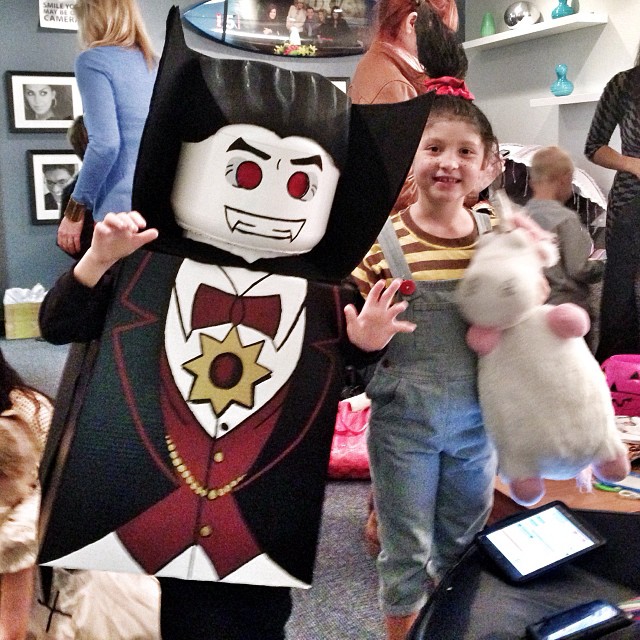 Please pin this post for later: