If you are looking for the perfect cold-weather comfort food this winter, then this slow cooker chicken chili bread bowl recipe is for you.
Disclosure: This is a sponsored conversation written by me on behalf of Knorr®. The opinions and text are all mine.
The temperature has finally dropped here in southern California over the past couple of weeks. We even had rain! The first sign of cold weather and the fireplace is lit, the blankets come out, and comfort food is made.
This White Chicken Chili in Bread Bowls is perfect for those cold nights, and I love the smell of food cooking all day in the slow cooker. There's something about walking into the house with the smell wafting through and knowing you don't have to whip up something for dinner at the very last moment.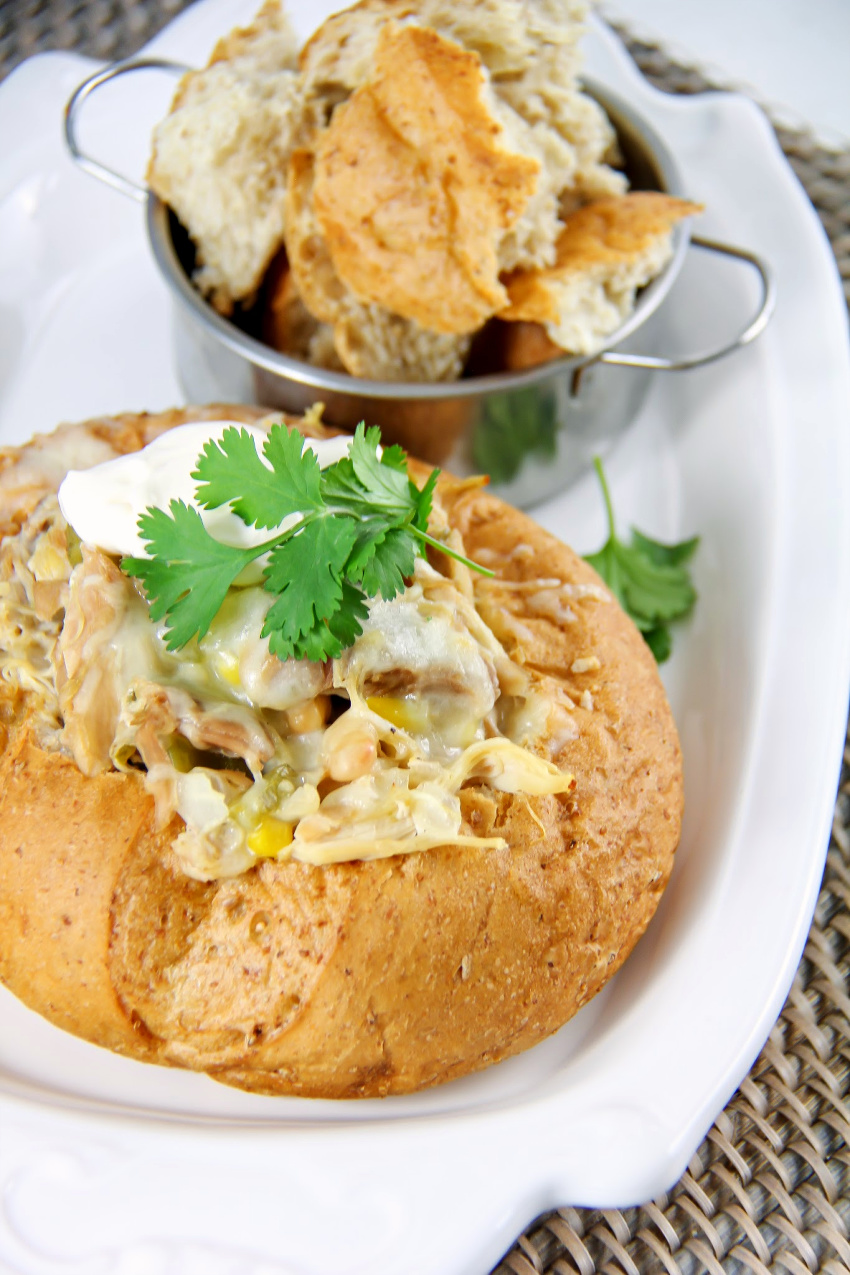 I'm so happy that now the twins are teenagers, they are becoming more adventurous with food. It's taken some bribery and a lot of saying "you just have to try one bite," but they are realizing that they like more than they thought they did. This win is that they ate celery, which is something they've always picked out of soups, stews, and chilis previously.
Kick up the flavor of your favorite holiday or comfort food recipe this winter with Knorr Selects Bouillon! Knorr Selects is made with natural chicken stock. It contains no artificial flavors, colors, preservatives, or MSG. I found my Knorr Selects Bouillon Cube, Chicken Flavor at my local Cardenas. You will also find the fire-roasted salsa, crema Mexicana, cilantro, and everything else you need to make this delicious dish there too.
This slow cooker White Chicken Chili recipe in bread bowls will serve 5 or 6 people, depending on your bread bowl size.
Slow cooker chicken chili bread bowls recipe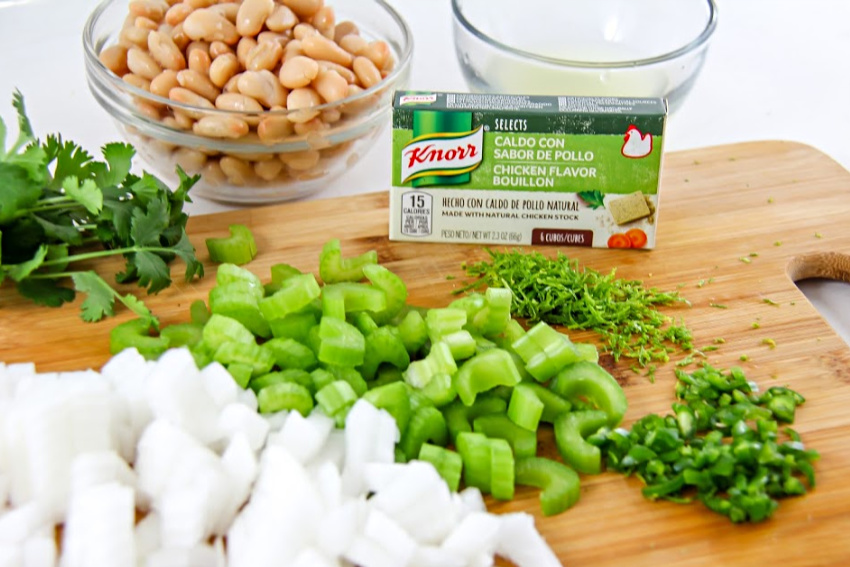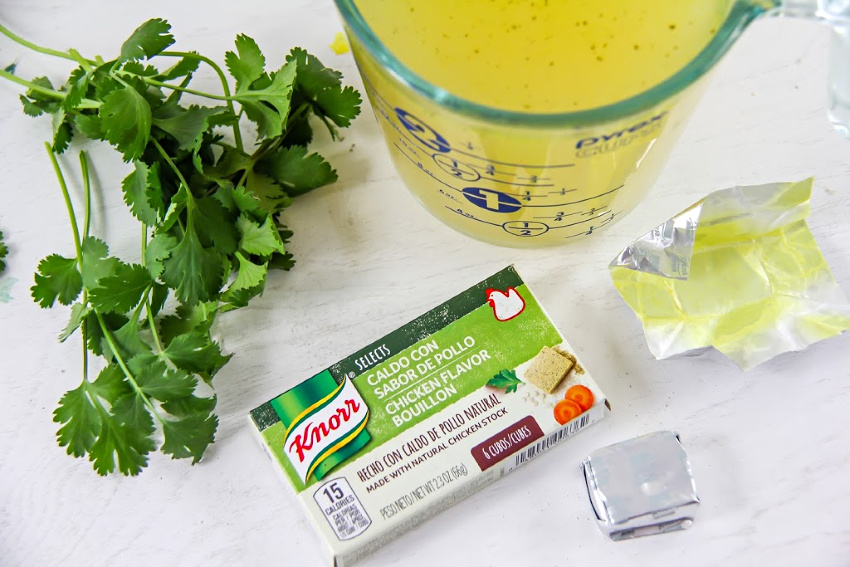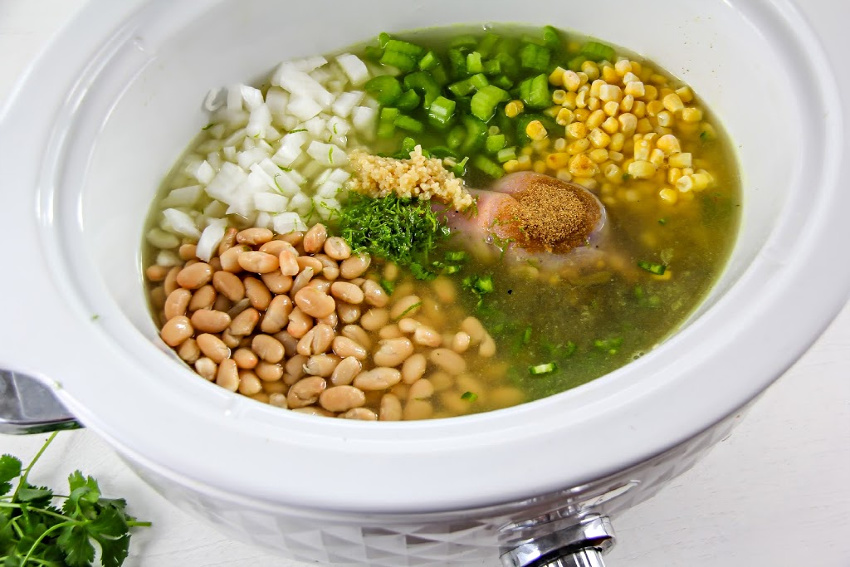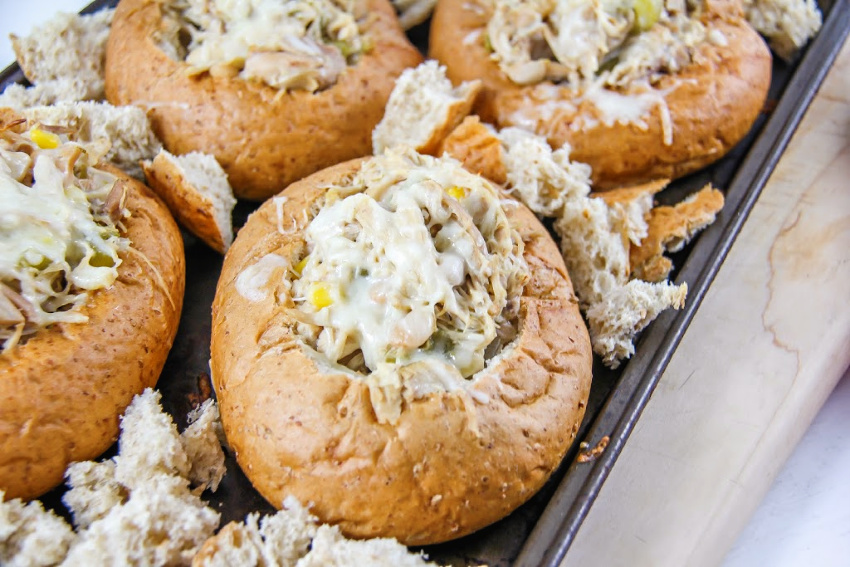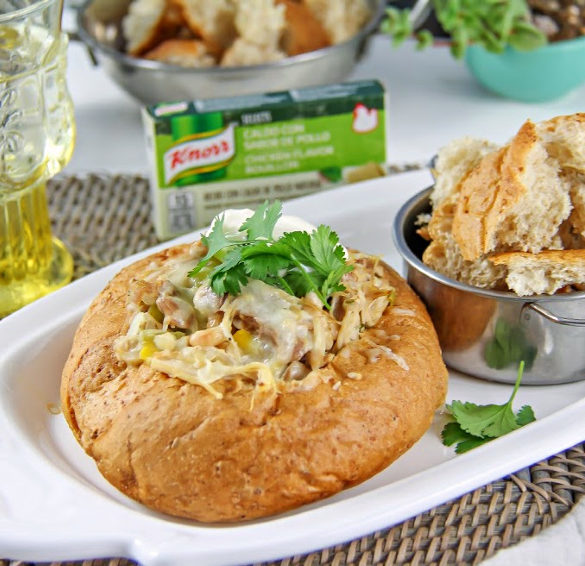 Ingredients
6 chicken thighs
1 medium white onion (chopped)
2 celery stalks (chopped)
1 can white beans (drained and rinsed)
1 cup frozen corn
1 Knorr® Selects Bouillon Cube, Chicken flavor
2 1/2 cups hot water
1/2 cup fire-roasted green salsa
1 tbs crushed garlic
1 serrano pepper (seeds removed and finely chopped)
1 lime (zest and juice)
1/3 cup crema Mexicana (plus extra for topping)
1 tbs cumin
pinch of salt and pepper
1 1/2 cups Monterey Jack cheese
Cilantro (for garnish)
Bread rolls (large)
Instructions
Dissolve the Knorr Selects Bouillon Cube in hot water.
Place all ingredients (aside from the bread, cilantro, crema Mexicana, and Monterey Jack Cheese) into the slow cooker on high for 3-4 hours or low for 6-8 hours.
Preheat the oven to 350F.
Remove the chicken breasts from the slow cooker, shred them, and then return them.
Add 1/3 cup Crema Mexicana to the slow cooker and stir until combined.
Remove the top of your bread with a knife to make a well in the center. Break the top into bite-sized pieces
Spoon the white chicken chili into the bread bowl. Tip: The more liquid you add the more will soak into your bread making it a little soggy.
Top with Monterey Jack cheese.
Place the bread bowl and pieces of bread onto a tray and pop into the oven for approximately 8-10 minutes until a little crispy and the cheese is melted.
Place a bread bowl onto a plate with the bread pieces.
Top the bread bowl with more crema Mexicana and cilantro.
Serve!
Recipe: by Tonya Staab tonyastaab.com
If you have extra bread bowls leftover, wrap in aluminum foil and heat the next day in the oven for 15-20 minutes.
Tip: Don't scoop too much bread out. You need a small cushion of bread to spoon the chili onto so that the bottom of the bread bowl doesn't get soggy. I scoop more out from under the rim leaving the outside to get a little crispy in the oven.
My favorite way to eat bread bowls is to dip the bread into the contents before eating the bread bowl. Marisol just picked the whole bread bowl up and ate it like it was a sandwich. She was eating it! That's a win in my books!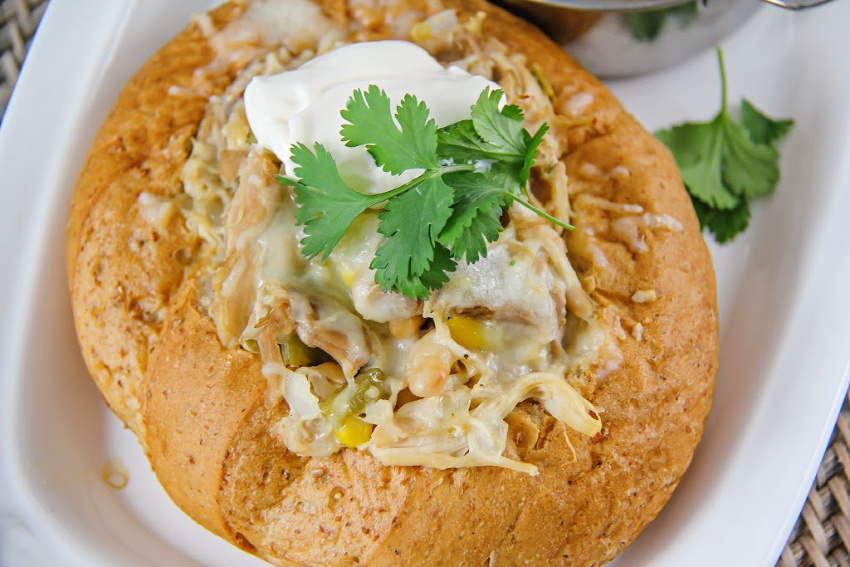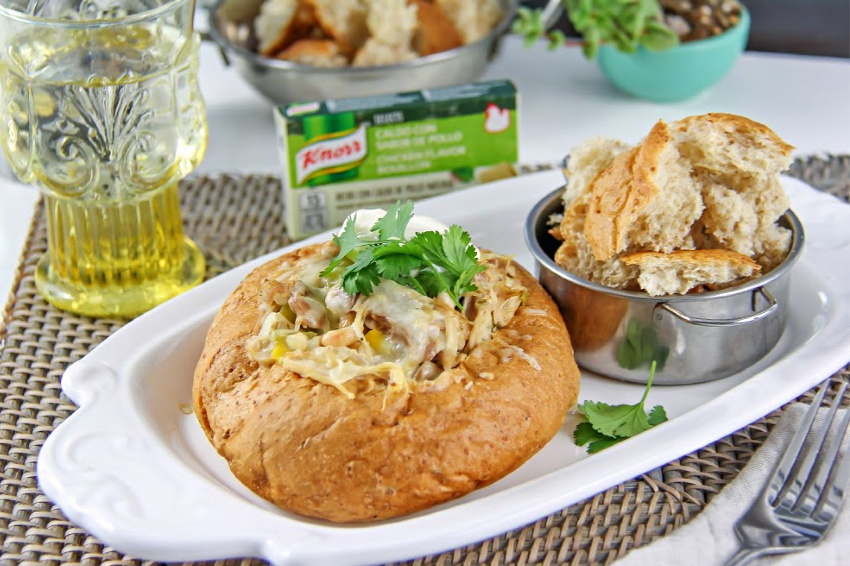 Looking for more delicious bread bowl recipes? Try these:
Please pin this post for later: