This cast-iron skillet smoked kielbasa and gnocchi recipe is perfect for weeknight dinner. The whole family will love it.
Disclosure: This post is sponsored by Perdue Farms
In our house, weeknight meals need to be quick and easy. If I can't get dinner into the slow cooker before midday, then it's a leftovers night or a skillet meal. I don't have the time or energy to be fussing over multiple things on the stove while running the kids to activities and supervising homework. This one-skillet smoked kielbasa and gnocchi recipe doesn't disappoint.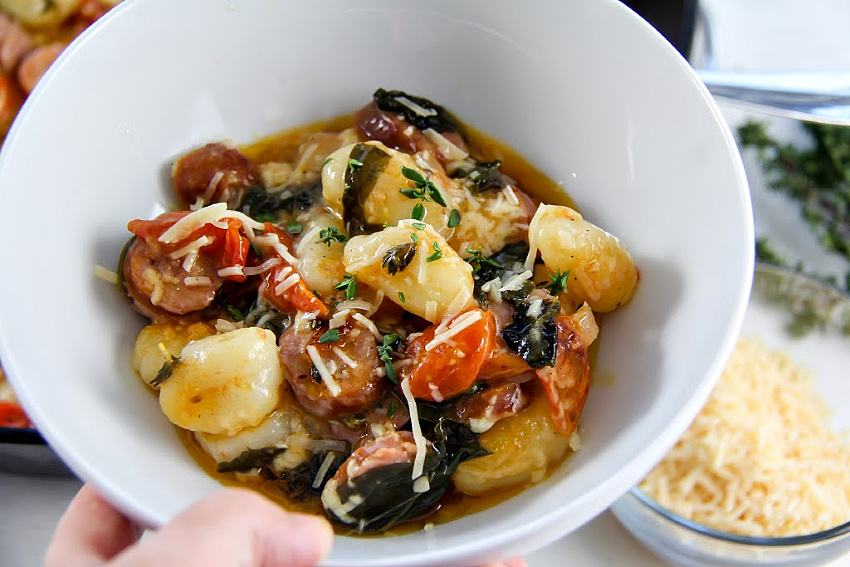 Smoked kielbasa and gnocchi recipe
Ingredients
1 pkg Niman Ranch Kielbasa
1 pkg gnocchi
1 cup grape tomatoes (halved)
1 cup spinach
1 white onion (finely diced)
1 cup chicken stock
1 tsp crushed garlic
3/4 cup mozzarella cheese (shredded)
1/2 cup Parmesan cheese (shredded)
pinch of pepper
1 tbs butter
Instructions
Preheat the oven to 400F.
Melt the butter in the cast-iron skillet over high heat.
Add the garlic and onion and cook (stirring occasionally) until the onion is translucent.
Add the tomatoes to the skillet and stir until mixed through and starting to cook. 
Next is the kielbasa. Allow to heat through for a couple of minutes, stirring occasionally.
Add the gnocchi, followed by the chicken stock, pepper, and spinach. Heat through until the spinach starts wilting a little.
Remove from the heat and stir through the mozzarella cheese. Top with Parmesan cheese and pop into the oven for 20-minutes.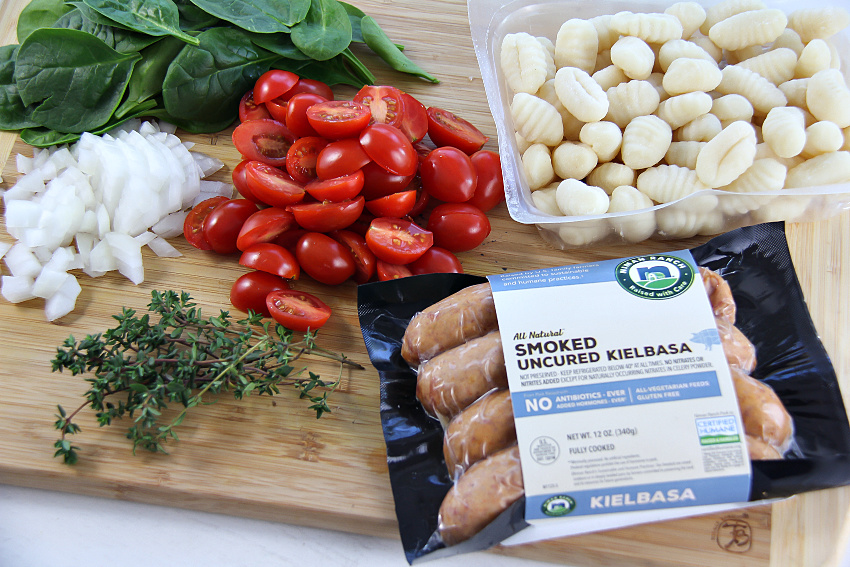 Perdue Farms gatherings bundle
Did you know that Perdue Farms is more than just chicken? The company has a full line of premium protein products and brands, including:
Niman Ranch
Coleman Natural
Perdue Chicken
Perdue Harvestland
Panorama Meats
Spot Farms
Full Moon
and, more.
Keep your freezer full of your favorite Perdue Farms products with the newly released Gatherings Bundle. Our delivery of the medium-sized bundle was full of great products (including the Niman Ranch Kielbasa used in the above recipe). No more daily grocery shopping, or stressing over last-minute guests.
Visit the Perdue Farms Gatherings Bundle site and save up to 25% on your first order! Pick and choose what you want to be delivered and when your order reaches $119 it will be shipped for FREE! PLUS get 10% Off + free Perdue Harvestland Diced Chicken Breasts with your first order.
Perdue Farms commitment to the environment
Being thoughtful stewards of the environment is one of Perdue Farms' most important social pillars. They are taking the following steps to lessen our carbon footprint and protect our ecosystem:
Donations
For every bundle shipped, Perdue Farms will donate to the Arbor Day Foundation, which is working to replant damaged areas of our nation's forests. This donation will help reduce the carbon footprint required to ship the products to you.
Sustainability
The shipping boxes were designed with sustainability in mind. Every box is made out of 100 percent recyclable cardboard and insulated with Green Cell Foam®. Green Cell Foam® is eco-friendly packaging and is biodegradable, compostable, and made from high-grade non-GMO cornstarch that is dissolvable in water. 
Reuse and recycle
You'll receive a reusable and recyclable grocery bag with every purchase. Reach for the bag next time you go to the store to avoid using paper or plastic.
Pollinator seed packets
A pollinator seed packet is also included in every box. Perdue Farms wouldn't be able to produce the food they do without bees and butterflies, which help to make one out of every three bites of food we eat. Plant the seeds to create a robust pollinator habitat near your home! Learn more about the progress Perdue Farms made in the areas of food, environment, animal care, people, community, and our partners at perduefarms.com/responsibility.
If you are looking for more kielbasa recipes, try these:
Please pin this post for later: