No fire pit? No worries. You can have an epic indoor movie night with s'mores hot chocolate and s'mores bark. We'll show you how.
Disclosure: I set up a delicious Kellogg's® Cereal Party as part of a sponsored post for Socialstars #NiteBites
Light a fire, invite friends around for an impromptu holiday movie night and serve up these delicious and simple treats.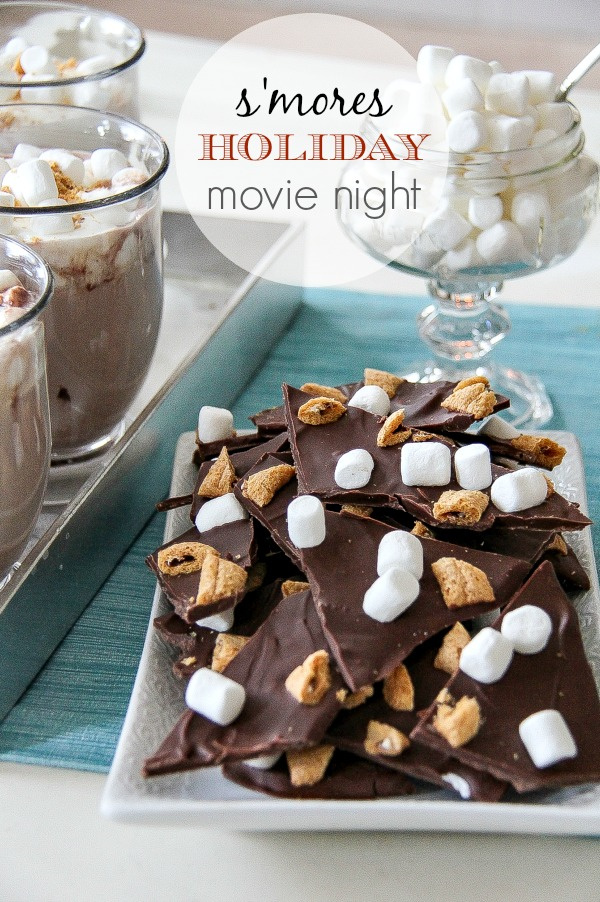 Movie night should be stress free and simple.
Cozy movie night tips
Light a fire (if you have one). If not, candlelight will make the room feel warm and cozy.
Provide lots of blankets and cushions for getting cozy
Invite everyone to come over in the jammies
Serve simple and delicious treats and a warm drink
Choose a family-friendly holiday movie to watch
S'mores bark
S'mores are the perfect winter treat for sitting around a fire, getting warm and cozy with friends and loved ones, and of course watching a movie, so guests are sure to love these s'mores hot chocolate and s'mores bark.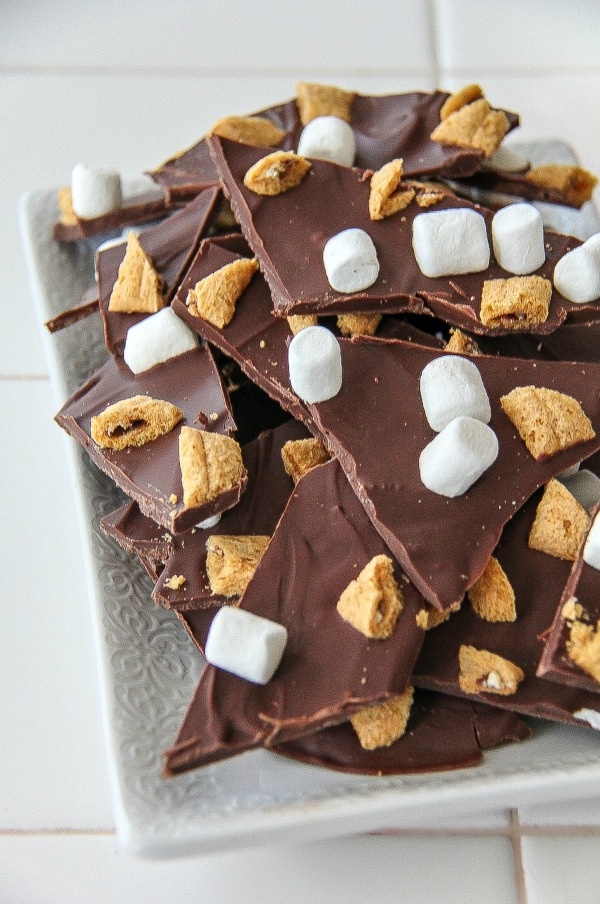 Ingredients
10oz milk chocolate morsels
1/2 cup Kellogg's® Krave S'mores
1/2 cup mini marshmallows
Instructions
Line a baking tray with parchment paper and set aside.
Roughly chop the Kellogg's® Krave S'mores into smaller pieces.
In a double boiler melt the chocolate, stirring constantly. Immediately pour it onto the baking tray, spreading it out with a spatula until it's about 4-5mm thick.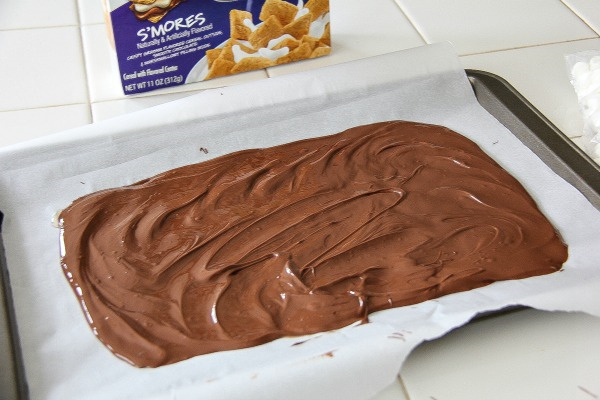 Working quickly, press pieces of Kellogg's® Krave S'mores and mini marshmallows into the melted chocolate.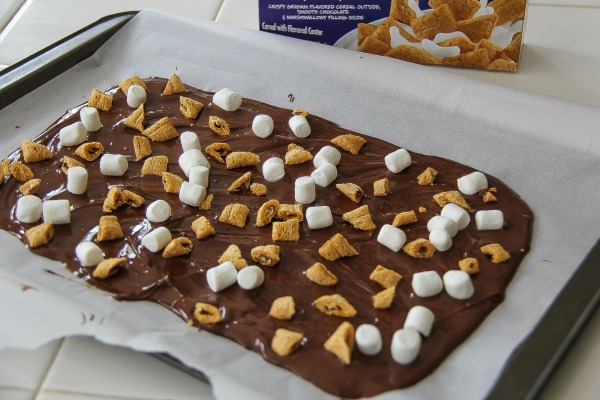 Refrigerate for at least an hour. Once the chocolate has set use a sharp knife to cut the chocolate into pieces.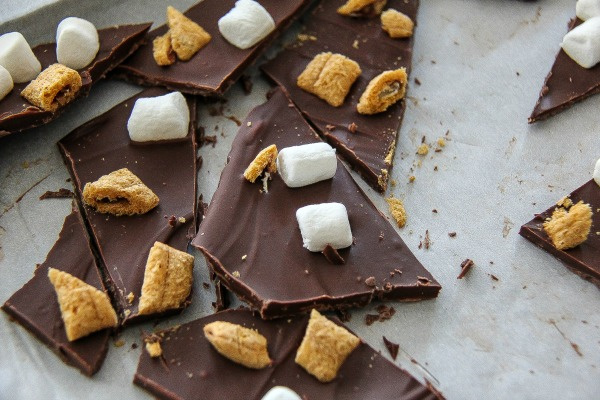 Refrigerate again until ready to serve.
S'mores hot chocolate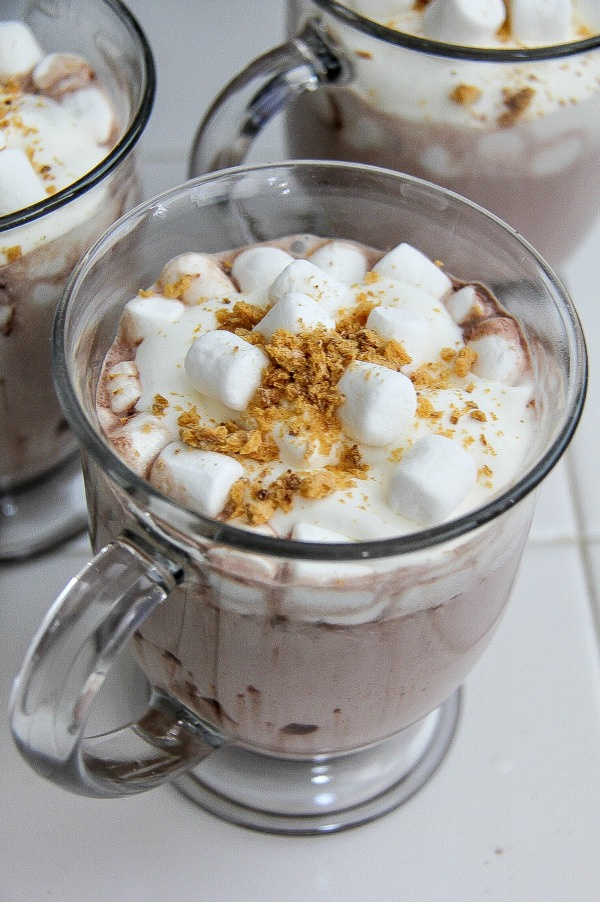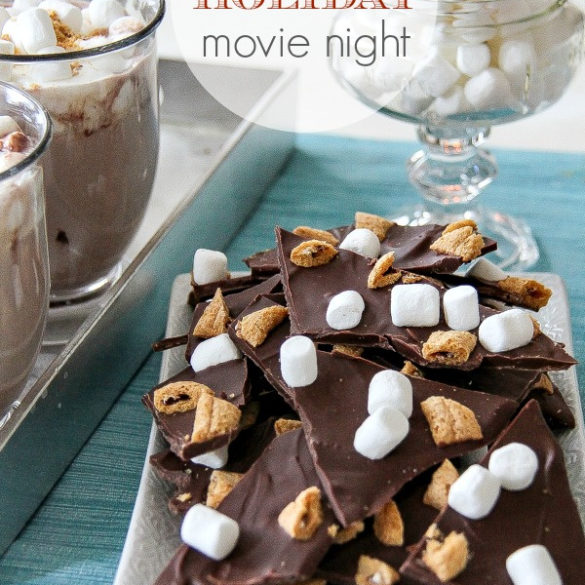 Ingredients
1 cup of Half & Half
1/4 cup hot water
1 pkg hot chocolate mix
1 tsp sugar
2 tbs whipped cream
1/4 cup mini marshmallows
1-2 crushed Kellogg's® Krave S'mores cereal pieces
Instructions
Heat the half & half in a saucepan on the stove stirring often so a skin doesn't form on top. 
While this is heating, boil some water.
In a mug add the sugar, hot cocoa mix, and hot water, stirring until the sugar and cocoa mix are dissolved.
Top with the half & half once it is ready and stir.
Place a layer of mini marshmallows on top of the hot chocolate, top with whipped cream, a few more marshmallows, and a sprinkling of crushed Kellogg's® Krave S'mores.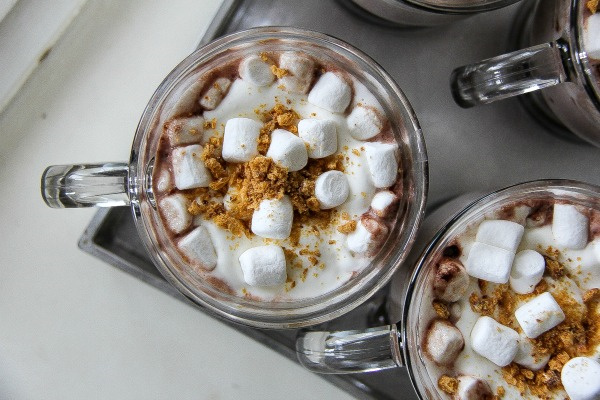 Place your hot chocolate and treats, along with extra mini marshmallows (because you can never have enough) on a table within easy access to everyone. Don't forget napkins and plates.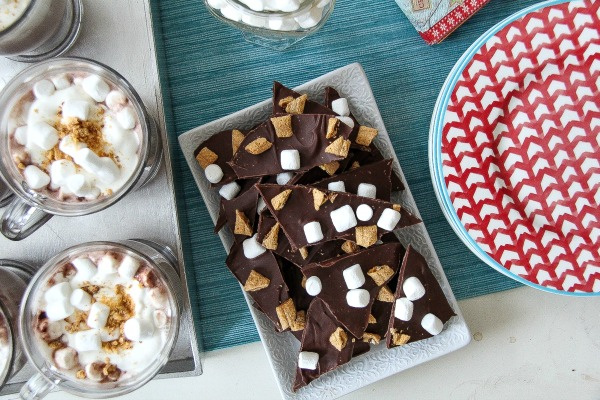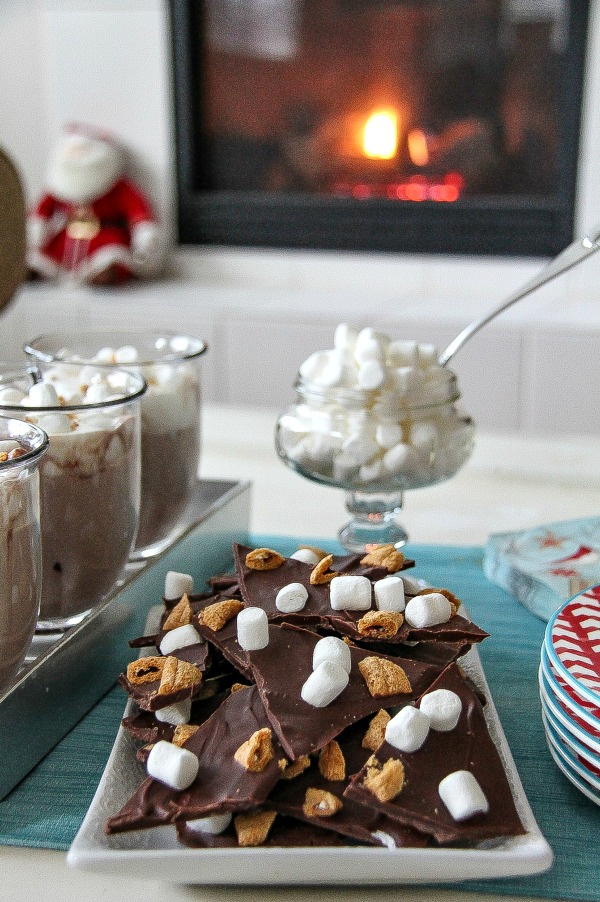 Please pin this post for later: