Kick off your St. Patrick's Day with these shamrock pancakes made with pureed spinach. They are the perfect addition to a breakfast board.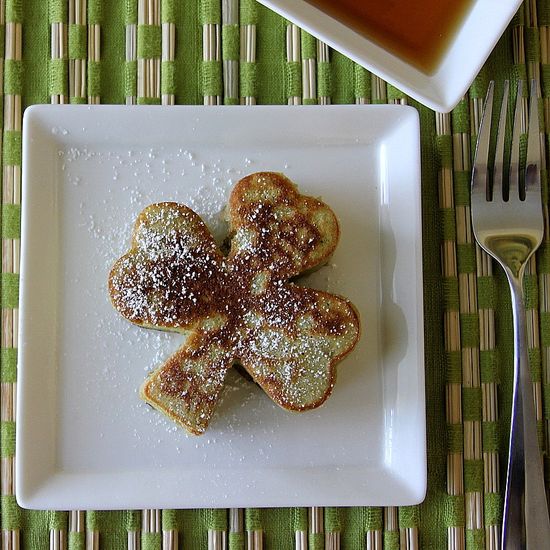 How to make shamrock pancakes
Ingredients
2 cups whole-wheat white flour
2 tbs sugar
1 tsp baking powder
1/2 tsp baking soda
Pinch of salt
3 eggs
2 cups buttermilk
2 tbs butter (melted)
Spinach puree
Water
Instructions
To make the spinach puree
Cut the stems off approximately 2 cups of fresh baby spinach.  Boil them in a pot of water until limp. Strain, and then pop the strainer into cold water to stop the spinach from cooking. Press the excess water out of the spinach. Pop the spinach into the blender and add a little almond milk. Blend. You now have pureed spinach.
Combine all of the dry ingredients in a bowl. Gradually add the remainder of the ingredients (leaving the spinach puree and water until last) and combine, stirring with a wooden spoon. After you've added the spinach puree, you will find that the pancake mix is very thick, so gradually add small amounts of water, stirring constantly until the desired consistency is reached.
Put a little spray on the inside of the metal cookie- cutters (to prevent sticking) and pour a little batter in each once assembled in a pan. Cook until bubbles appear on the top and flip.
Serve with a little powdered sugar and 100% maple syrup.
The pancakes will have bits of green on the inside. The more spinach you add, the greener they will be.
More shamrock food for St. Patrick's Day
Are you looking for more fun shamrock-shaped food for your St. Patrick's Day celebrations? Take a look at these:
Please pin this post for later