This bright yellow and white summer brunch table with lemon cinnamon rolls, a breakfast casserole, and parfaits is perfect for Sunday brunch with the family.
Disclosure: This is a sponsored post. I partnered with CW by CorningWare™ to show you simple tips for entertaining in style. #CWColor
Entertaining at home is a breeze with this new CW by CorningWare™ line of bakeware. Your dishes can go from oven to table and look stylish all the way.
I was inspired to create a summer brunch and show my True Colors with my new CW by CorningWare™ bakeware in curry.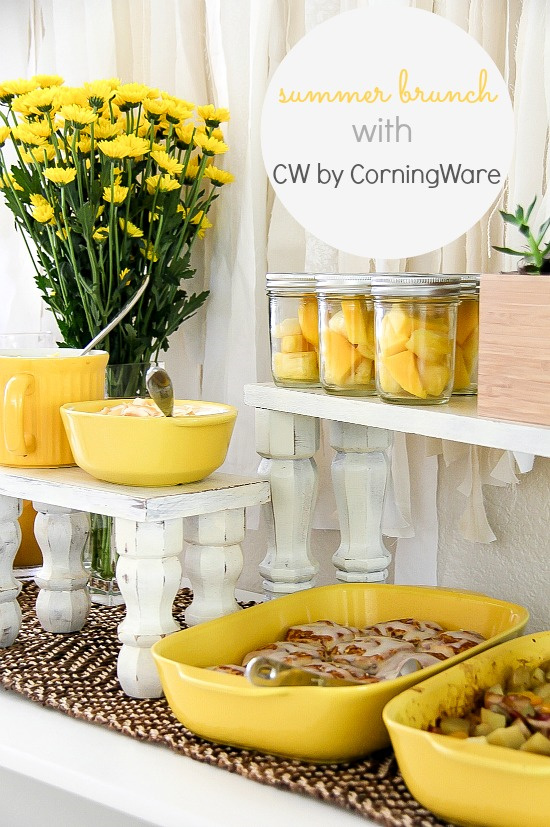 This bakeware is so versatile and comes in the most vibrant colors. You can use it in the oven, microwave or refrigerator, which makes entertaining so easy. You can bake ahead, store in the refrigerator and then reheat in the microwave before guests arrive.
I've got simple tips for you for hosting a summer brunch and most of the dishes can be baked at the same time.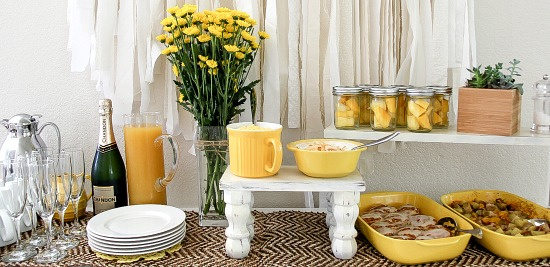 For this brunch table I put out a variety of sweet and savory dishes and a beverage station with a number of options to choose from.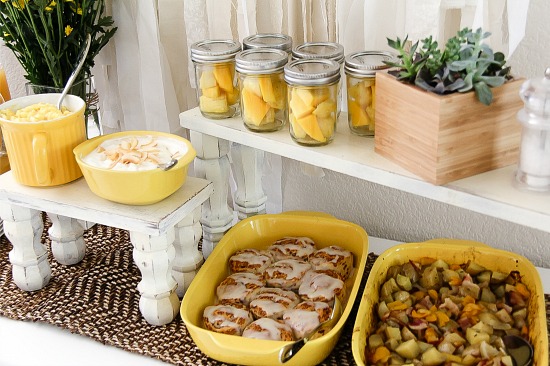 Yellow potato casserole
I used the 3-quart 'curry' oblong casserole dish and seeing as this dish takes the longest to cook, you can keep it in the oven with everything else, even through the temperature adjustments.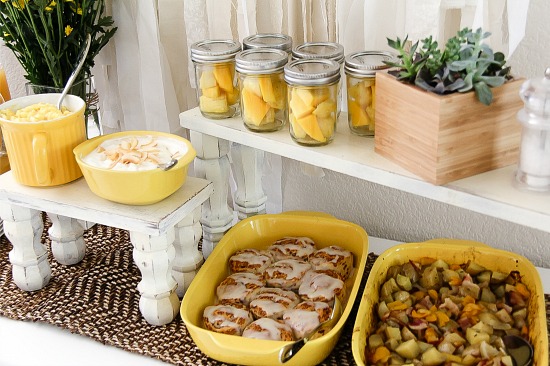 Ingredients
1.5lb bag of baby yellow potatoes
1 1/2 cups yellow tomatoes
1 yellow pepper
1 yellow onion
6 strips of bacon
1 tbs melted butter
1 tbs crushed garlic
1 tbs fresh thyme
salt & pepper
Instructions
Preheat the oven to 400F.
Begin by grilling your bacon just a little. You want it to be slightly cooked, but not browning.
Put the melted butter into the bottom of the casserole dish.
Cut your potatoes into quarters and your onions into large pieces and add those to the butter. Toss in halved tomatoes, diced yellow pepper, and the garlic.
Cut up the bacon and toss it in, and then add the thyme, salt and pepper.
Toss to combine with the butter.
Bake for 40 minutes.
Lemon cinnamon rolls
You can find my delicious semi-homemade lemon cinnamon rolls recipe here.
Around 20 minutes into cooking the casserole you will need to add the Lemon Cinnamon Rolls to the oven.
Before the next recipe, you need to turn your oven down to 350 F. Leave the casserole in thought, it's doing great, but give it another toss with a spoon anyway.
Baked scrambled eggs
Using the 20 ounce curry mug you can bake up to 10 scrambled eggs in the oven and no more brown bits from the frying pan.
Ingredients
10 large eggs
1 tbs melted butter
1/4 cup reduced fat milk
Instructions
Add the melted butter to the bottom of the mug. Add the eggs and milk and whisk until combined.
Pop into the oven for approximately 25 minutes. I was taking it out every 8 minutes or so to combine with a fork, otherwise the egg on the top and bottom sets, but the middle takes longer.
Remove your dishes from the oven and place on the table along with serving-ware – making sure to pop something underneath because they are hot.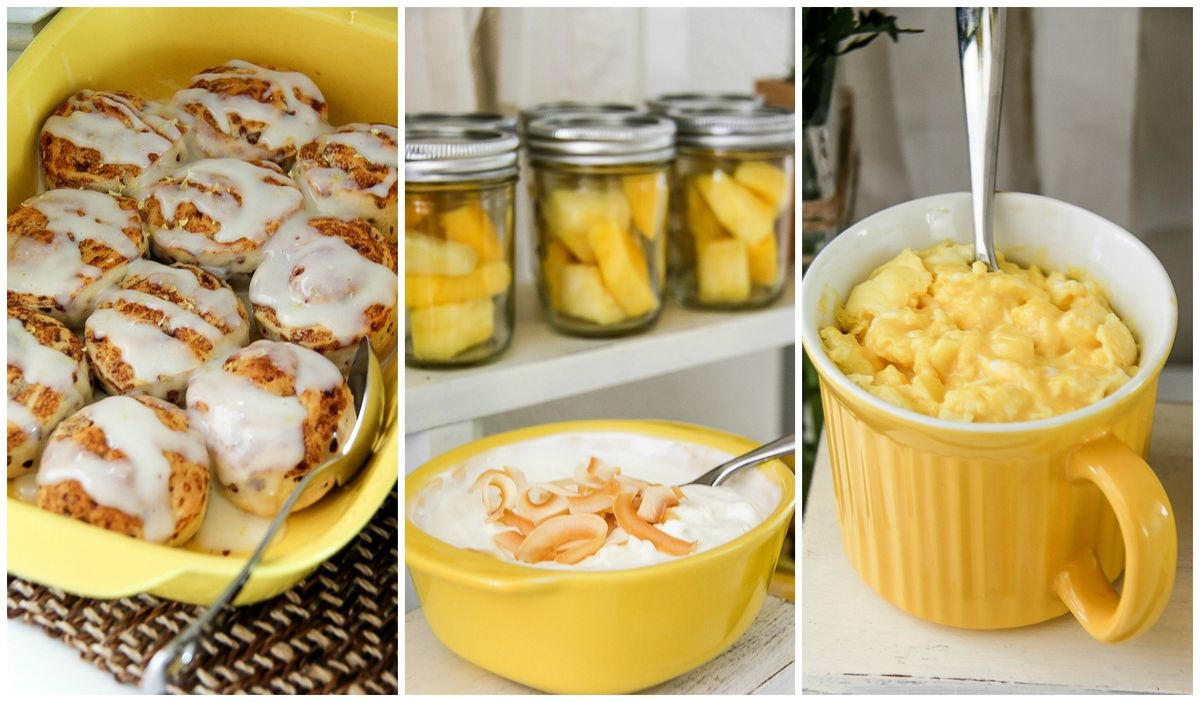 Fresh fruit parfaits
Place mango and pineapple pieces in jars and close the lids. Guests can help themselves to this, or make their own parfaits by spooning in a little yogurt mixture (recipe below).
In the 20-ounce curry baking dish fill to approximately 3/4 with low-fat vanilla yogurt. Add about 1 cup of Cool Whip and combine with a spoon. Top with toasted coconut chips.
Drinks
I placed a variety of beverages out including champagne with orange and mango juice for mimosa's.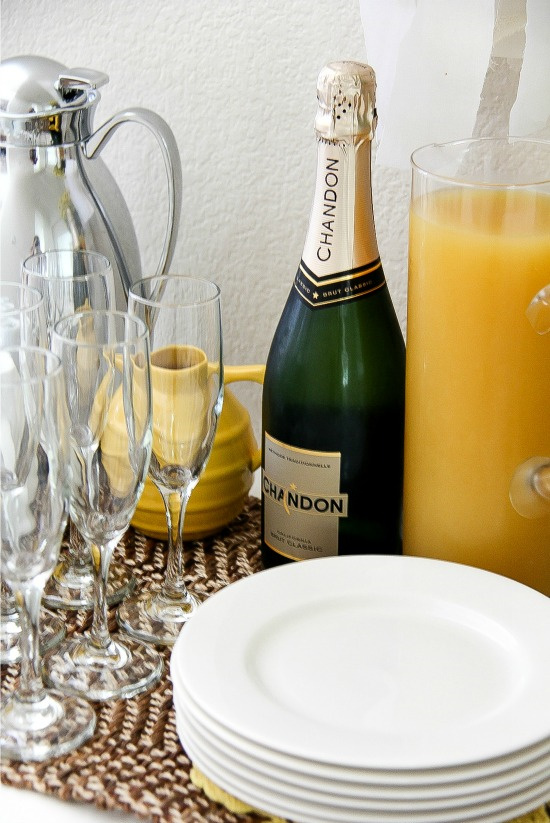 There is also hot water with assorted teas, hot chocolate and coffee, along with sugar and Sweet'N Low packets.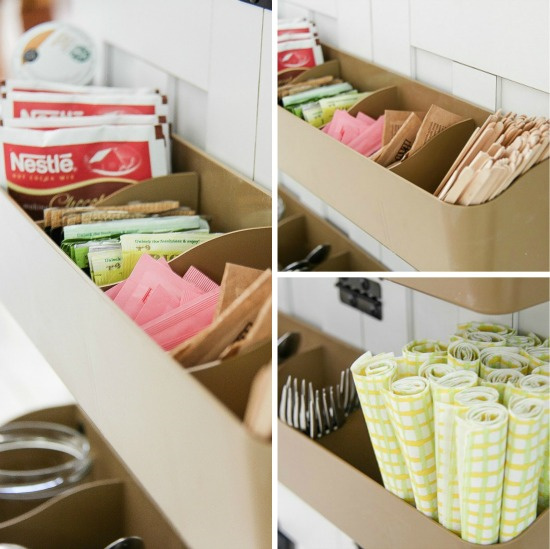 Tip: Don't forget to leave out an empty jar or bowl for used coffee stirrers and empty packets.
Which color of the new CW by CorningWare™ would show your true colors?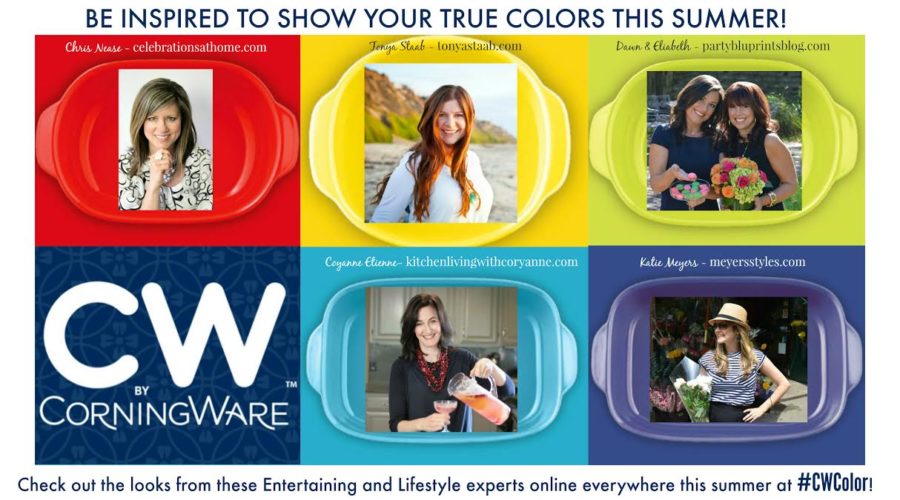 Please pin this for later: