I've been a little skeptical about taking the kids to Catalina Island with me, but it was one of the items on my 40-by-40 list so I was on a mission to conquer it.  To me very few places I want to go are truly off-limits with kids, I'm willing to give almost anything a go, but I wasn't sure how they would do on the long boat ride.  Then being without a vehicle once we had arrived on the island I wasn't quite sure how I would keep two five year-olds entertained and be able to sightsee for about 10 hours before our boat ride home.  Normally I would stay overnight and thus be able to justify taking car seats with us as we could leave them in the hotel whilst doing other activities, but we didn't want to be stuck carrying them just for a day trip.  However my fears were quickly put to rest, we were able to spend a whole day sightseeing and it was much easier than I thought.
My husband had already been on Catalina Island for a couple of days playing in a rugby tournament, but we wanted to ensure that we could get in a full day of sightseeing with my parents while they were visiting and once the tournament was over for my husband.  Unfortunately though he sent me a text message as we boarded the Catalina Express to say that he'd landed in hospital, they thought he may have broken something in his knee the previous day playing rugby (which it turns out he has) and he was on crutches. He managed to keep up with us though.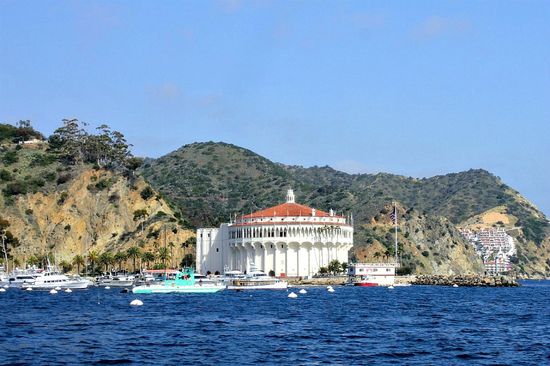 Unfortunately the boat ride over was a little rockier than any of us would have liked and we all arrived feeling a tad queasy.
There are a number of methods of transportation once you arrive on Catalina Island.  You can rent bicycles, hop on the trolley, go on a boat or land tour, rent a golf cart (which is the primary mode of transportation), get in a taxi, or simply walk.   One thing you need to remember though is if you have children under the age of 6 (or under 60 lbs) by law they must be in a car seat (this specifically applies to renting golf carts).  We had no problem catching taxi's, or jumping on the trolley though, which is only $6 per person for a day pass and you can hop off at various stops to sightsee.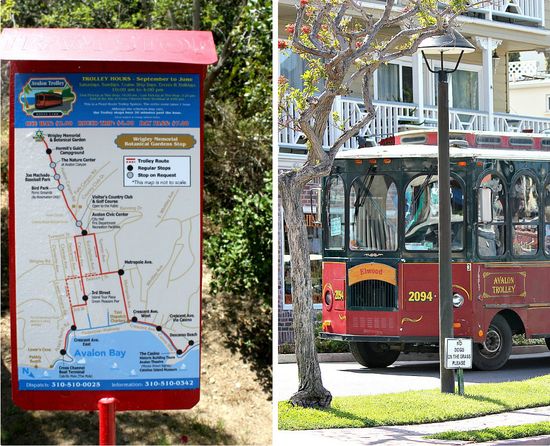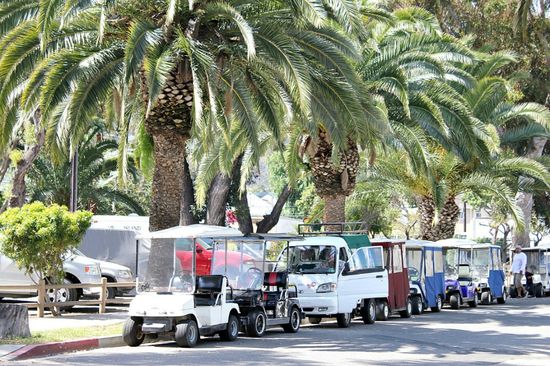 After taking a walk down the main shopping and restaurant strip (mainly to get our land legs back), we hopped on a trolley, which the kids absolutely loved, and took a little tour of the island.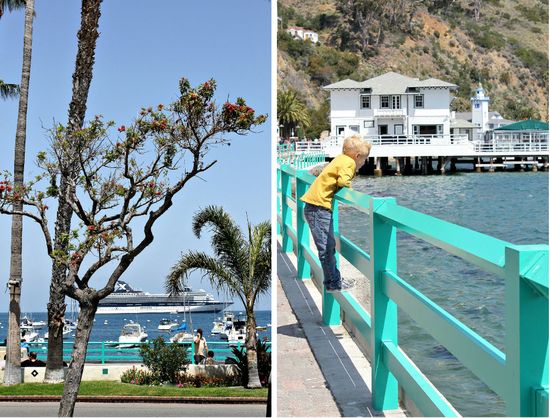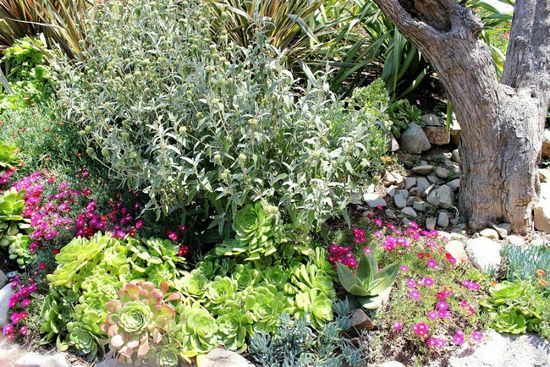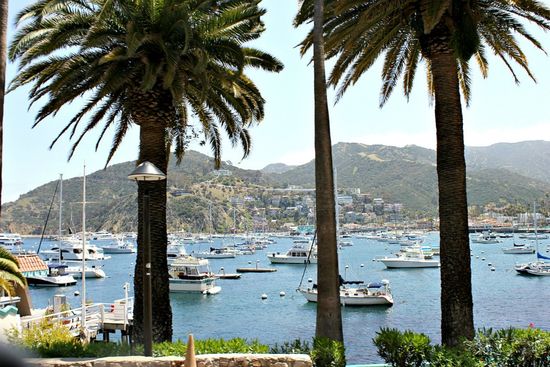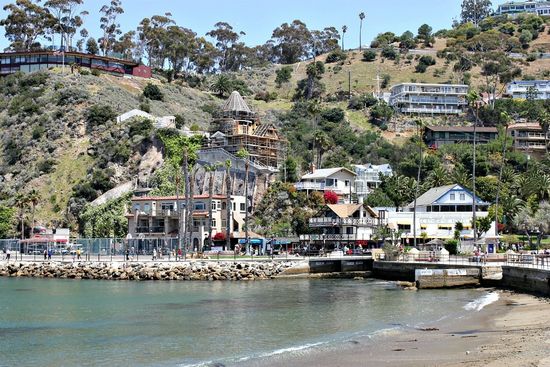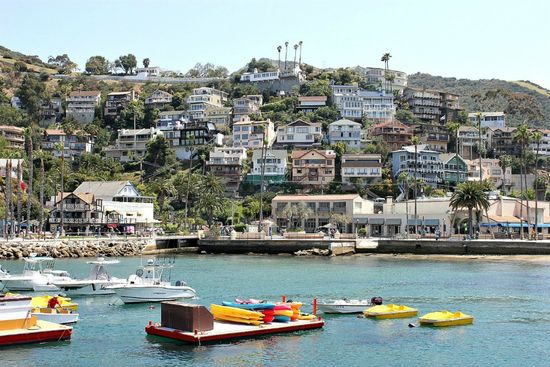 We hopped off the trolley half way around the loop at the Wrigley Memorial and Botanical Gardens.   I have to admit that if we had a golf cart, this most likely would not have been high on my list of things to do, however given our limitations, I was prepared to risk going to another botanical garden full of flowers.  It was far from that though and I was so glad that we hopped off at this stop.  The gardens are beautiful, there are lovely paths to stroll on, and many, many native plants, including a cactus garden.  Some of the plants are endangered and very rare.  At the end of the gardens the magnificent Wrigley Memorial stands.  Walking up the flights of stairs to the very top leaves one a little out of breath, but the spectacular view is well worth it.  The memorial itself is something to see, with the elaborate tiling, bronze doors, and tower.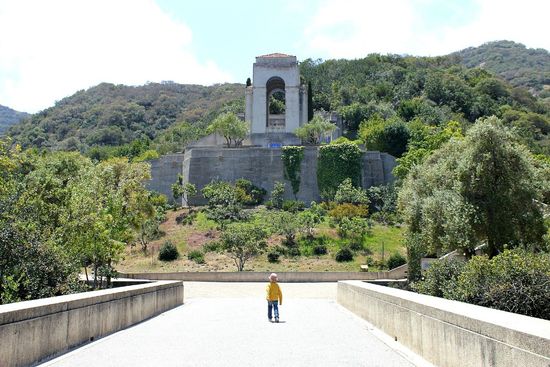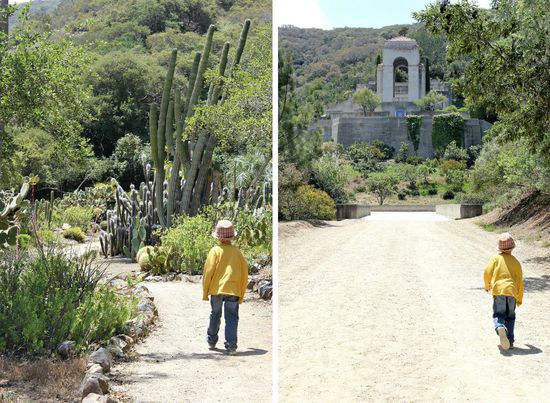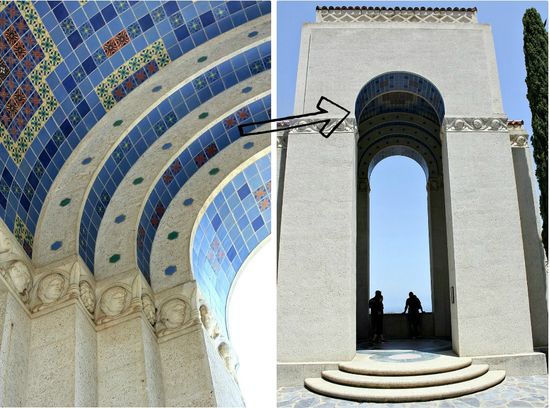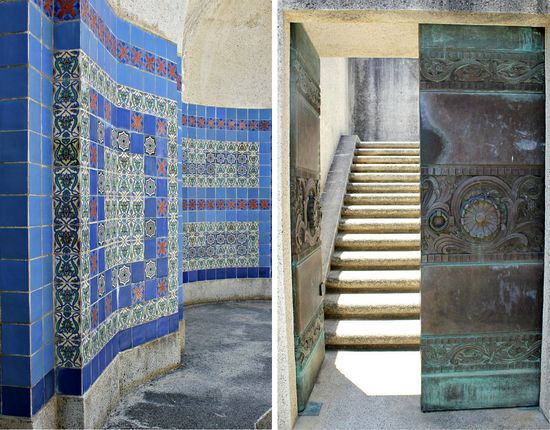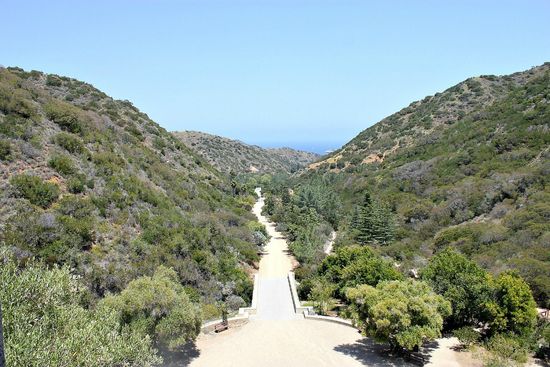 We made it back to the trolley stop with about 15 minutes to board the next trolley.  There was another younger couple taking a rest on the bench before heading back out on their bike ride.  As they left they gave the twins a bubble blower. I love the kindness of strangers.  This certainly kept the little ones amused until the trolley picked us up.
The trolley took us back down to the town and we had the opportunity to scope out where we would spend the rest of the day.   First stop was to meet my parents (who had been on a bus tour of the island) at Rosie's Fish and Chips on the pier.  The fish tacos were great.  We perched up on bar stools overlooking the bay and enjoyed a quick meal, before heading out on a glass bottom boat tour of the bay hosted by Catalina Island Adventure Tours.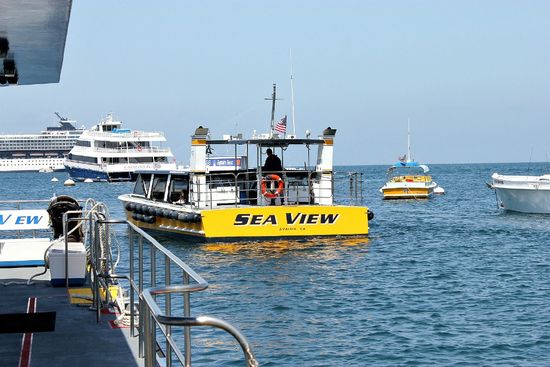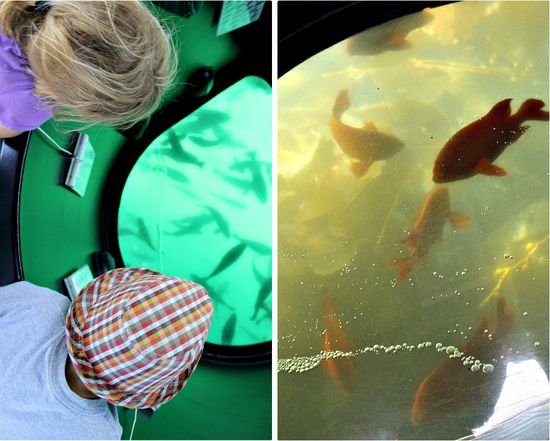 After returning from our tour, I suggested we walk to the Descanso Beach Club which we had spotted from the trolley.   We stopped along the way at Big Olaf's for ice-cream, which was a good thing as the restaurant was closed at Descanso Beach, however they were serving beverages and chips and salsa to those who wanted a little something while soaking up some rays.   We made ourselves comfortable in some chaise lounges on the sand, changed the kids into swim gear and while they played at the waters edge, the teenager skipped rocks and watched the boats and parasailers.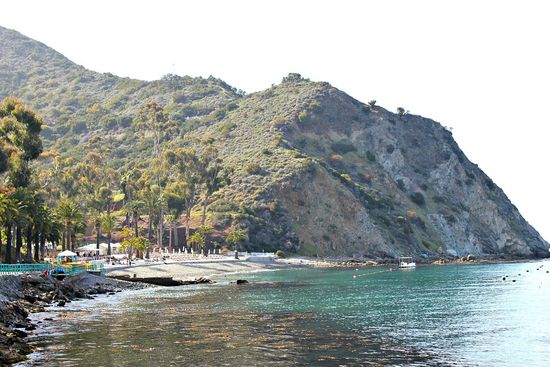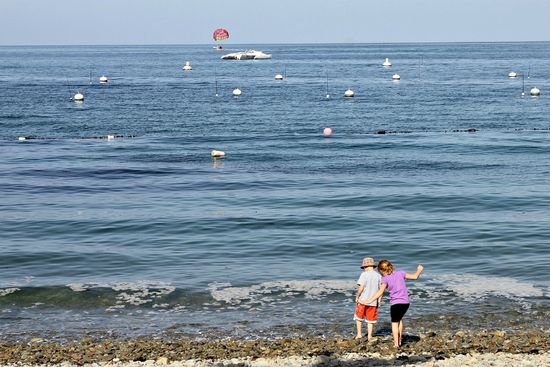 From here we enjoyed dinner at a restaurant in town and then wandered back to the ferry landing to catch our boat home.  The sun was setting as we left, and worried about another bout of motion sickness we bundled up in coats and took to the open deck.  I won't lie, it was cold, but it was such a beautiful sight watching the sun setting over Catalina Island, and the fresh air did us the world of good, nobody felt queasy and the twins slept the entire boat ride home.  It was dark by the time we returned to Dana Point, so watching the lights appearing over the horizon was a welcome sight, and a beautiful one too.