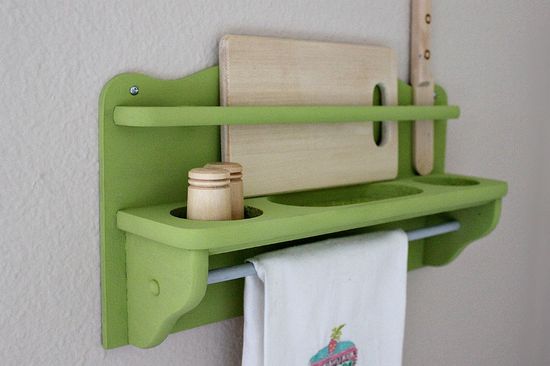 Over the years I have been adding to Marisol's kitchen set.  We bought her a sweet Kidcraft pink kitchen when she was 2 (so about 3 years ago).  Each year since I've given her new accessories to build on the basic set so she never tires of it.  And she hasn't.  She loves having tea parties for her dolls, and for us, and is often in her bedroom whipping up something fabulous.
For Christmas I had planned on giving her a small rack with some more wooden food items but time got away from me and although I had picked up a fabulous towel holder with shelf above it for only $1.99 at Goodwill, I didn't seem to have enough time to get it sanded and painted.  So today, she got a belated Christmas gift.
This was the towel rail with shelf that I purchased … fabulous deal for $1.99.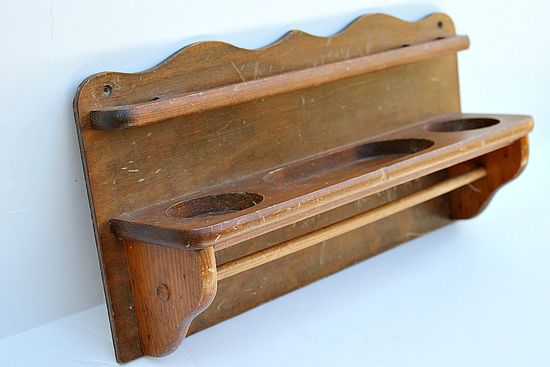 After a lot of sanding, applying a sealer, and three coats of paint, it was looking lovely, but needed a little something extra.  So I painted the towel rail silver to match the silver on her kitchen and then cut pieces of scrapbook paper and attached them to each section of the shelf using mod podge, you can see the subtle pattern in the second photo below.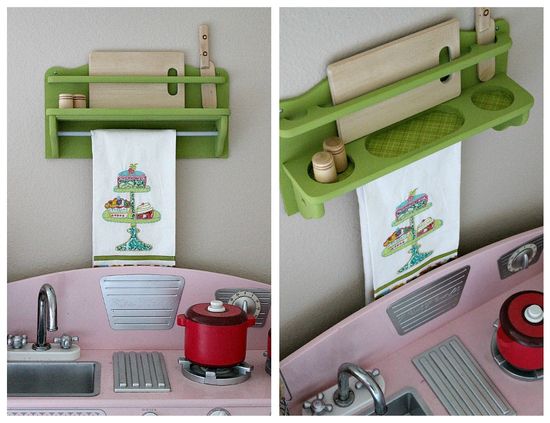 She was thrilled with the results.   I loved the addition of the tea towel, which although was a little expensive at $5.99 from Marshalls, was just perfect and I couldn't resist giving it to her.
I can't wait to finish decorating her bedroom and share photographs.  It seems to be a long process though.
This post linked to: