This Valentine's Day lunch for kids is made with love and contains some of their favorite treats. Make it for home, or put it in a lunchbox for school.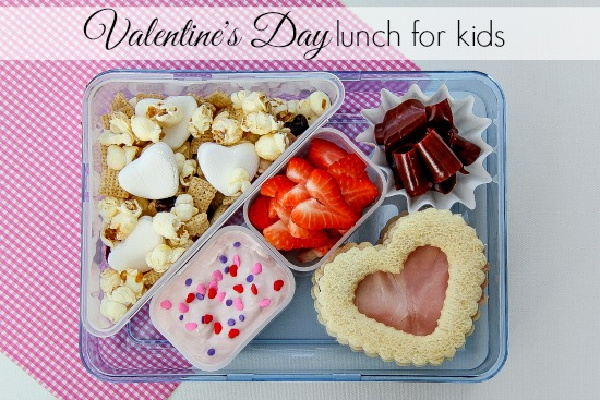 Note: This fun Valentine's Day lunchbox for kids was originally created for Rusty and Rosy, however that site is currently offline.
Valentine's Day is a day to be celebrated with all of your loved ones, that means the kids too. They are sure to love this themed lunch that's been made with love.
Heart-shaped sandwiches
What you need
heart-shaped cookie cutters in two sizes (large and small)
bread
sandwich filling – I used ham and cheese
Instructions
Cut each slice of bread with the large cookie cutter. On one slice (per sandwich) cut out a smaller heart in the center. Add your favorite sandwich filling and assemble. This works great with other fillings such as Nutella too.
Valentine's Day trail mix
What you need
Popcorn or kettlecorn
Rice Chex
Dried cherries or cranberries
Marshmallows – the flat 'stacker mallows' work best for this
Instructions
Cut the stacker mallows into a heart using a small heart-shaped fondant or cookie cutter.
Combine all ingredients in a container and gently mix.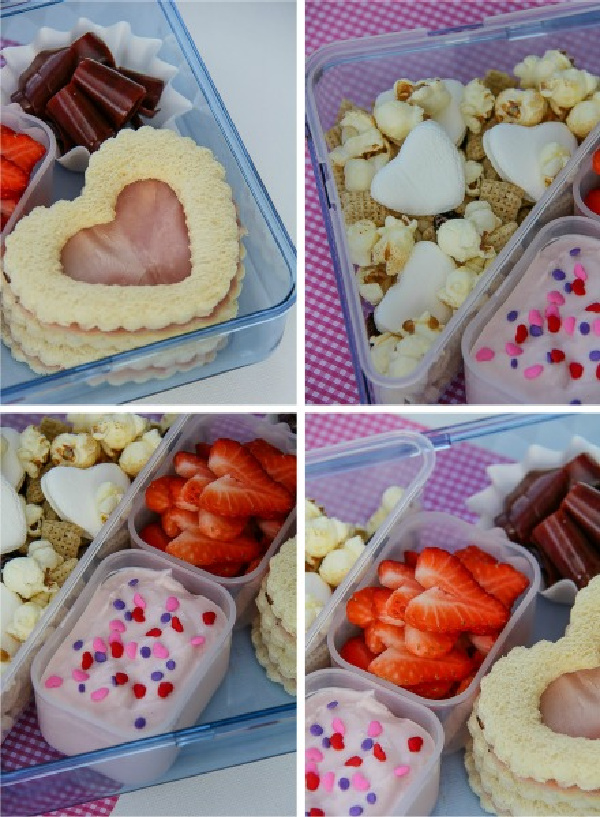 Fun Valentine's Day food for kids
Elli: Quark (red velvet flavor): It looks like yogurt but is actually cheese. Top with Valentine's Day-themed sprinkles.
Strawberries: To make heart-shaped strawberries trim the top off the strawberry, turn the strawberry so that the narrowest part at the bottom is facing you. Cut a 'v' shaped into the top of the strawberry, and then cut the strawberry into thin slices.
Fruit Roll-Ups: Cut into thin strips and roll.
Please pin this post for later: