White chocolate-covered strawberries are a delicious and easy treat to make. Color-coordinate them with your party theme or holiday with our easy tips.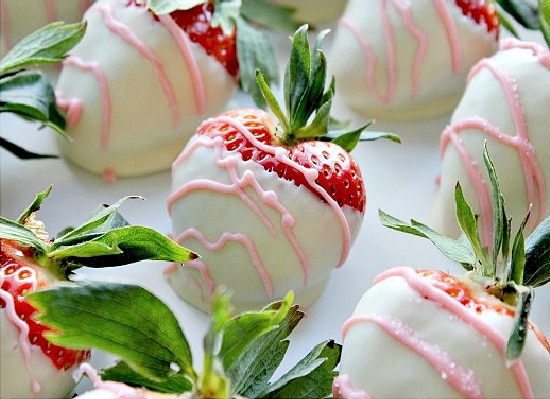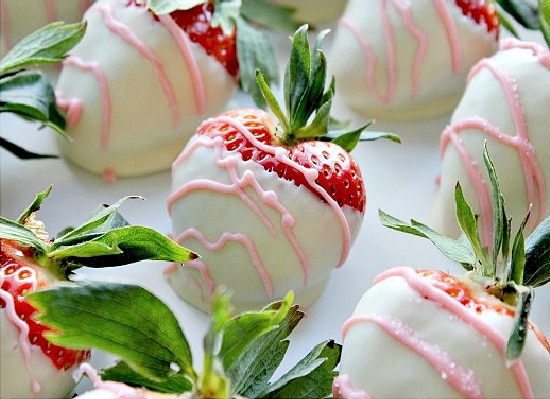 Ingredients
Strawberries
Ghirardelli white chocolate chips
Wilton gel food coloring (color to match your party)
Sugar crystals (color to match your party)
Piping bag and Wilton piping tip no.3
Baking sheet
Wax paper
Instructions
Melt the white chocolate chips according to the package directions. Spoon a small amount of the white chocolate (about 2/3 of a cup) into a small bowl.
Add a small amount of food color (we used pink) to the icing in the bowl and mix thoroughly.
Dip each strawberry into the remaining uncolored white chocolate. Let a little of the chocolate drip off, and then place your dipped strawberry onto the wax paper. Repeat until you have covered all of your strawberries.
If your colored icing has begun to harden, melt it for a few seconds and mix again. Pour the colored chocolate into the icing bag (make sure the tip isn't facing downward or the chocolate will right out) and quickly pipe the chocolate back and forth over the rows of strawberries. Sprinkle a little of the matching sugar crystals over the top before it dries.
Place your cookie sheet into the refrigerator until the chocolate has hardened (no more than about half an hour).
Remove your strawberries from the refrigerator and store them in an airtight container until ready to serve.
Tips for making chocolate covered strawberries
If your strawberries have been refrigerated, wash them, pat them dry thoroughly, and leave them out until they are room temperature. If you have just picked (or purchased) them, wash them, pat them thoroughly dry, and you can use them immediately.
You are going to have to work quite quickly once the chocolate is melted so it doesn't harden again before you are finished. Set up everything you will need within arms' reach before you begin melting. Snip a small piece off the end of the piping bag and insert the Wilton tip so the end of the tip is poking out of the bag. Place the wax paper on the cookie sheet and set it aside.
Tips for coloring chocolate-covered strawberries for events and holidays
Color coordinate your Wilton gel food coloring and sugar crystals to your party theme.  For the white chocolate-covered strawberries pictured above, I used the 'rose petal' gel to make this soft pink.
Blue for a boy baby shower
Red and blue for a patriotic party
Assorted pastel colors for Easter
Red or pink for Valentine's Day
Red and green for Christmas
For an elegant party or New Year's Eve party instead of sugar crystals pipe on white chocolate, and then sprinkle a little gold or silver edible glitter over the top.
A rainbow of colors for St. Patrick's Day.  Tip: Make sure strawberries are in an even row and pipe one row with red, one with yellow, and so on instead of attempting to pipe each strawberry individually.
Looking for more delicious ideas with strawberries for entertaining guests at home? Try these:
Please pin this post for later: