Whether you are celebrating National Black Cat Day, Black Cat Appreciation Day, or Halloween, you'll love these black cat ideas.
We have an entire day of family-friendly black cat fun planned for you. Just set up our black cat party, choose your favorite show, and don't forget storytime.
National Black Cat Day Party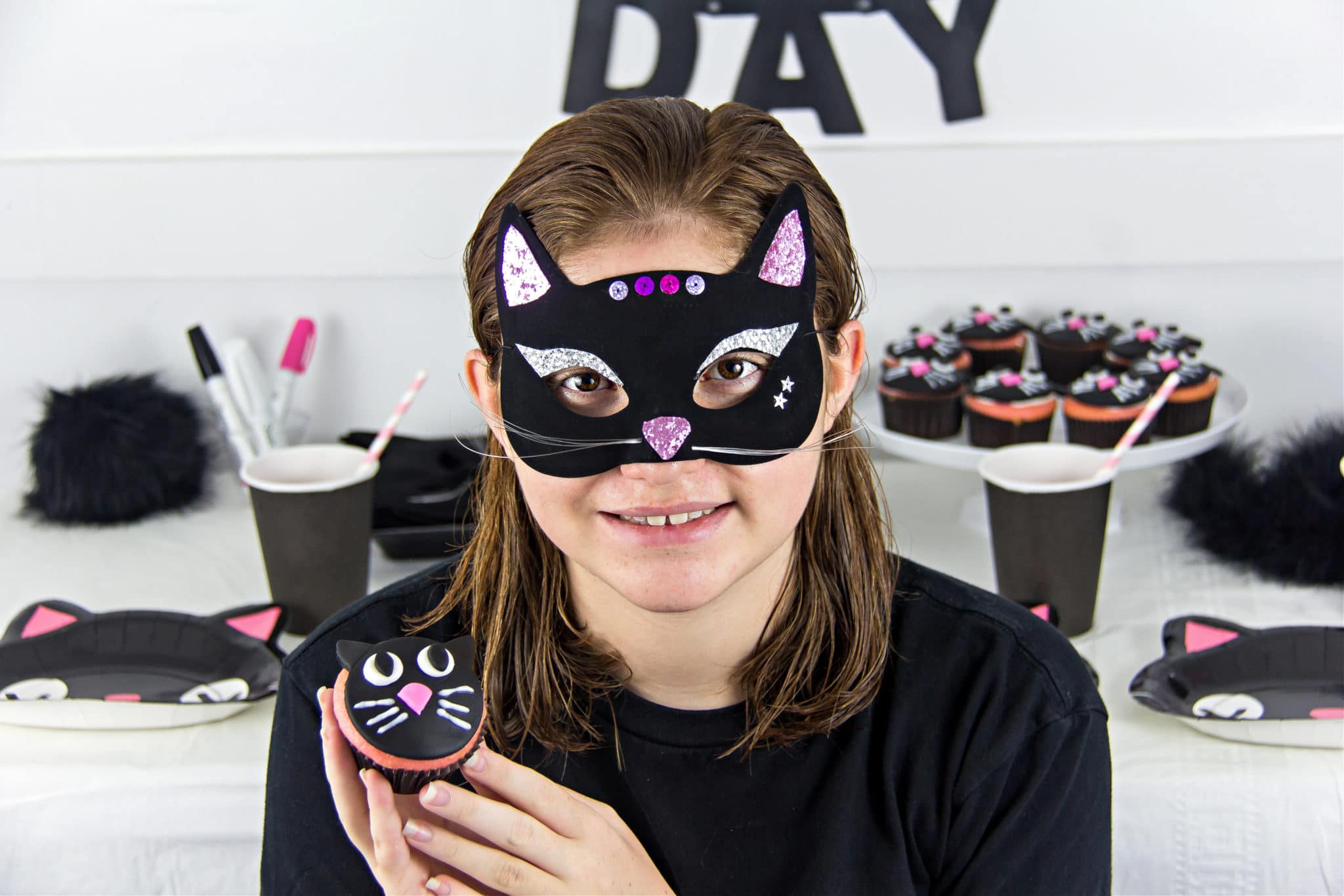 Celebrate Black Cat Day with a fun party for the kids. Over at Party City, I'm showing you how to make these black cat strawberry cupcakes and set up a fun black cat mask-making table.
Movies and television series with black cats
While you are making black cat masks and enjoying yummy treats, pop on a movie of your favorite black cat.
Salem from Sabrina
Sabrina is one of our favorite shows with a black cat. We watched the original Sabrina the Teenage Witch sitcom when the kids were younger. More recently Marisol and I watched The Chilling Adventures of Sabrina on Netflix and loved it.
Thackery Binx from Hocus Pocus
It's not Black Cat Day (or Halloween) without Hocus Pocus. If you haven't seen this movie, Thackery Binx was a 17th-century boy who was transformed into an immortal black cat by the witches.
The Cat from Coraline
The black cat from Coraline may not have a name, but he plays a key role in this movie, keeping a watchful eye over her.
Catwoman
The 2004 Catwoman movie starring Halle Berry is another movie that might appeal to older kids. This character (although played by different actresses) appears in many Batman movies as well.
Children's books about black cats
Looking for storytime books about black cats to read on Black Cat Day? Here are some that the kids will love.
Black Cat, White Cat – by Silvia Borando
The Last Black Cat – by Eugene Trivizas
Moonlight: The Halloween Cat – by Cynthia Rylant and Melissa Sweet
Five Black Cats – by Patricia Hegarty
All Black Cats Are Not Alike – by Amy Goldwasser and Peter Arkle
Please pin this post for later: