Kids play kitchens are the perfect role-playing and learning experience where they can learn math and future kitchen skills.
It's supposed to be a little rainy here in San Diego today. It will be a perfect day for fun and learning indoors.
Marisol absolutely loves her play kitchen. I'm going to be devastated when she finally outgrows it. I've noticed as she gets older her role-playing is developing and changing.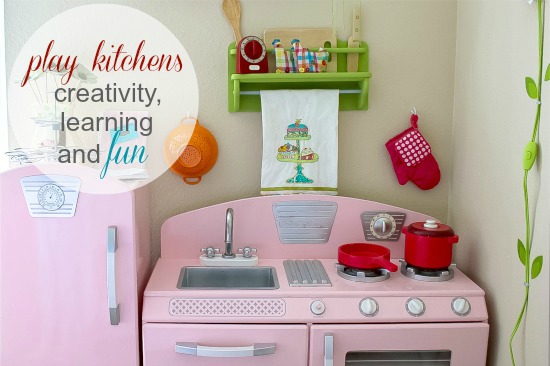 It's no longer just about hosting a tea party for family, friends, and her dolls. She's learning new skills and developing different character roles.
Here are some of her favorite role-playing activities and things she has been learning:
Playing waitress
She takes our orders, writing each one down carefully on a notepad, and reads it back to us to confirm it is correct. Then, she sets the table with flowers, napkins, salt & pepper, and she is learning where cutlery should be placed. After the meal is finished, she clears the table and puts everything away so that the table is ready for the next guest.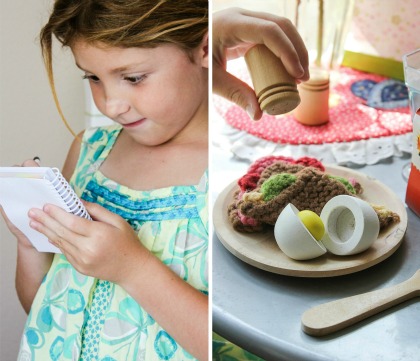 Cafe Open/Closed
On her bedroom door is a 'cafe open/closed' sign that she turns over when she is ready for guests. She charges a 5 cent fee to enter her kitchen (which is returned along with a receipt after the meal has been enjoyed). My favorite thing is when she stands in the hallway with a tray of pretend cookies for us to sample as we are walking by.
Playing chef
She loves nothing more than to play chef. I have given her a real kitchen timer which she sets when she's pretend baking. The time is adjusted as she learns to estimate different times needed depending on what she wants to bake. Learning which food should be cooked on the stove or in the oven and which tools she needs are also a big part of her role-playing. She even pretends to wash fruit and vegetables in a strainer in her little sink.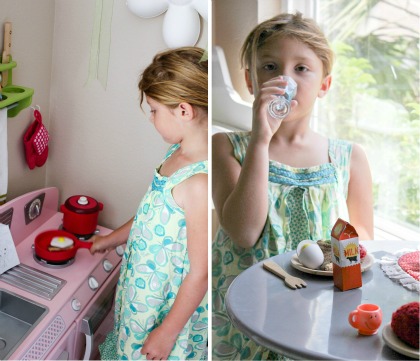 Kitchen accessories
We've developed quite a collection of kitchen utensils, oven mitts, rolling pins, cutlery, serving ware, and play food. She's eager to learn how to use them all correctly. I often pick up items in the $1 section at Target and also second-hand items at thrift stores. So, she has an assortment of real kitchen items, and pretend ones to use.
Note: I originally put this post together for Rusty and Rosy, however that site has gone offline.