Your next Despicable Me party needs these evil purple minion slushies. They are the perfect addition to your Minion party for everyone.
Disclosure: This Despicable Me 2 party post was sponsored by Universal Pictures.
I just love the Purple Evil Minions in the new Despicable Me 2 movie and what better way to include them in a party, than a fun purple slushie.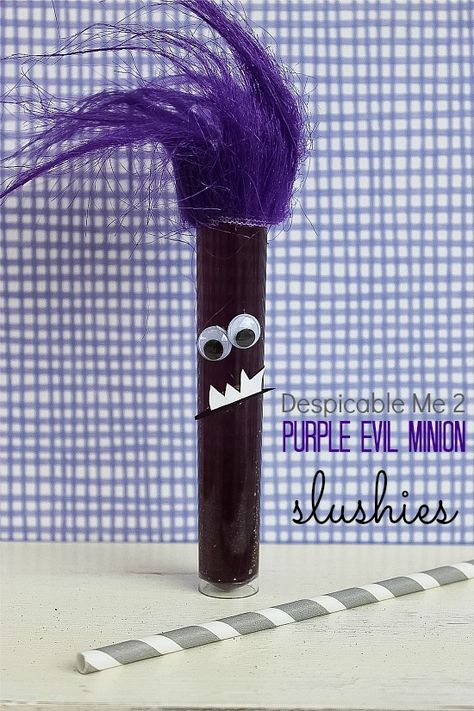 Minion party drinks
Purple slushie ingredients
1pkt Kool-Aid grape flavor
1 cup pink lemonade (pre-made)
1/2 cup white sugar
4 cups ice
1 cup water
Other supplies needed
Test tubes (preferably with flat bottoms – I purchased these from Party City)
Purple fur (I used the leftover legwarmer from the Purple Evil Minion Pinata)
Card stock – black and white
Elmer's glue stick and removable poster tape
Paper straws
Funnel
Blender
Instructions
The first thing you want to do is prepare your test tubes.
Cut small pieces of fur and using removable poster tape attach them to the top of the test tubes. Fan it out a little so that it doesn't cover the opening of the test tube.
Cut out teeth from white card stock and glue them onto black card stock. Cut around the teeth (making a black mouth too) and using a little glue attach them to the test tube. Attach the eyes to the test tube using the glue stick too. These pieces will peel off the test tube once the party is over and any excess glue can be removed with a little glue remover before washing them thoroughly.
To make the slushie
Combine the grape Kool-Aid, pink lemonade, sugar, ice, and water in a blender and blend until a thick slushie has formed. You can add more water or ice depending on how thick you would like your slushies.
Use a funnel and very slowly pour the slushie mixture into the test tubes so you don't get the fur wet.
Serve the slushies with paper straws.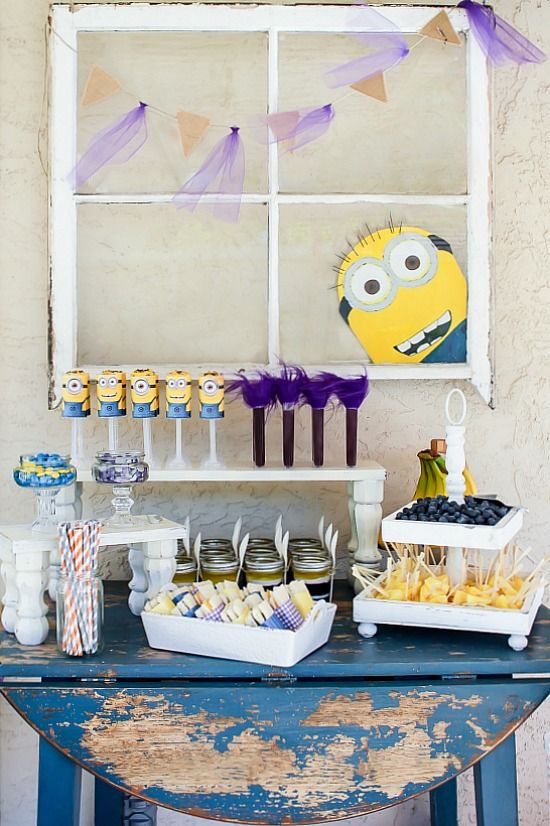 You can see more of our Despicable Me 2 party ideas here

9 MORE DAYS UNTIL THE RELEASE OF DESPICABLE ME 2. ARE YOU AS EXCITED AS I AM?