Wow your family and friends with this serve-yourself bacon bar buffet for brunch, perfect for lazy Sundays, holiday entertaining, or parties.
Disclosure: This is a sponsored post written by me on behalf of Smithfield.
So, you have family and friends coming over for the holidays and you want to do something a little different?
How about a bacon bar?
You know you want one. The possibilities are endless with both sweet and savory dishes.
I'm going to show you a few simple ideas here, thanks to Smithfield, including egg and bacon breakfast tacos, bacon Bloody Mary's, biscuits with cherry bacon jam, and maple bacon donuts. But, if you scroll all the way to the bottom, I've got a list of other ideas that you can use for your own bacon bar too.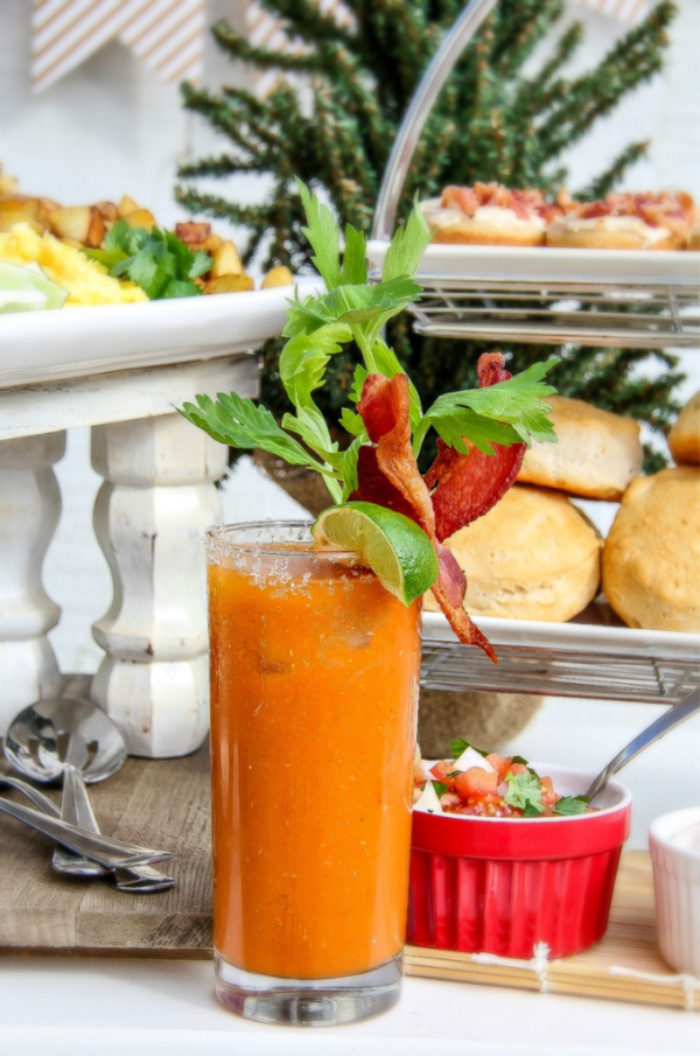 Bacon bar buffet
Let's start with an egg and bacon serve-yourself taco bar, shall we? I mean tacos AND bacon, need I say more?
Bacon and Egg Breakfast Taco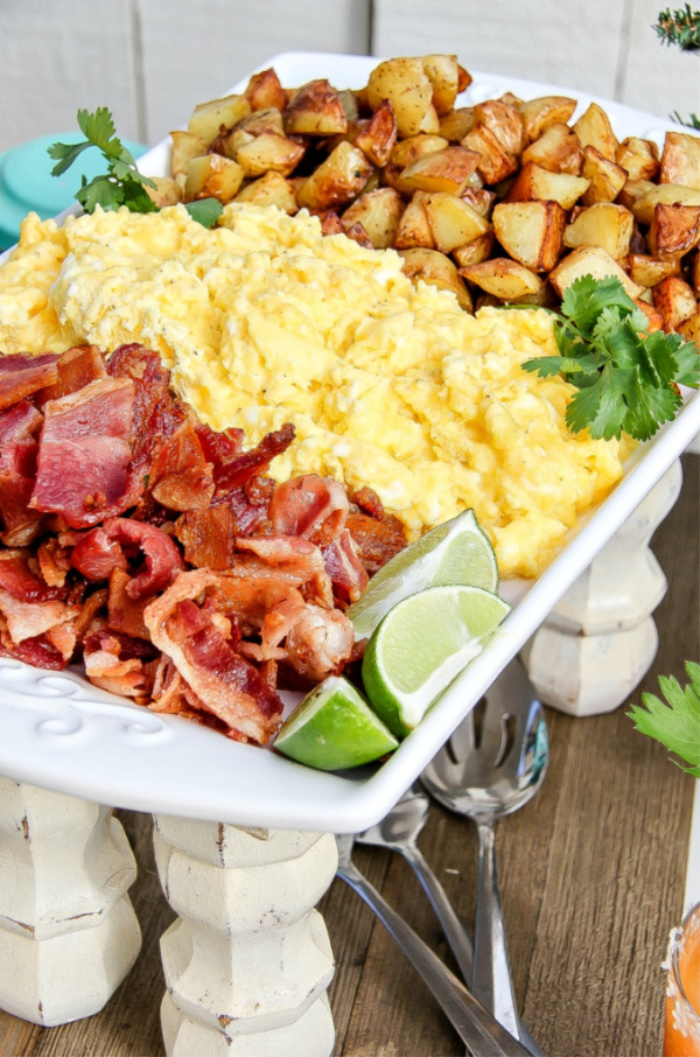 Crispy bacon, your favorite scrambled or fried eggs, and potatoes cooked in a skillet with 2 tablespoons of bacon fat are the perfect staple ingredients for your taco bar.
Set up a small portable camp stove and guests can warm their own corn tortillas.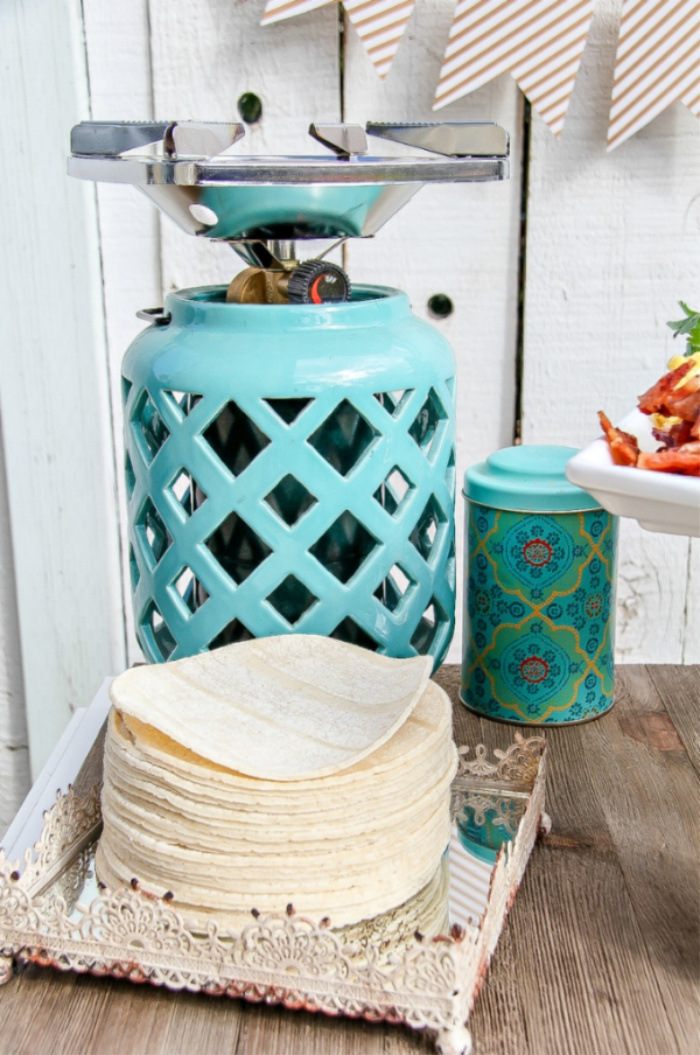 Don't forget condiments such as fresh cilantro, lime wedges, homemade tomato, and onion salsa, and whisk a couple of teaspoons of chipotle peppers in adobo sauce into 1/3 cup of sour cream to make a tasty sauce to drizzle over the top.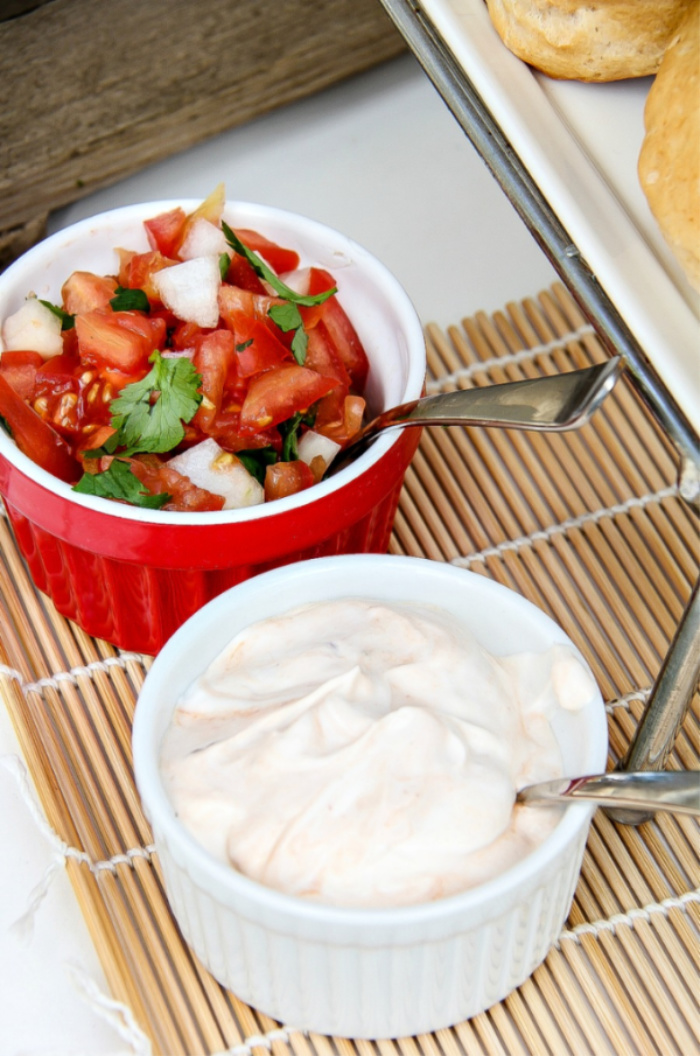 Biscuits With Cherry Bacon Jam
How about cherry bacon jam served with warm biscuits? These are amazing and the cherry bacon jam is a new favorite condiment. You can find the recipe over at Smithfield for this.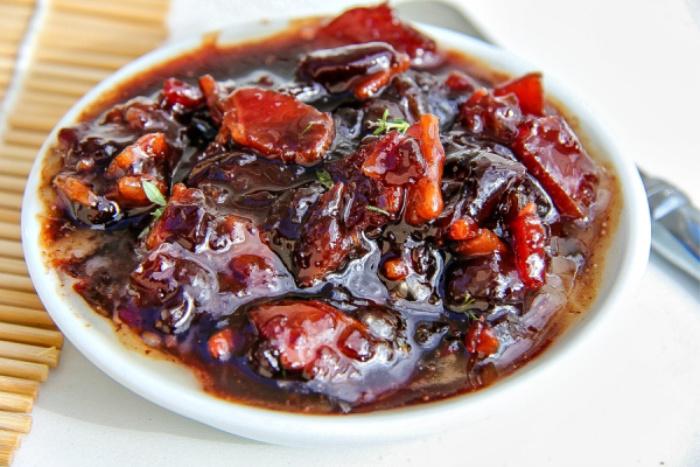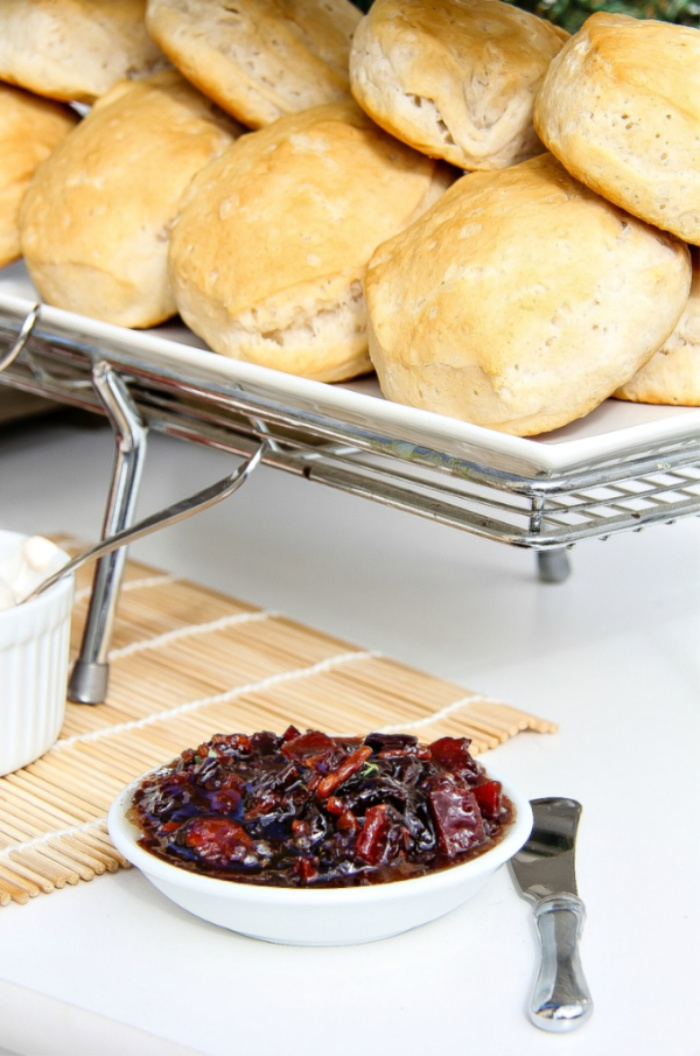 And it wouldn't be a bacon bar if there weren't bacon donuts too.
Mini maple bacon donuts
These mini maple bacon donuts are the perfect addition to your bacon bar. You'll find my recipe for Mini Maple Bacon Donuts here.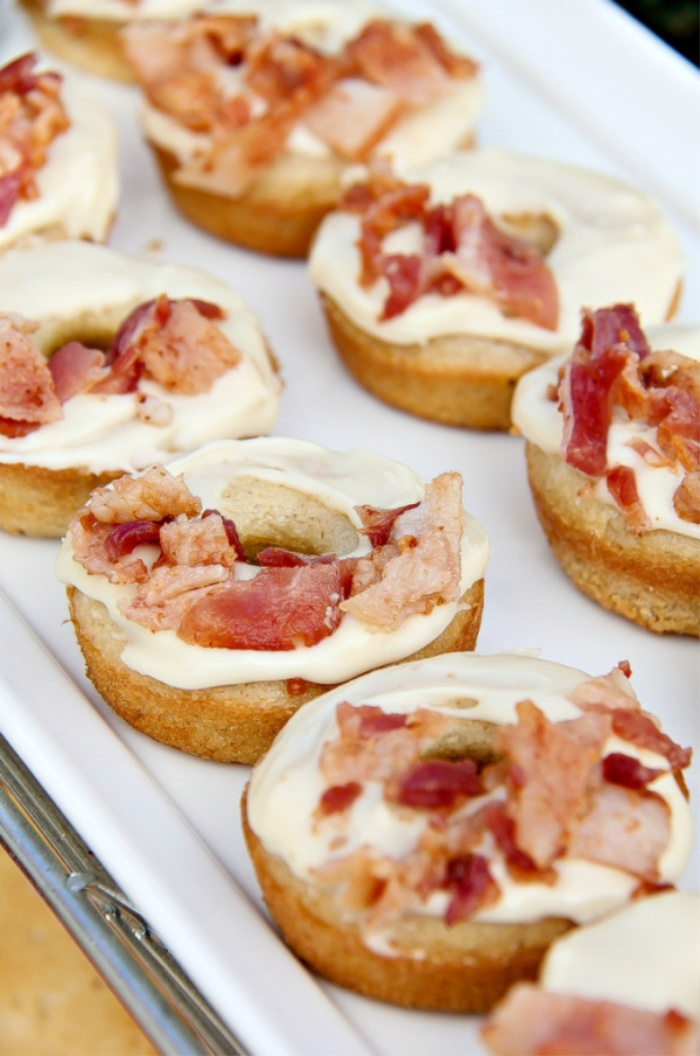 To top off your bacon bar, I think we need a cocktail to serve alongside tea, coffee, and juice.
Bacon Bloody Mary recipe
A Bacon Bloody Mary is a perfect choice and the mix can be made a day before and refrigerated.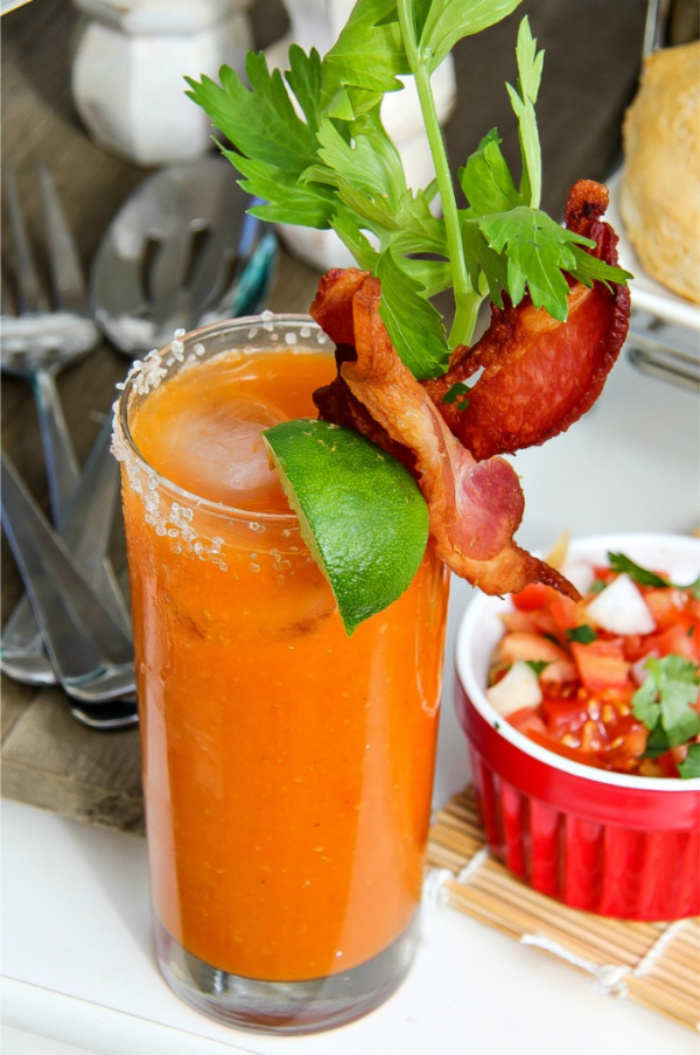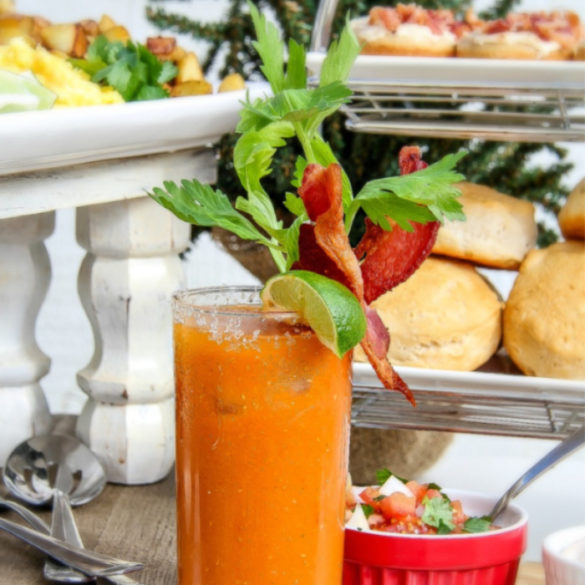 Ingredients
10 tomatoes (quartered)
Vodka (3 oz per drink per 6oz of homemade tomato juice)
2 rashes of bacon (per cocktail)
1 celery stick (per cocktail)
2 tsp white sugar
1 heaped tbs bacon grease
1/2 cup water
3 tbs Worcestershire Sauce
2 tbs Sriracha
2 limes (juice) + quarters for garnish
1/3 cup freshly grated horseradish
large pinch of salt & pepper
Instructions
In a large pot on the stove heat the bacon grease, and then add the tomatoes, water, and sugar. Simmer for 30 minutes stirring occasionally. Add the horseradish, Sriracha, Worcestershire, lime, salt, and pepper. Stir until combined, and then use an immersion blender to blend until completely combined.
Pour into a jug and refrigerate until cold and ready to use. This mix makes approximately 48 ounces of fresh Bloody Mary mix.
Place ice cubes into a glass, and then in a separate jug or shaker combine 6 ounces of tomato juice with 3 ounces of vodka. Stir until combined, and then pour over the ice cubes. You can rim the glass with a little coarse salt if you like.  Add two rashes of cooked bacon and a celery stick, and then garnish with lime.
Recipe: by Tonya Staab tonyastaab.com
Search for bacon bar ideas on tonyastaab.com for even more delicious recipes to create the ultimate bacon bar for brunch.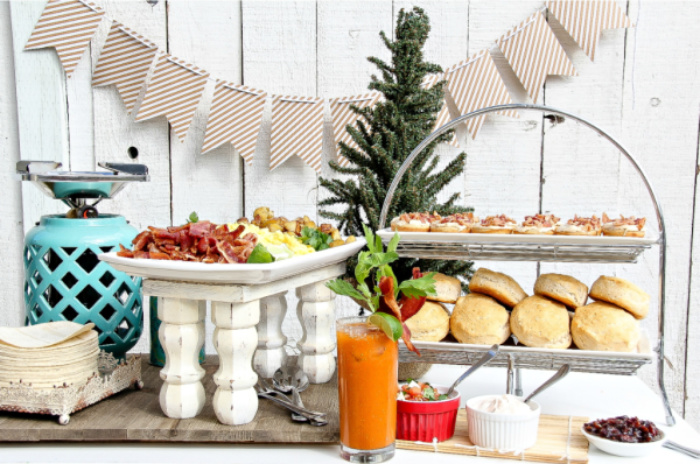 You didn't think I was just going to share my own bacon brunch ideas, did you?
The Smithfield Bacon Bar takes entertaining to a whole new level with easy-to-make, delicious bacon recipes. You can mix things up with different Smithfield bacon varieties, like Peppered Brown Sugar, Sea Salt Caramel, and Caramelized Bourbon Bacon, and pair with warm flaky biscuits, sweet jams, and more.

Creating your own Smithfield Bacon Bar is the perfect holiday entertaining idea and don't forget to share your bacon bar photos on social media using the hashtag #SmithfieldBaconBar. Over on the Smithfield Bacon Bar page they have even more fantastic bacon recipes, along with prepping and serving ideas, and free printable bacon bar labels that you can customize.


More ideas for a bacon bar at home
mini quiche
baked bacon baskets
bacon and spinach muffins
egg and bacon pizza or flatbread
bacon cinnamon rolls
bacon puff pastry twists
candied bacon
Are you looking for more delicious brunch ideas? Take a look at these:
Pin this post for later: