Make these delicious grilled pesto shrimp skewers. Serve them with rice and fresh pineapple for a delicious and healthy meal.
Each weeknight I make a dish that is a 'favorite' for at least one of the kids. My little man has developed a love of seafood, particularly fish and shrimp. I normally keep a bag of frozen shrimp in the freezer, so today we whipped up Grilled Pesto Shrimp. Pesto is also another favorite, with all of the kids loving it on a variety of dishes.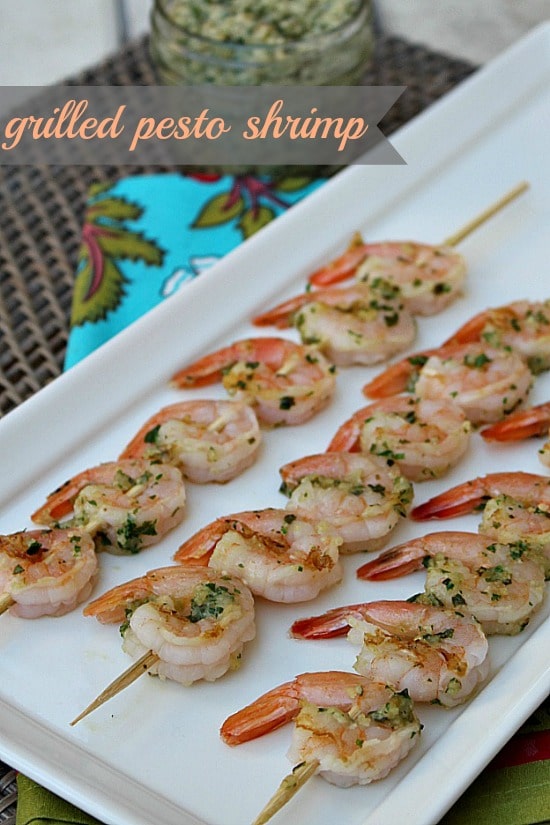 I whipped up a jar of homemade pesto during the day (I used Jennie's pesto recipe, with my homegrown basil) and refrigerated it until I was ready to use it.
Once peeled, carefully put all of the shrimp onto wood skewers and then brush one side with the homemade pesto, place that side down on the grill (I used my stovetop grill). Brush the other side with pesto before turning them. They only needed to be grilled for a few minutes on each side.
Note: If using an outdoor grill, soak the skewers first, and then wrap the ends in aluminum foil to prevent them from burning.
We have quite a bit of homemade pesto left which will be perfect to use later in the week in a pasta dish. You could also try one of these delicious pesto dishes: