Teacher Appreciation gifts don't have to be expensive, or elaborate, they just need to be thoughtful. They will love these gift ideas.
Disclosure: These updated teacher appreciation gift ideas have been sponsored by Visa Clear Prepaid and Prepaid Visa® RushCard.
Our school focuses on the word TEACH during Teacher Appreciation Week. So, Monday is the letter T, through to Friday being letter H. The gifts for each day are centered around those letters.
For this post I'm going to focus on the letter 'H', which for me means to lend a 'Helping Hand'. 
What are good gifts for teachers?
Check with your child's teacher to see if they need a helping hand. A lot of us work during the day, and most outside of the home which doesn't allow a lot of time (if any) to volunteer in class. Find out though if there is some other way you can help. Is there stapling of homework packets, collating and sorting worksheets, or upcoming projects that need items to be pre-cut. Teachers generally don't have time to do these tasks during the school day and would otherwise take them home if it weren't for volunteers helping out. Maybe your child could bring home a little homework for you to do too.
Here are some more great ideas for Teacher Appreciation Week, the first day of school, and showing the teacher you support her and are thankful for all she or he is doing.
A freshly picked teacher gift
Have your child pick fresh blueberries, download and print my free printable card to make a freshly picked teacher gift.
A classroom supplies cake
Make a classroom supplies cake full of essential classroom items such as erasers, glue sticks, pencils, and more. Make sure to grab a copy of the list of supplies needed for the classroom before putting it together.
A pencil vase
A pencil vase is a great way to brighten your teacher's day and add some fragrance and color to her desk. Plus the classroom could always do with more pencils.
A grocery bag
This DIY fabric grocery bag is the perfect way for your teacher to bring her lunch and supplies to school. Or she can use it to take gifts home, for grocery shopping, or the weekend market.
Gift card holder
Teachers can use gift cards to purchase supplies for the classroom, or to buy something nice for themselves. This gift card holder is a perfect way to give them a gift card. You could even throw a few of their favorite candies inside too.
Use a Prepaid Visa® RushCard , part of the Visa Clear Prepaid program, to purchase supplies for the classroom, back to school shopping, teacher gifts and class parties (learn more about this below).
We all know that keeping the classroom running can become expensive for teachers because the school doesn't always have the budget available to purchase supplies needed to complete projects and for everyday use in the classroom. This is where the Prepaid Visa® RushCard helps. You can use a prepaid card like the Prepaid Visa® RushCard to budget for DIY craft supplies, to purchase gifts for teachers on a budget, or even to purchase supplies for the classroom. Using a prepaid card that is part of the Visa Clear Prepaid program can help you budget how much to spend ahead of time and keep track of your expenses.
Plus, if your card is lost or stolen there's no need to worry because for prepaid cards in the Visa Clear Prepaid program, funds are protected by Visa's Zero LiabilityPolicy.*
*Visa's Zero Liability Policy covers U.S.-issued cards and does not apply to certain commercial card transactions, or any transactions not processed by Visa. You must notify your financial institution immediately of any unauthorized use. For specific restrictions, limitations, and other details, please consult your issuer.
Lend a helping hand
Offer your time to help in the classroom. Some of the ways I help are by doing art with the kids, grading papers, and attending field trips as a chaperone.
Here are some things that you could do to lend a helping hand:
Help in the classroom for special days, with art projects, school plays, and more.
Donate supplies including tissues, pencils, markers, lunch money for kids, party supplies, and project supplies.
Be a room mom to co-ordinate parties, collecting money for teacher gifts, and co-ordinating special days.
Offer to grade papers one evening a week, or sort art projects into folders.
How to make a superhero lollipop
The teacher asked me to come up with a fun craft project using lollipops for the kids to make. This was how I could lend a 'helping hand' in class during teacher appreciation week.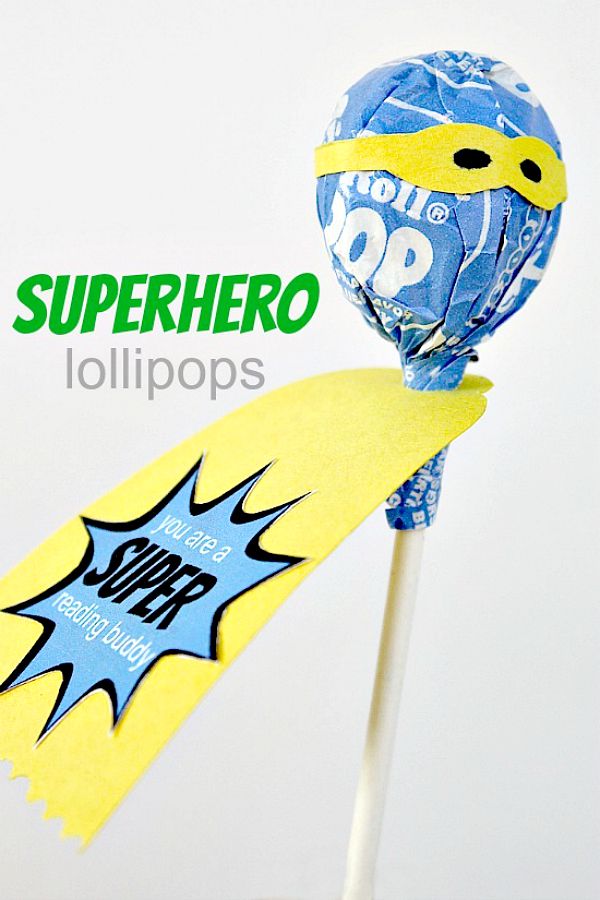 The kids would gift these to their reading buddies at a local middle school to thank them for spending time reading with them throughout the year.
Supplies
Lollipops
Card stock in a variety of colors
White card stock for a printer
Scissors
Glue Stick
Black permanent marker
Computer and printer
Single hole punch
Instructions
I spent some time in the classroom teaching the kids (in small groups of four students at a time) how to make one for each of their reading buddies.
Sketch a cape and mask onto white card stock and use this as your template to make more. Cut a variety of capes and masks in assorted colors.
Use the black marker to draw the eyes onto each of the masks and a hole punch to punch a hole into the top of the cape.
Use a photo editing program to create the 'SUPER' graphic for the back of the cape. Save them as a photo and print them onto white card stock, and then cut them out.
Kids can assemble their own superhero lollipop using a glue stick.