These mini maple bacon donuts are sure to be a hit for your next weekend brunch. We've got loads of other bacon brunch ideas for you too.
You all know of my love for donuts, don't you? I mean I talk about them ALL THE TIME!
I made these mini maple bacon donuts a while ago and still love them just as much.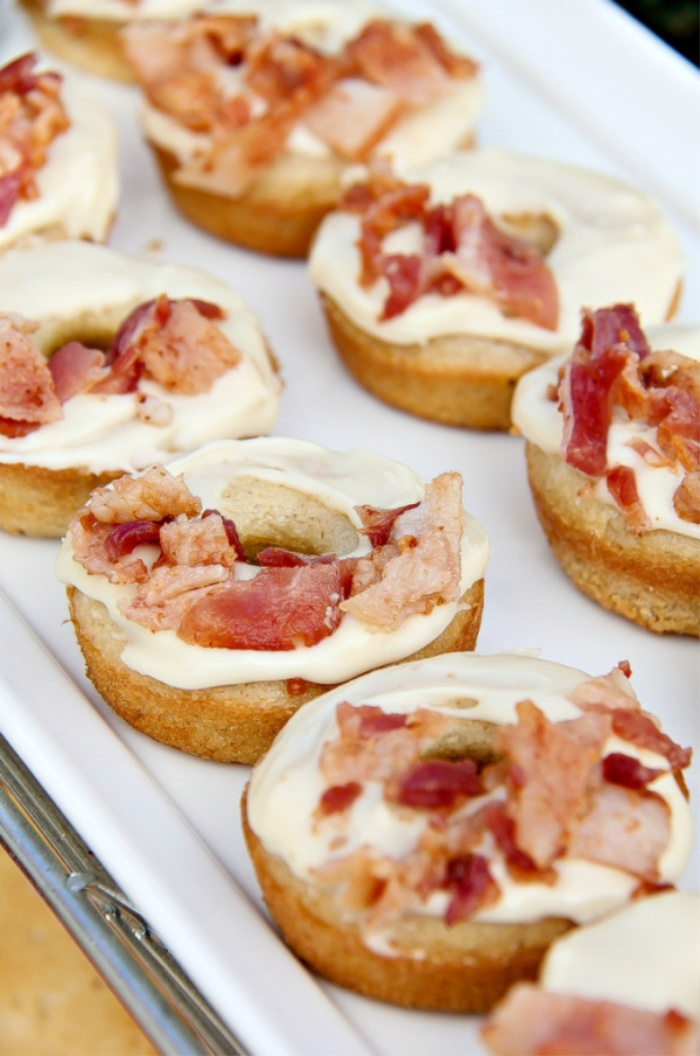 They made the perfect accompaniment to the Bacon Bar Brunch I already posted about. Who doesn't love a bacon bar, especially one with bacon tacos, bacon donuts, bacon jam, and a bacon Bloody Mary?
Mini maple bacon donuts recipe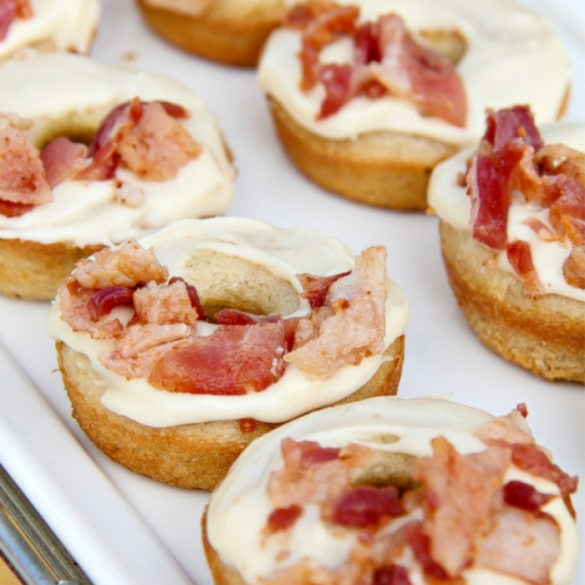 Ingredients
2 cups all-purpose flour
1 cup white sugar
1/2 cup sweet cream coffee creamer
1/2 cup reduced-fat milk
1/4 cup butter (melted)
2 eggs
1 tsp baking powder
1/4 tsp baking soda
1 tsp vanilla extract
1 cup powdered sugar
maple syrup
bacon – cooked and finely chopped
Instructions
Preheat the oven to 350F and lightly spray a mini donut baking pan.
Whisk together all dry ingredients, excluding the powdered sugar. Make a well in the center.
Whisk together the wet ingredients (excluding the maple syrup in a separate bowl) and pour it into the well of the dry ingredients. Combine with a wooden spoon.
Fill a piping bag with the mixture and pipe into the donut pan. Bake for 12 minutes.
Gradually add maple syrup to powdered sugar until you reach the desired texture for your icing, spread onto the donuts and top with cooked bacon pieces.
The recipe is super easy to follow and you'll have these whipped up to enjoy in no time at all. Don't forget to pick up a mini donut pan to make our recipe.
I hope you enjoy them as much as we did.
Looking for more delicious bacon recipes for breakfast or brunch? Try these:
Please pin this post for later: