This handmade fleece UltraKatty pillow inspired by The LEGO Movie 2 is the perfect addition to your child's room decor, and they'll love snuggling up to it while watching the movie too.
Disclosure: This blog post has been sponsored by Warner Bros. Pictures
Are you as excited as we are for The LEGO® Movie 2: The Second Part?
We loved the first one so much and cannot wait to see the second one, which is in theaters on February 8. If you've been following my blog for a while you know what big LEGO fans we are, so it will come as no big surprise that I wanted to create something fun for our LEGO room inspired by the movie.
This handmade UltraKatty fleece pillow is the perfect addition, and we'll be cuddling up with it when we see the movie too.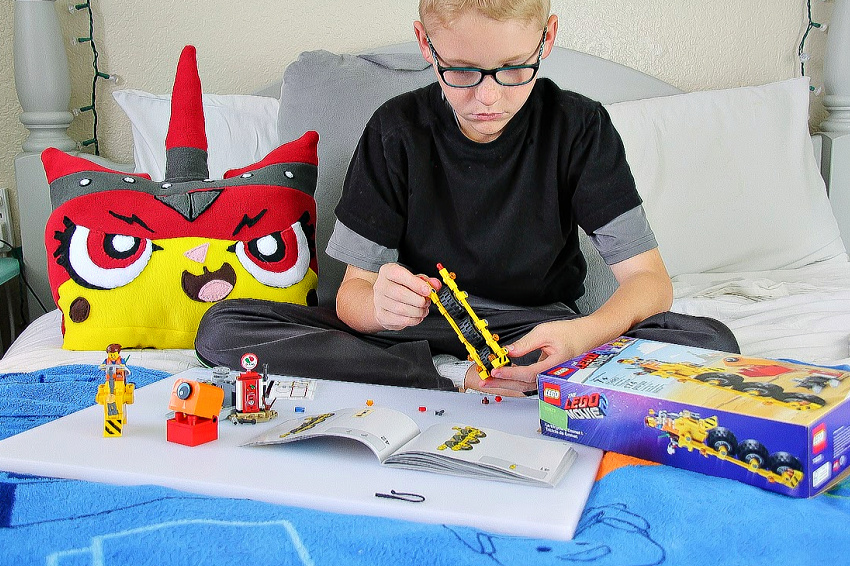 What You Need to Make a LEGO UltraKatty Pillow
Fleece – dark red, yellow, black, brown, grey, white, pink
Sewing machine or embroidery thread and a needle (or a combination of both like I did)
Poly-fil (for stuffing the pillow)
Paper, pencil, scissors, ruler
Sewing pins
The first thing you need to do is create a pattern for your pillow. Here is a picture of UltraKatty for you to use as a guide.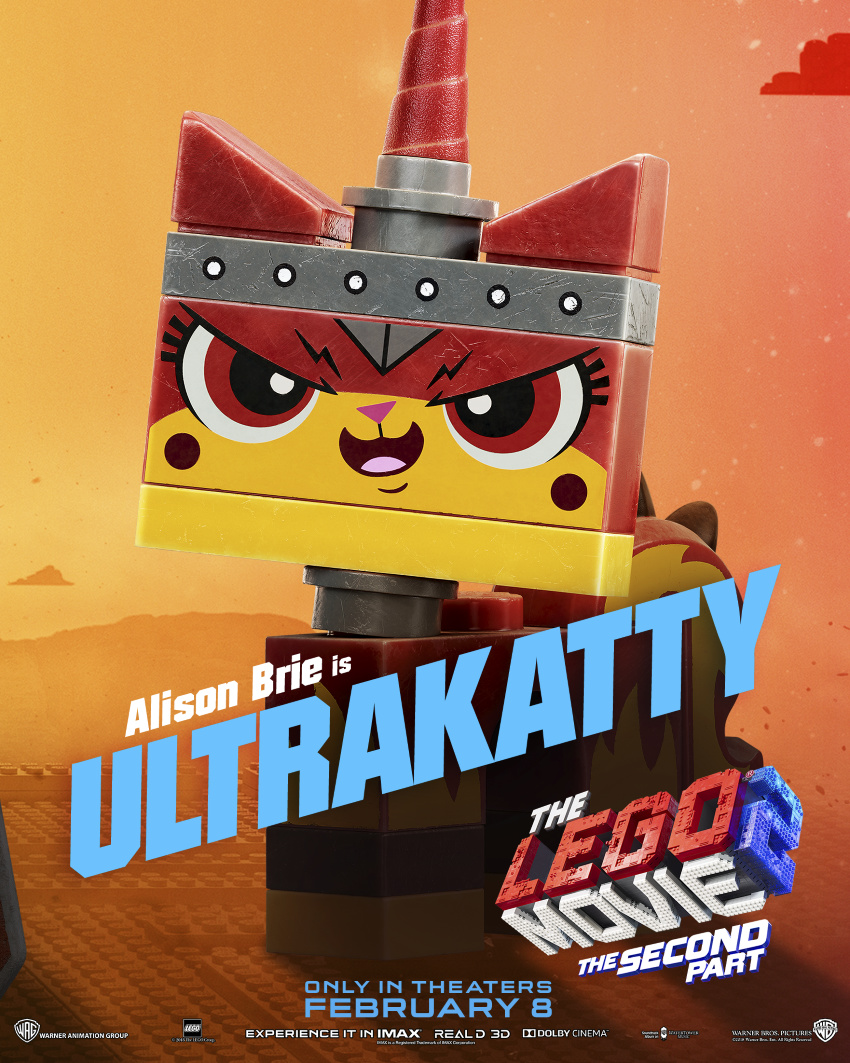 Take out a large sheet of paper or poster board and sketch out the basic shape for your pillow. Here are the dimensions I used.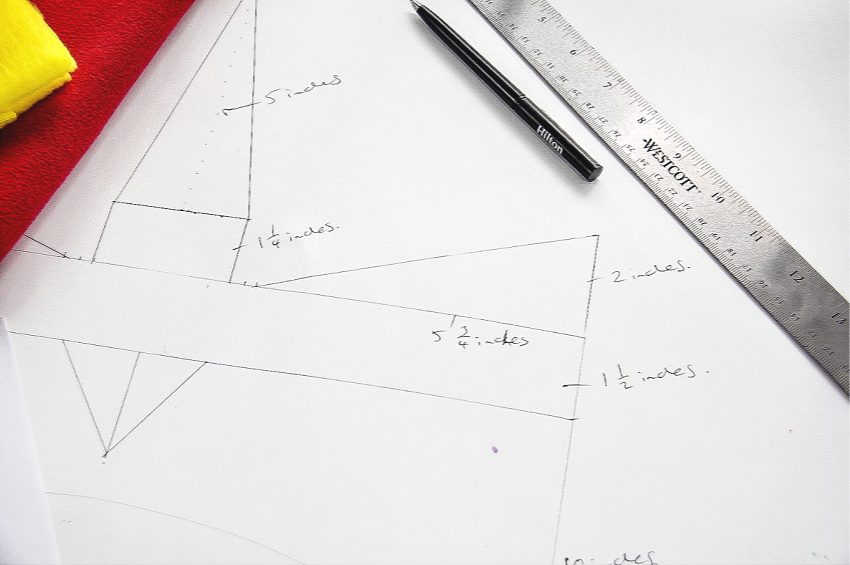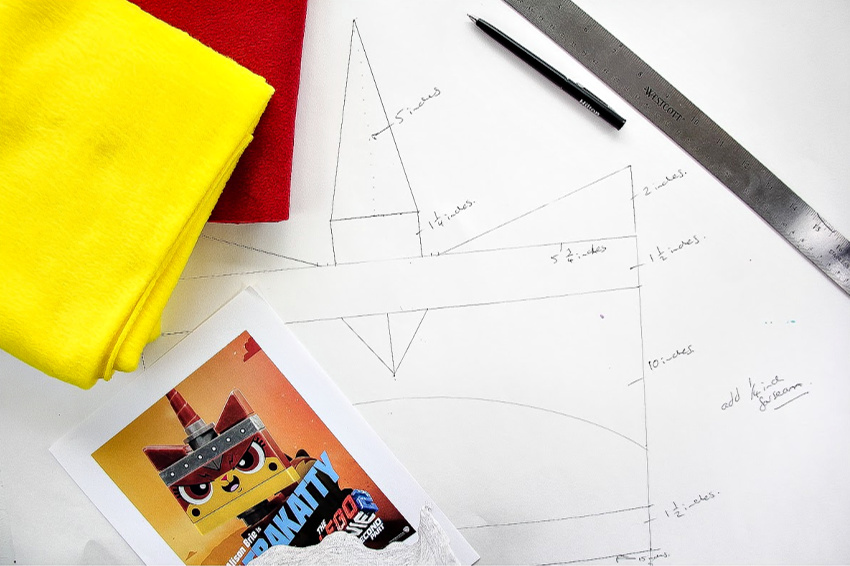 Cut out each section and pin it to the corresponding fleece color. When cutting out your shape allow an extra 1/4-1/2 inch for a seam. Make sure you leave the same amount all the way around on every piece.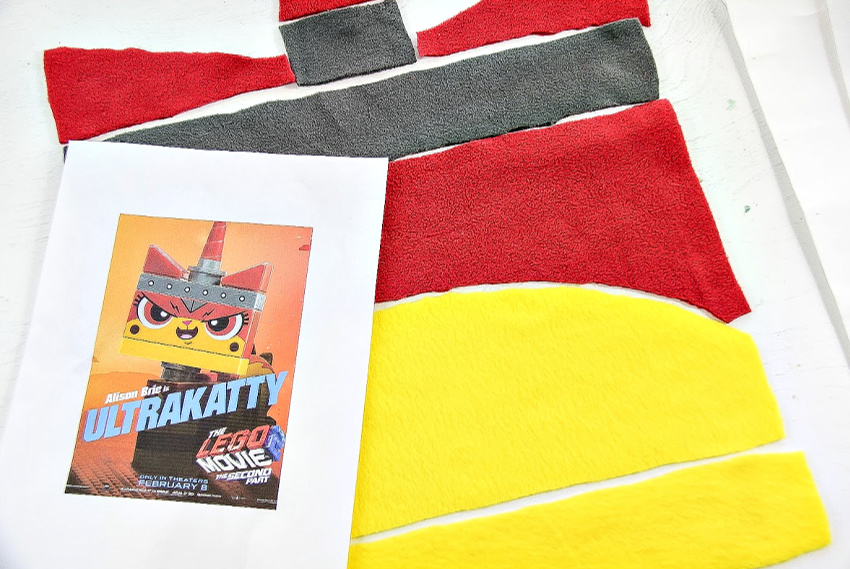 Pin your pieces together, and then sew. What I have pictured here is the front of the pillow.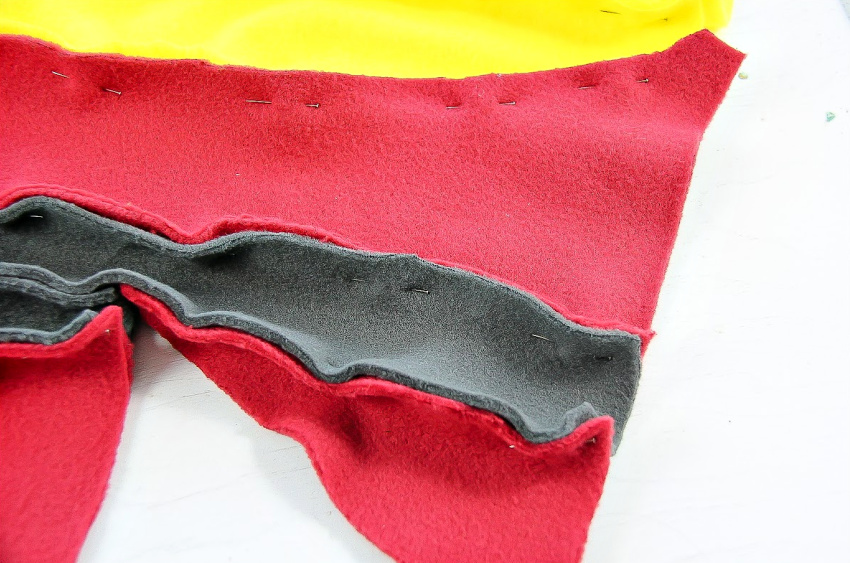 Repeat this for the back of the pillow, only make one long red block in the center instead of the curved section split between red and yellow.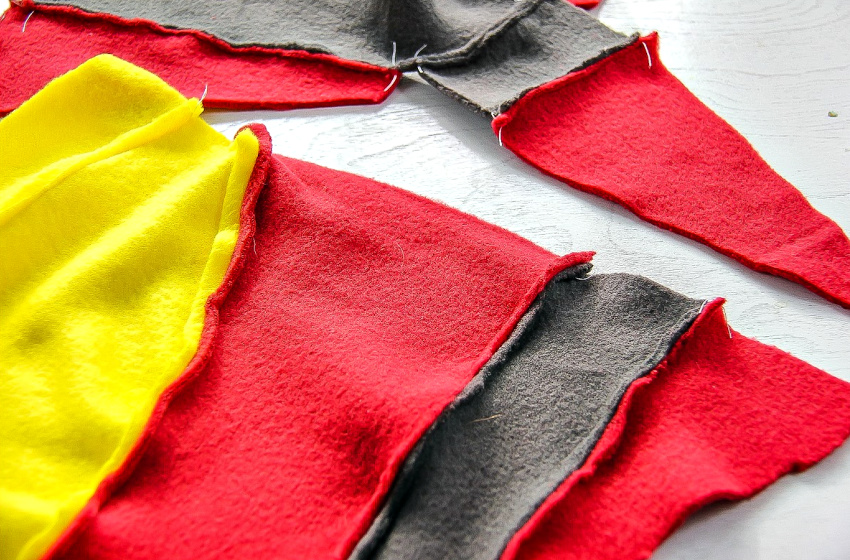 Before sewing the seams to attach your back and front pieces together, you need to add the facial features and details for UltraKatty. Again, sketch them out onto paper first, pinning each to the corresponding fleece color, and cut them out. You do not need to allow for a seam for these. In full disclosure, my sewing machine decided at this point to wave its white flat, send out a burning smell and the motor started whirring at me, so I decided to hand-embroider each of the details onto the front.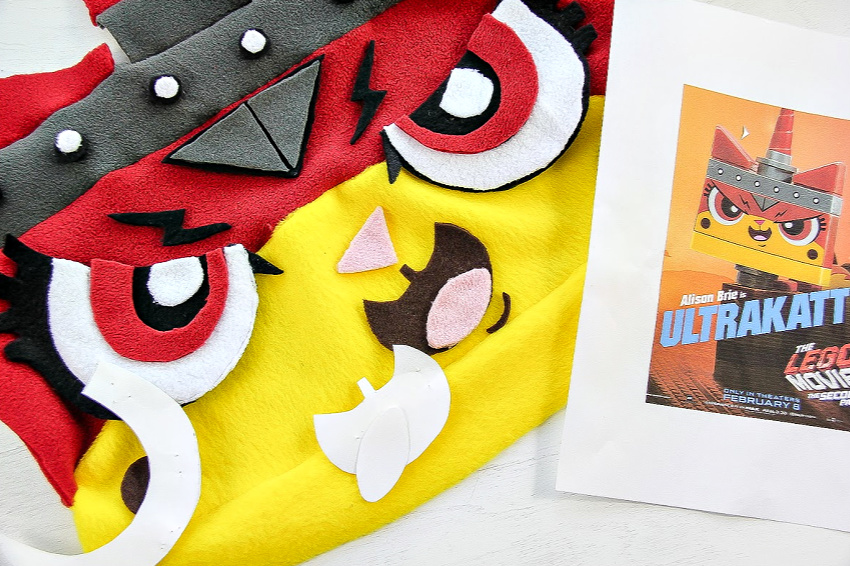 Once all of your facial features and details have been sewn on, you'll need to sew the side seams together. Turn your pill right way out, stuff it with Poly-fil, and then sew the bottom seam together.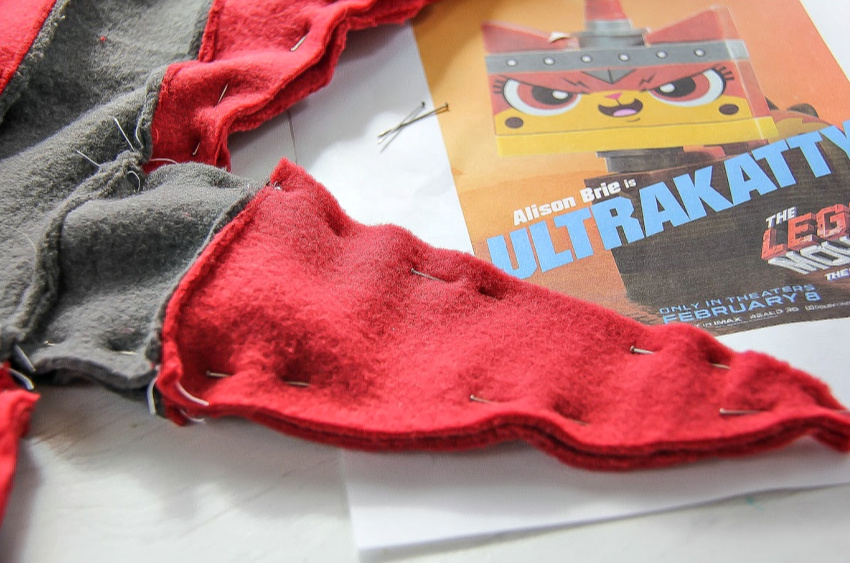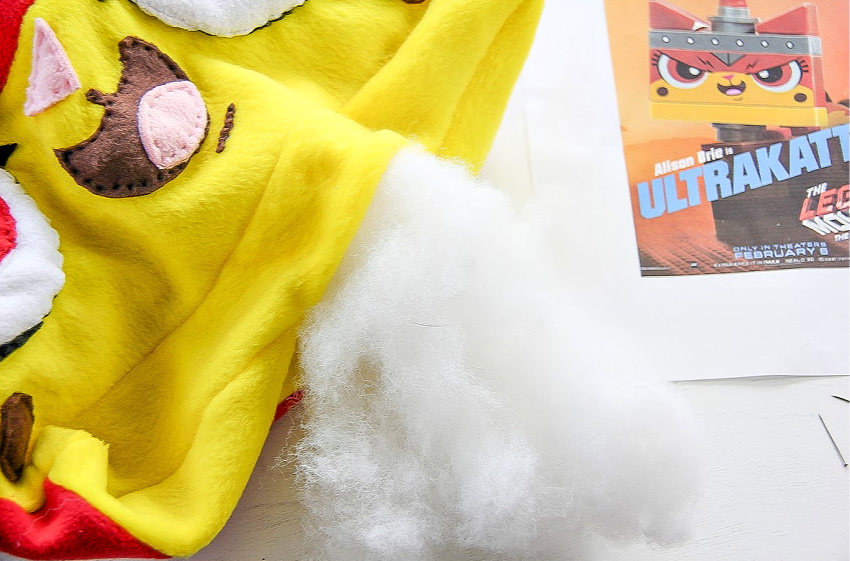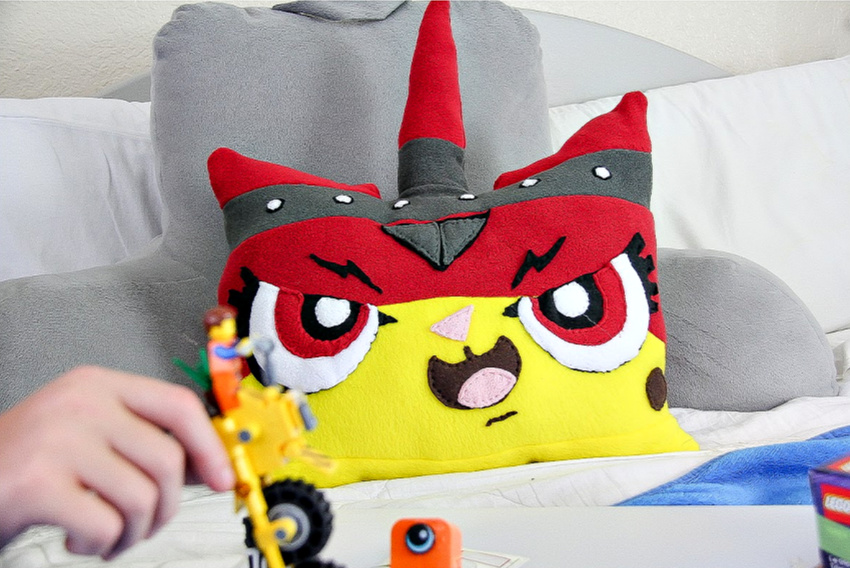 We are so excited at how this turned out, and I couldn't resist getting Flynn a new LEGO set to go with it too.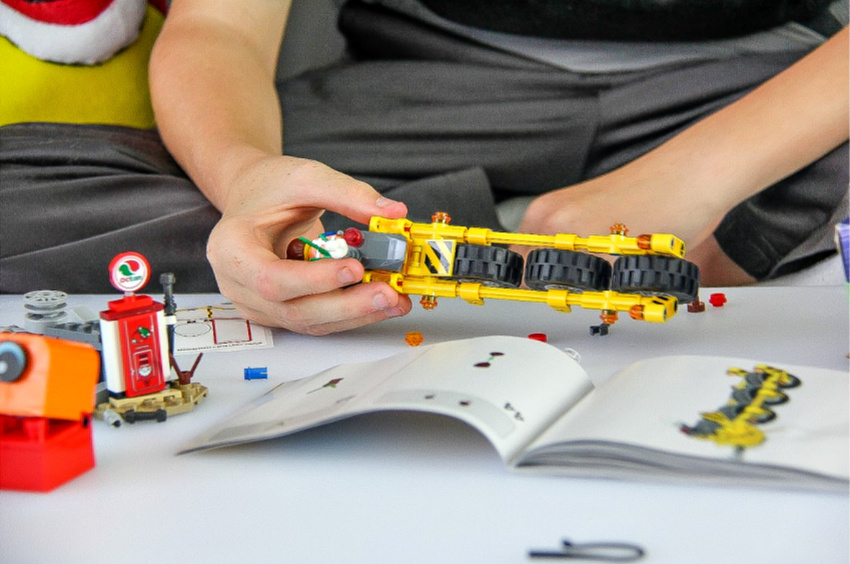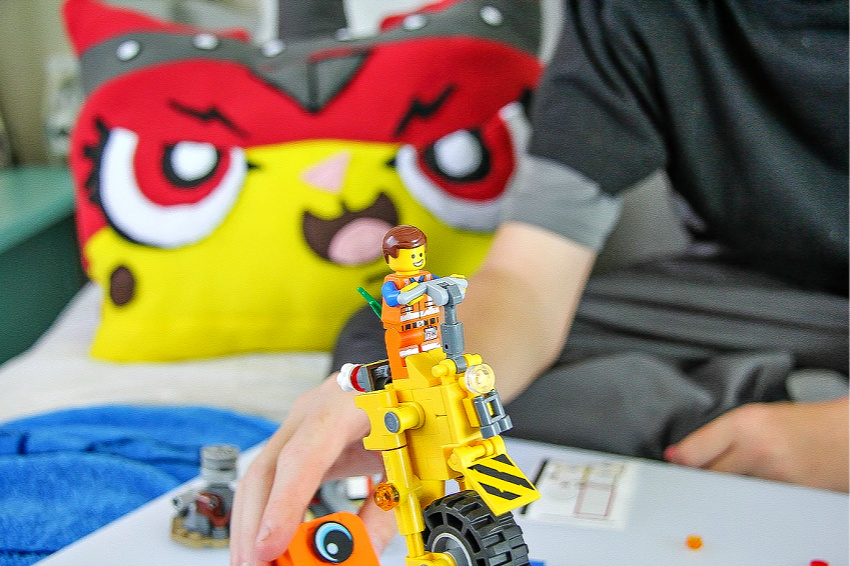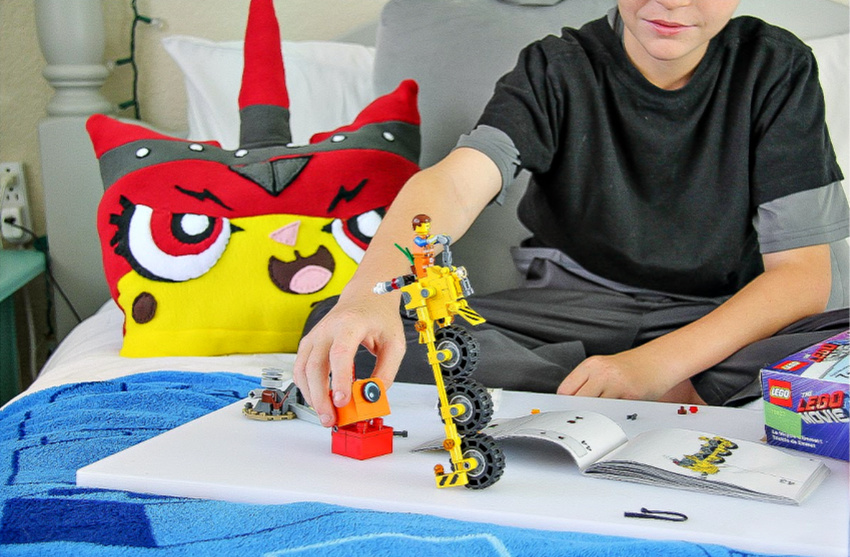 You could use this same idea to create a pillow for UniKitty too … I think this might have to be my next sewing project for the LEGO room, then we'll have a matching set of pillows for the couch.
About The LEGO® Movie 2: The Second Part
The much-anticipated sequel to the critically acclaimed, global box office phenomenon that started it all, "The LEGO® Movie 2: The Second Part," reunites the heroes of Bricksburg in an all new action-packed adventure to save their beloved city.  It's been five years since everything was awesome and the citizens are now facing a huge new threat: LEGO DUPLO® invaders from outer space, wrecking everything faster than it can be rebuilt. The battle to defeat the invaders and restore harmony to the LEGO universe will take Emmet (Chris Pratt), Lucy (Elizabeth Banks), Batman (Will Arnett) and their friends to faraway, unexplored worlds, including a strange galaxy where everything is a musical. It will test their courage, creativity and Master Building skills, and reveal just how special they really are.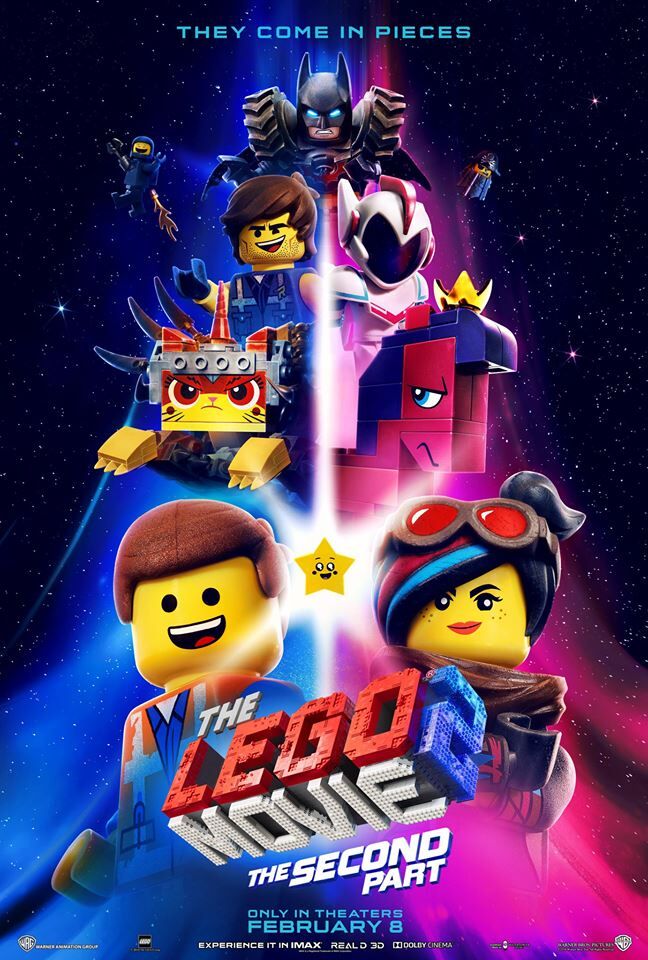 Watch the preview here:
Please pin this post for later:
Don't forget to see The LEGO Movie 2: The Second Part in theaters February 8th.