This Trolls movie fairy garden is the perfect weekend project to do with kids.
 Disclosure: This blog post and giveaway are sponsored by 20th Century Fox, DreamWorks Animation & True Value
I have to admit that when I was watching the media screening of DreamWorks animated movie Trolls, I wished I had a pen and paper with me to jot down all of the fun, creative ideas that started flowing. Everything from cupcakes, to cotton candy, DIY projects, and fun crafts.
Marisol has been reminding me for some time though that I've been promising to make a fairy garden for her, so I surprised her with this one after school.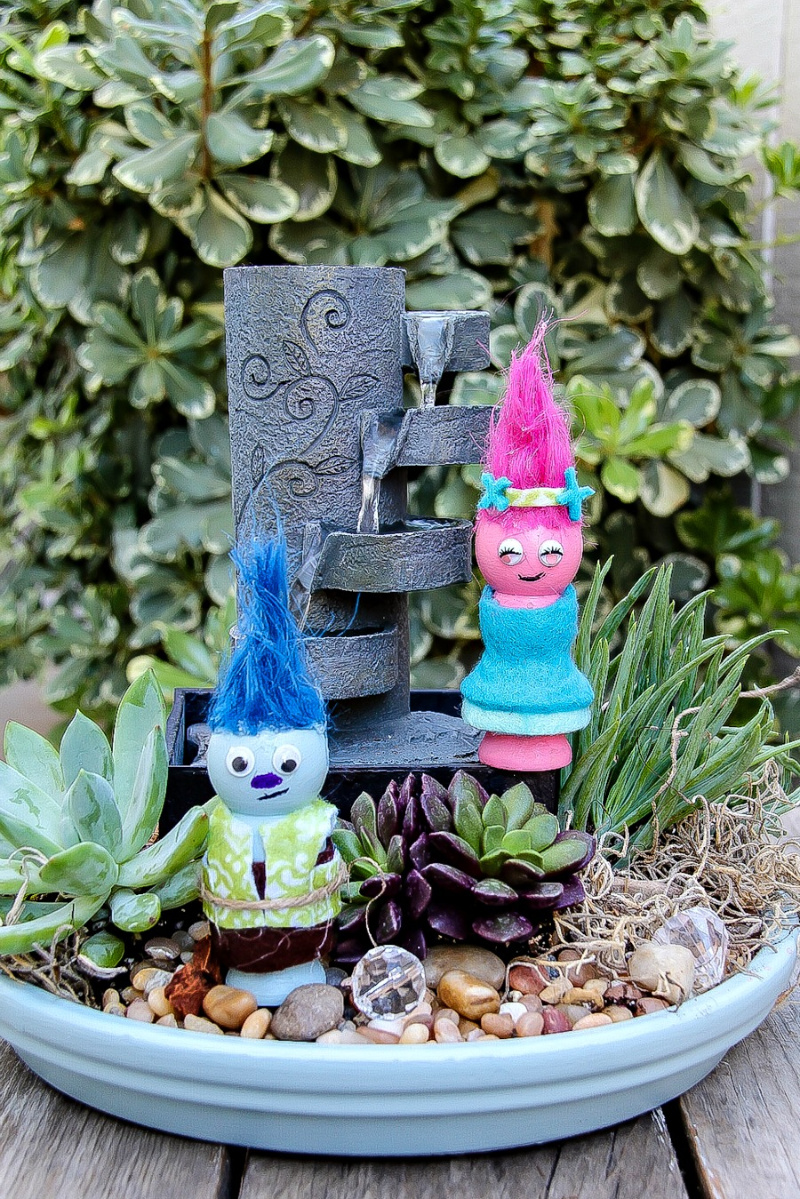 She absolutely loved the Trolls movie, so was absolutely giddy over this Trolls garden that is now on display in her bedroom, and it even has a working fountain that I picked up from True Value for under $10.
What You Need To Make A Troll Garden
Small battery operated fountain
Succulents
Rocks, moss, bark … whatever natural products you want really
A large plant saucer
Trolls paint – in Branch Blue and Perfect Harmony Pink
Fur – in blue and pink
Permanent markers – purple and black
Googly eyes
Wood dolls – I found a 2-pack boy/girl at the craft store
Hot glue gun
Felt – blue, green, brown
I started with the base and worked my way up.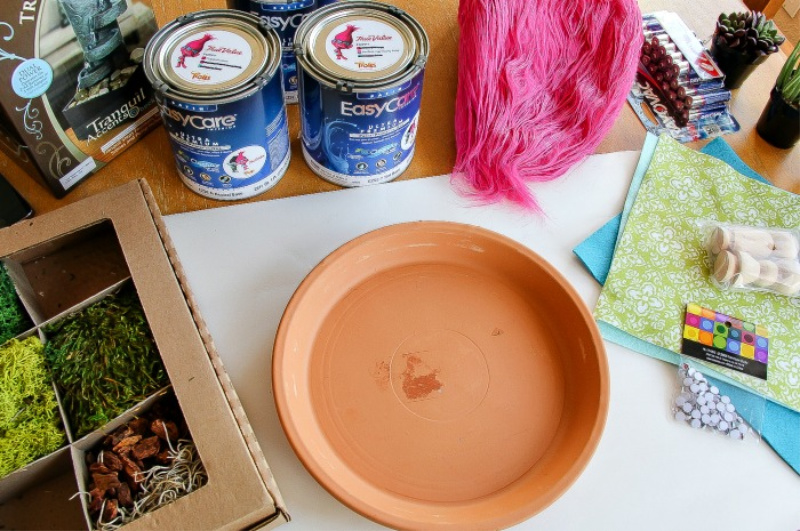 So the first step is to paint your pot saucer using the Trolls paint in Branch Blue.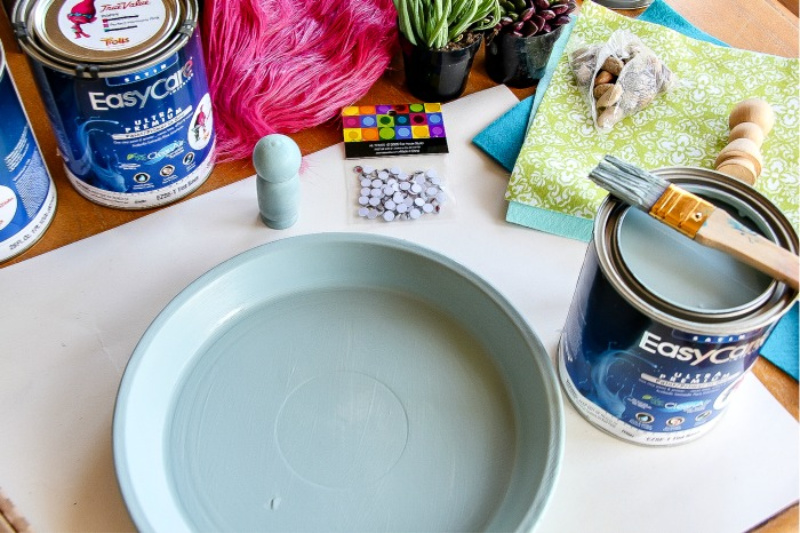 Once dry, place your fountain on top, and then gradually add your natural elements.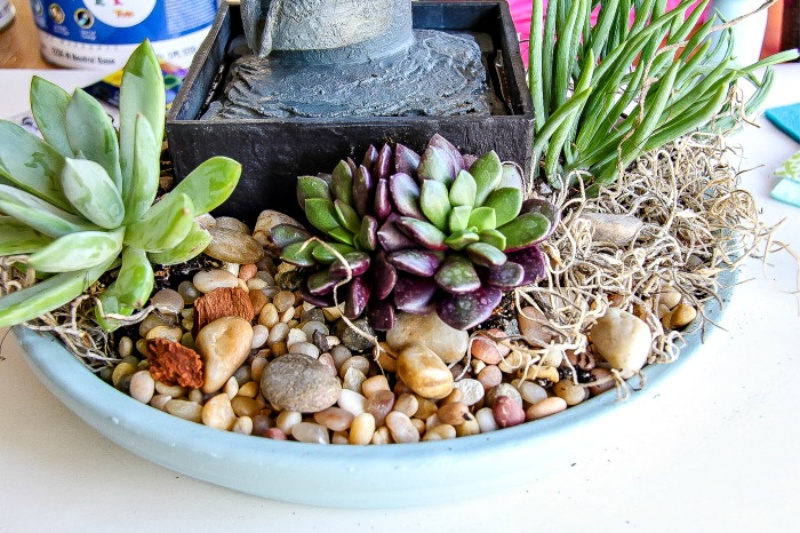 Next, make the trolls. Paint each of the wood dolls in the respective color for Poppy and Branch – or whichever characters you've chosen to do.
Once painted, add clothing out of felt, googly eyes, and then attach small pieces of fur at a time around the head. Add a small amount of hot glue in the center once done, twist the hair so it stands up and is gathered a little in the center. And then draw on the facial features.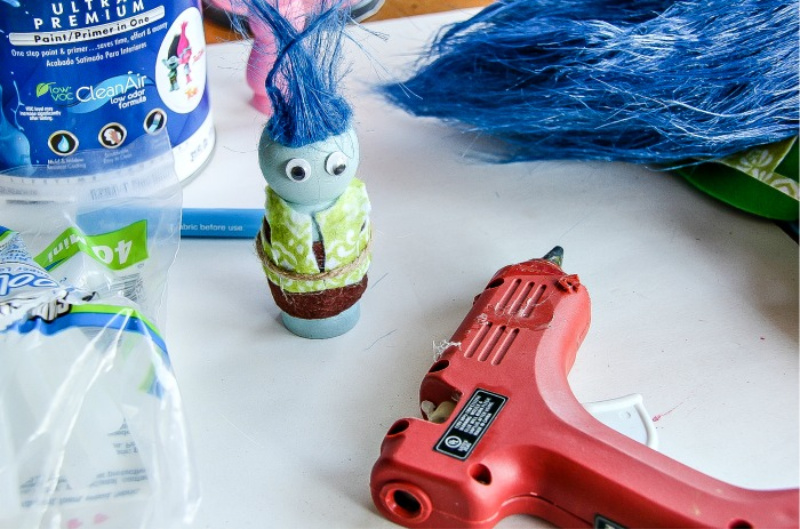 Place Poppy and Branch into their garden, and turn on your fountain.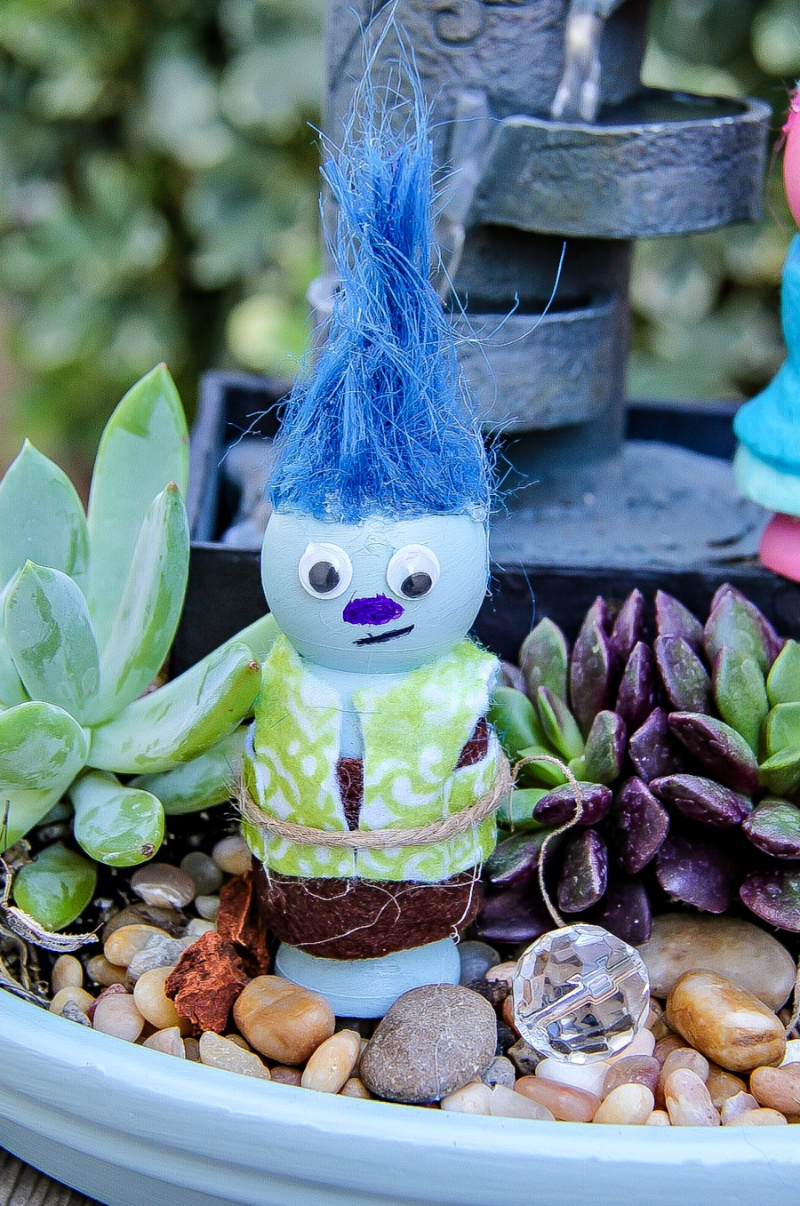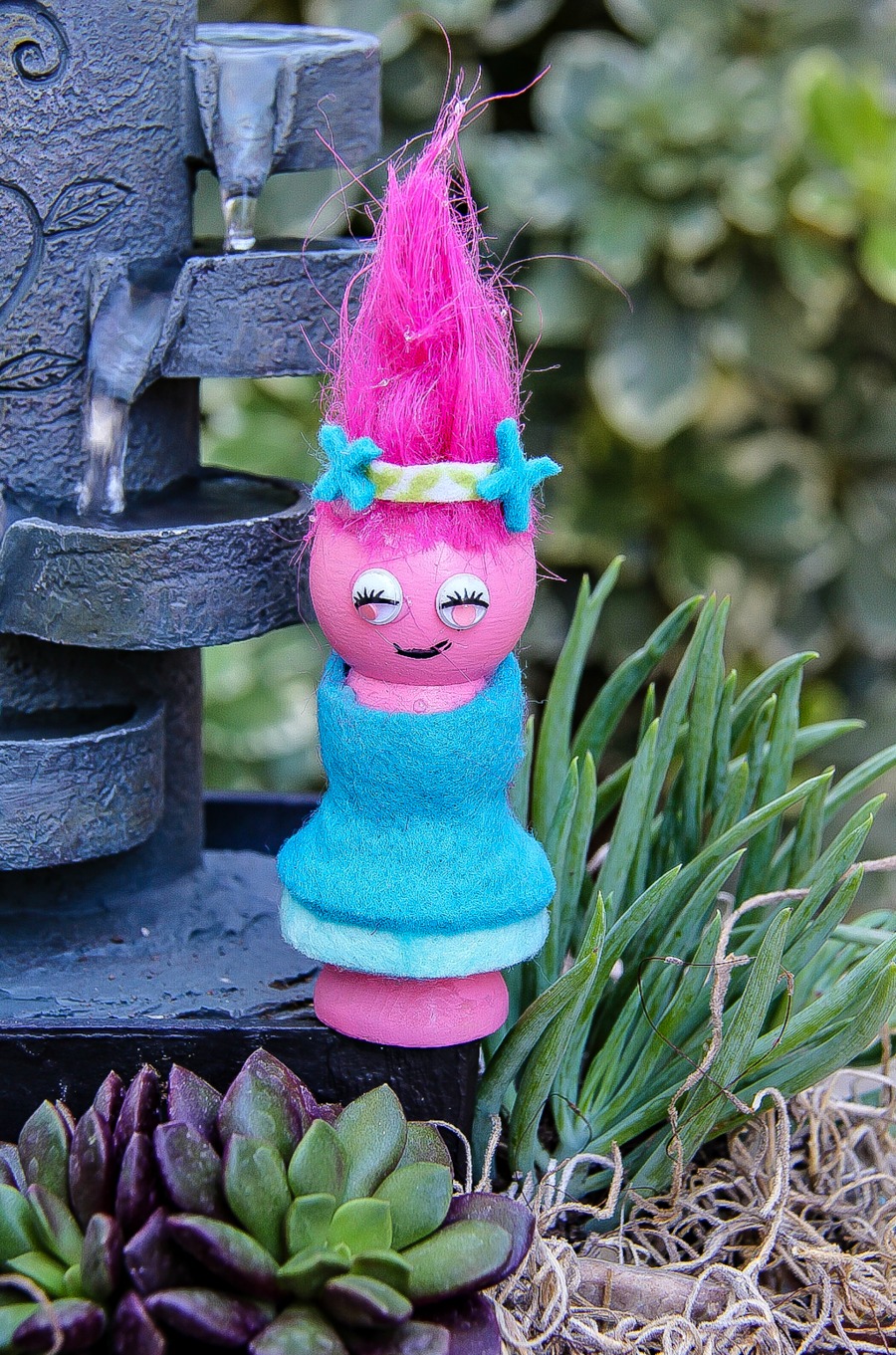 True Value is the official Paint, Hardware & Home Improvement sponsor of the new DreamWorks animated movie Trolls.
To celebrate the movie, True Value developed a 24-color paint palette inspired by the inhabitants of Troll Village. True Value selected 8 of the main characters and developed a 3-color palette for each character. These colors can be found exclusively at local True Value hardware stores or on TrueValue.com.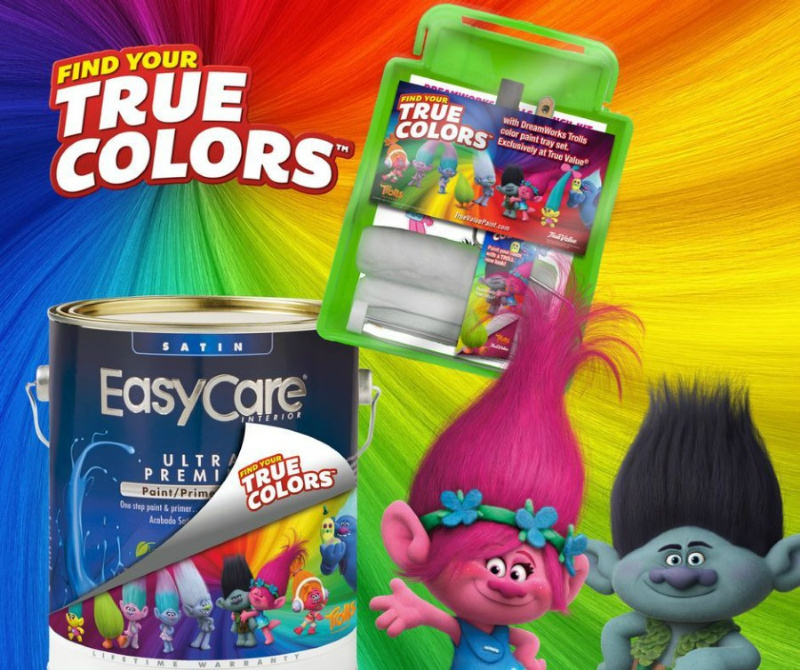 In addition to the paint, True Value developed a Trolls paint tray kit that has 5 custom Trolls character stencils, stencil brush, roller and roller cover to "Trollify" any room. All of the Trolls inspired paint colors and Trolls tray set can be found and purchased on TrueValue.com.
For more details and for project ideas on how to paint a room using the Trolls inspired paint colors and stenciling projects, click here.
Win Trolls Product From True Value
One (1) winner receives
One (1) $25 True Value gift card
Three (3) quarts of paint (one Trolls character's palette, character will vary)
One (1) Paint tray kit with character stencils
**UPDATE: THIS GIVEAWAY HAS ENDED
About DreamWorks animated movie Trolls:
From the creators of Shrek comes DreamWorks Animation's Trolls, a smart, funny and irreverent comedy about the search for happiness, and just how far some will go to get it. This hilarious film transports audiences to a colorful, wondrous world populated by the overly optimistic Trolls, who have a constant dance in their step and a song on their lips, and the comically pessimistic Bergens, who are only happy when they have trolls in their stomachs.
After the Bergens invade Troll Village, Poppy (Kendrick), the happiest Troll ever born, and the overly-cautious curmudgeonly Branch (Timberlake) set off on a journey to rescue her friends. Together, this mismatched duo embarks on a rescue mission full of adventure and mishaps – trying to tolerate each other long enough to get the job done.
Utilizing music to further the film's narrative, the Trolls soundtrack is produced by Justin Timberlake and features five original songs including songs by Justin Timberlake, Ariana Grande, Anna Kendrick and Gwen Stefani, in addition to a number of classic hits from the '60s through the '80s.
Starring: Anna Kendrick, Justin Timberlake, Christopher Mintz-Plasse, Russell Brand, Zooey Deschanel, Jeffrey Tambor, Christine Baranski, James Corden, Kunal Nayyar, Ron Funches, Icona Pop, Quvenzhané Wallis, with John Cleese and Gwen Stefani
Directed By: Mike Mitchell; Co-Director: Walt Dohrn
Produced By: Gina Shay
Keep up-to-date with all things Trolls with the links below:
Official Site | Facebook | Twitter | Instagram
Watch the trailer below.
Save
Save
Save
Save