Baby, it's cold outside! Warm-up with the perfect family movie night at home with these tips including movie suggestions, snacks, and hot chocolate.
Disclosure: I received some really cool items from Oriental Trading to facilitate this post.
Winter is quickly approaching, and for some, snow is already falling.
I love nothing more in the cooler weather than to curl up on the couch in front of the fire surrounded by the people I love, drink hot chocolate, and watch a movie. But, give everyone a treat and kick up movie night a notch with these ideas.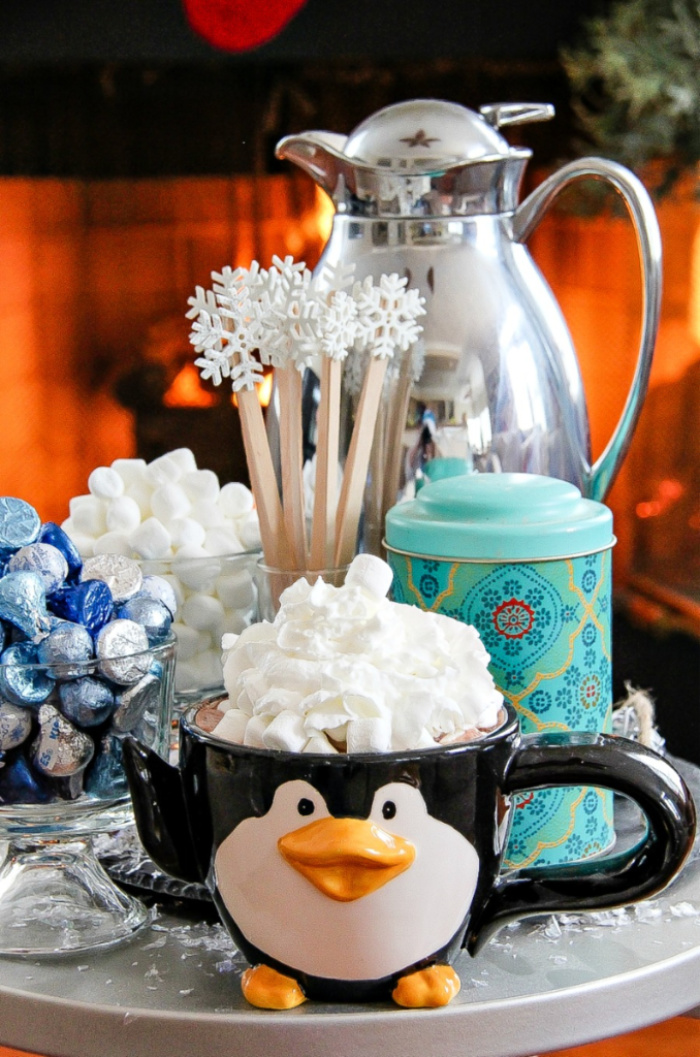 My winter hot chocolate recipe is pretty simple.
I heat 50/50 2% reduced fat milk with half & half on the stove (enough per cup), stirring so that a skin doesn't form on top.
Tip: if you have oversized mugs (like we do), fill it with water, and then pour it into a measuring jug to determine how much milk and half & half you need to heat.
In a mug I add a couple of tablespoons of hot cocoa mix (or strawberry Nesquick for my daughter who doesn't like milk chocolate), with 2 teaspoons of sugar, and then pour the warm milk over the top.
I then top with mini marshmallows and whipped cream.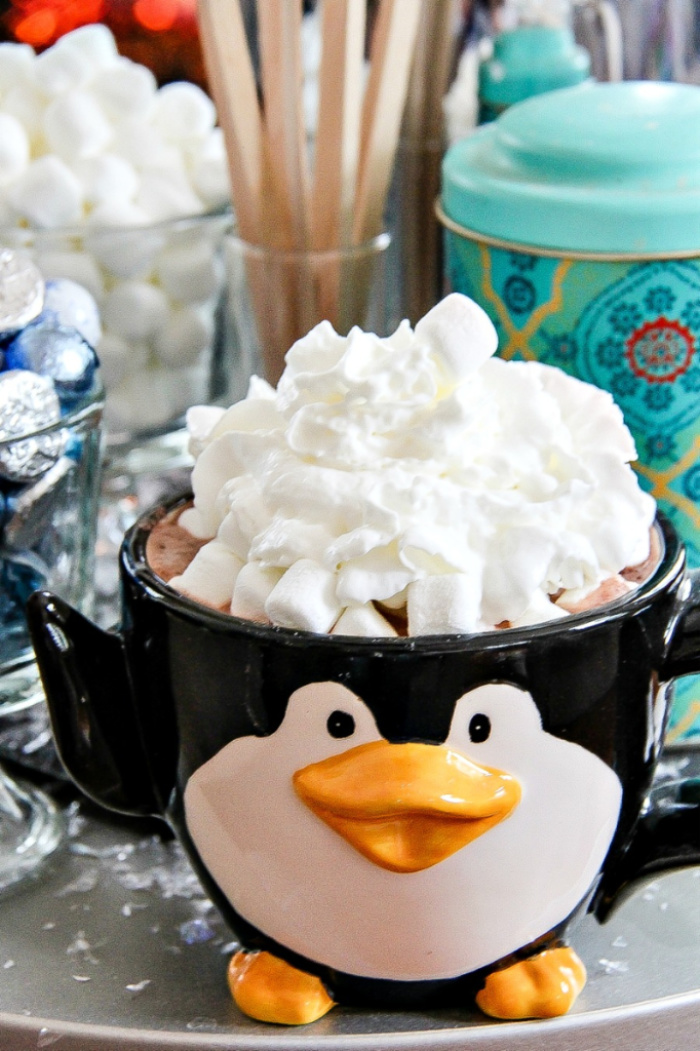 Aren't these ceramic penguin mugs from Oriental Trading just darling? And perfect to fill with hot chocolate for a winter movie night.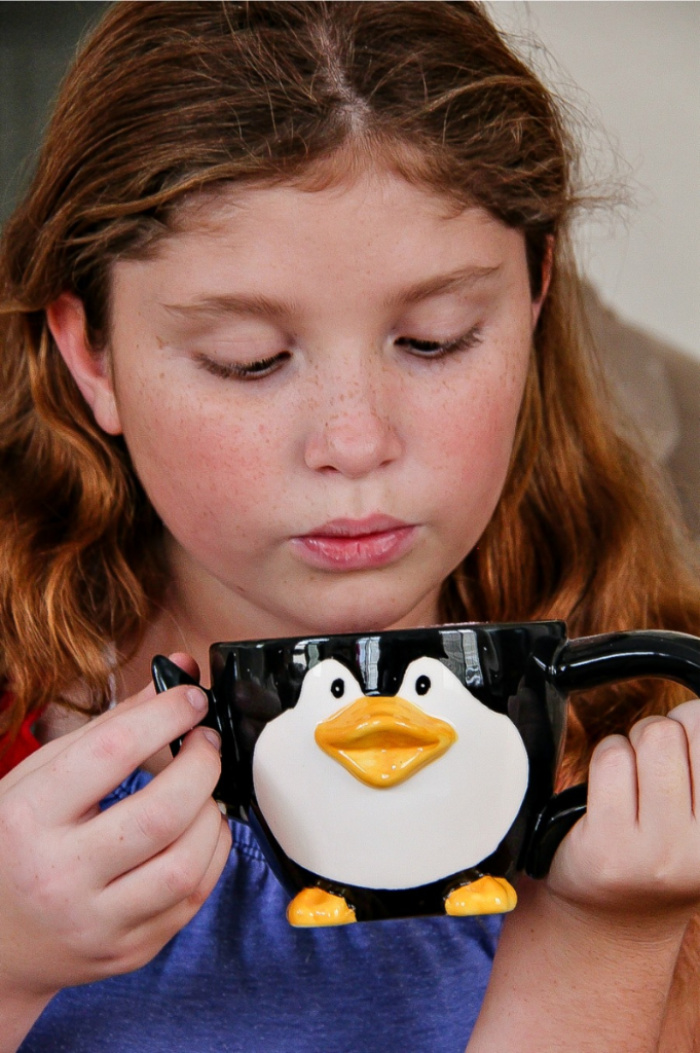 As you can see they are quite large, but that didn't stop a certain little girl from asking for a second pink 'hot chocolate'.
Don't forget to put out some festive wooden stirrers (which are just wood stirrers with wood snow flakes glued to the top of each), extra marshmallows, and fill a jug with hot chocolate for anyone who wants refills.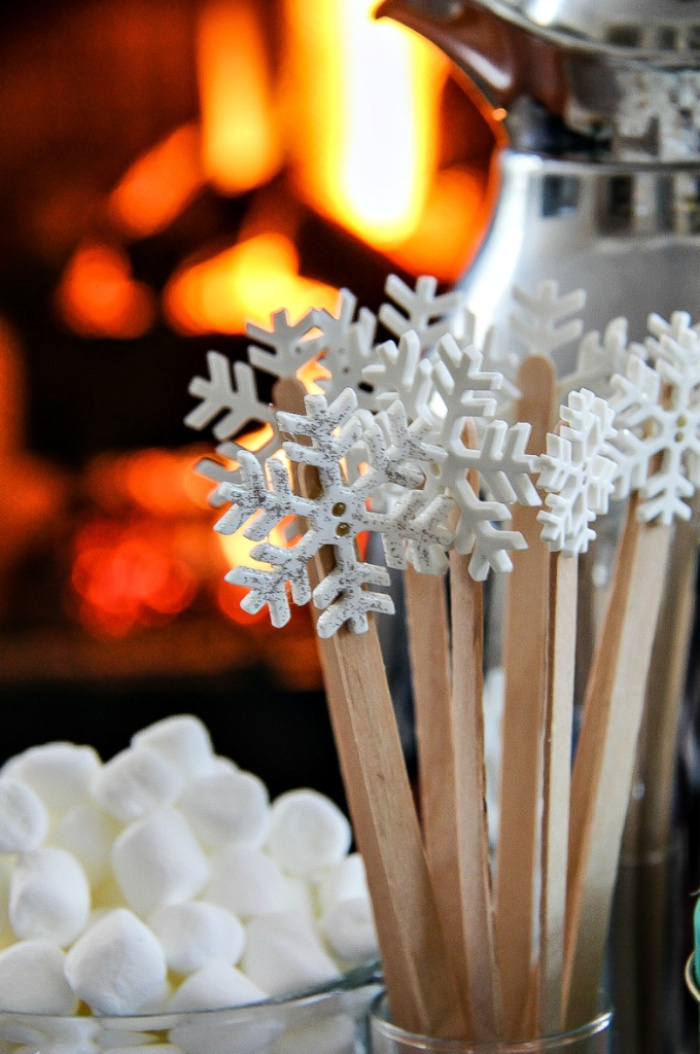 And never forget snacks. Whether it's popcorn, or Hershey's kisses in blue and silver, and a Winter Candy Mix, which contains milk chocolate, white chocolate, and cookies and cream chocolate balls.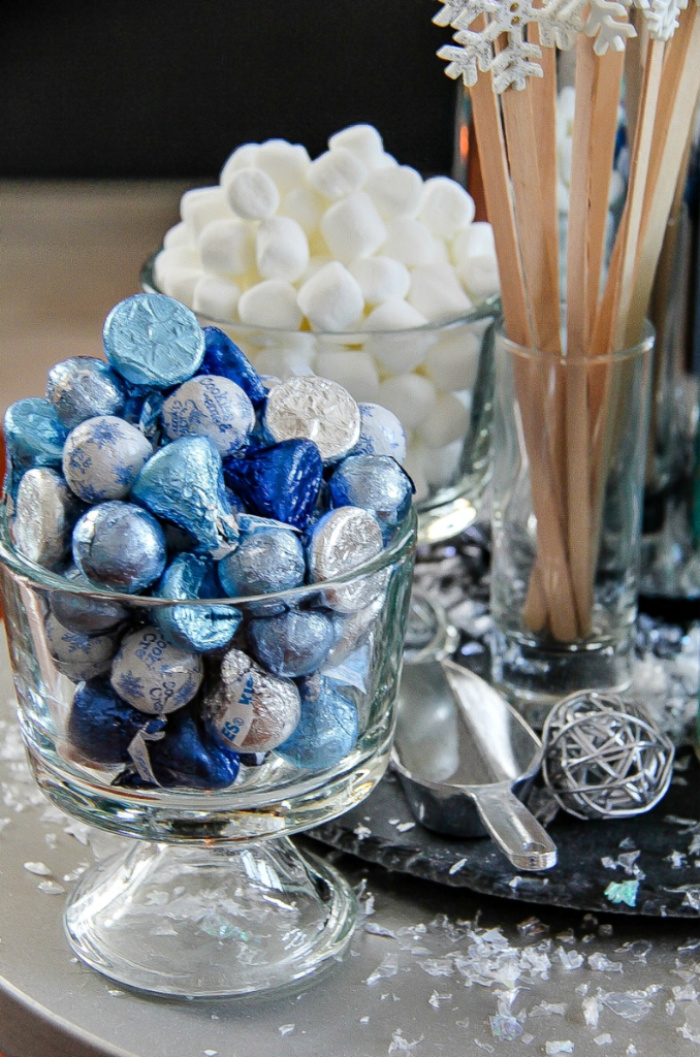 Winter Movie Night Treats
Here a few tastier winter themed movie treat ideas that are all available from Oriental Trading:
Frosted Snowman Face Lollipops
Frosted Polar Bear Lollipops
Winter Candy Bar Buffet Assortment
Large Shimmer White Gumballs
White Rock Candy Lollipops
White Peppermint Candy Canes
Icicle Twisted Lollipops
Serve Popcorn in these Mini Penguin Party Popcorn Boxes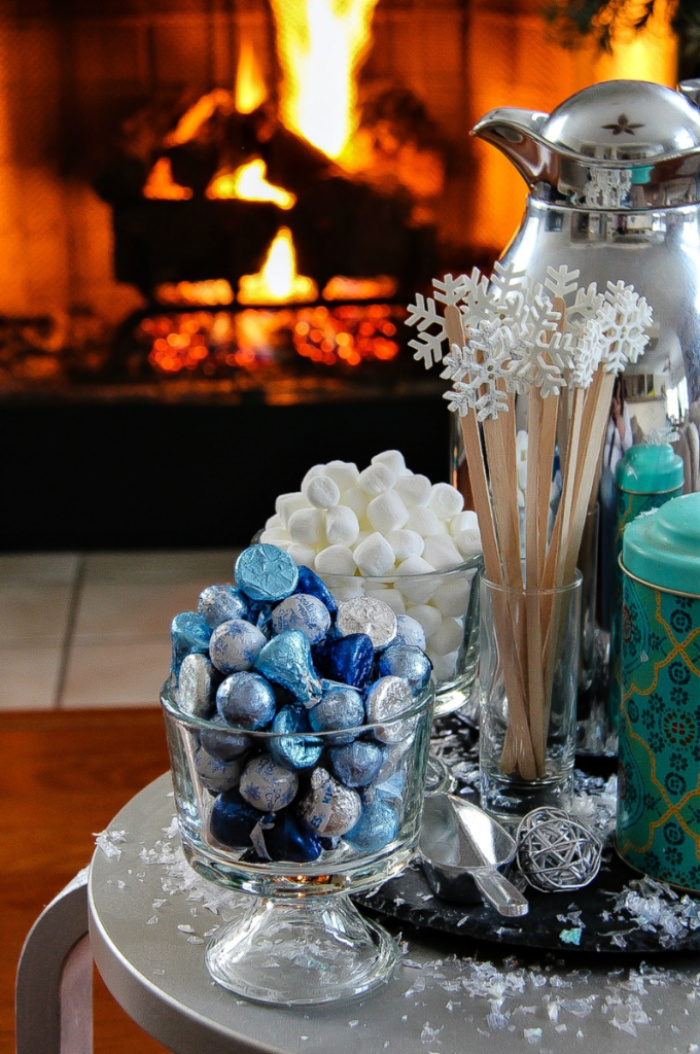 Winter Movie Night Ideas
Here are some more great ideas for your movie night, that are again available at Oriental Trading:
Take fun photos using these Winter Sparkle Photo Stick Propers
Have a snowball fight with these Plush Funny Face Snowballs
Make your own Fleece Winter Tied Pillow or Blanket for curling up for movie night
Have a Polar Bear Race
Snuggle up with these Plush Assorted Arctic Animals
Turn the lights off and wave your Snowflake Glow Wands
Ready, set, fire, with a Marshmallow Blow Blaster fight
And of course, I absolutely love winter stocking cap, so fun, and perfect for keeping your head warm.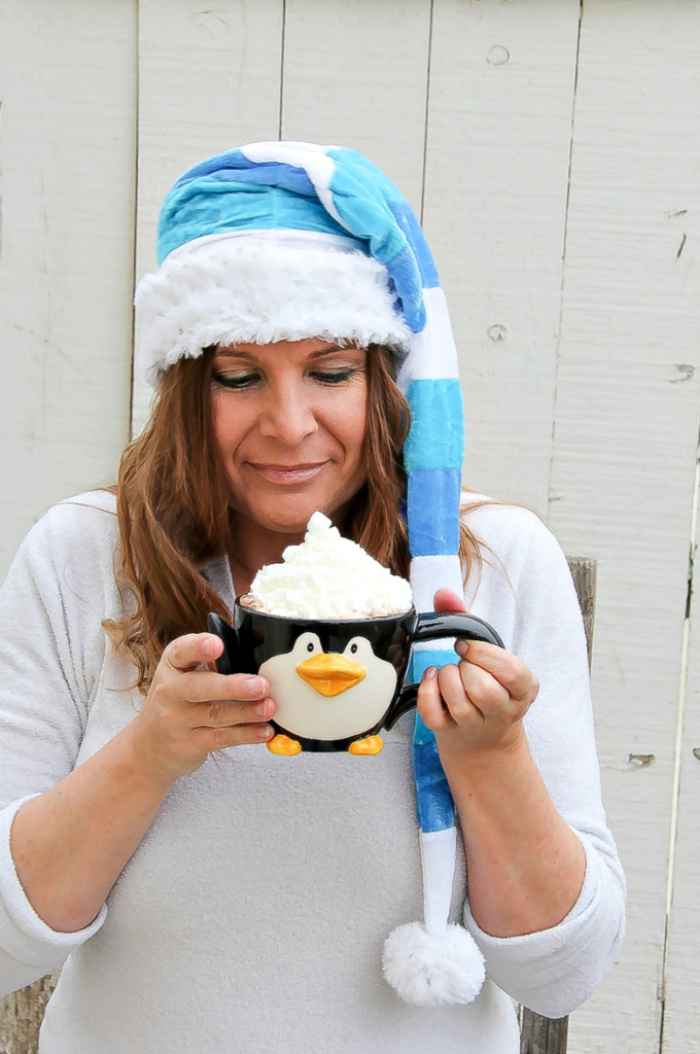 Winter Movie Night Movies To Watch
And if you are looking for a few ideas on what to watch for your winter movie night, these family-friendly movies are currently available on Netflix.
The Legend of Frosty The Snowman
Ever After High Epic Winter
Penguins: Spy In The Huddle
Penguins of Madagascar The Movie
Frozen Planet an Epic Journey
Polar Bear: Spy On The Ice
You'll find even more great ideas for your Winter movie night or party by searching 'winter' at OrientalTrading.com
Pin this post for later: