These matcha banana coconut muffins topped with toasted sweetened coconut are the perfect snack.
I had such a craving for cake today. CRAVING! You know the kind, that no matter how much you devour you still want what you want and nothing else is going to suffice. Going to the store though meant putting on pants and I needed a day at home, so I foraged in the pantry and realized I had everything I needed to make some yummy baked goods at home … it's just a shame I'd already eaten all of those chocolate chips right from the bag last week.
Flynn is the only one who eats bananas here and seeing as he is at his dad's house, and the rest of us only eat them in baked goods or smoothies I decided to use the last two before they had to be thrown away.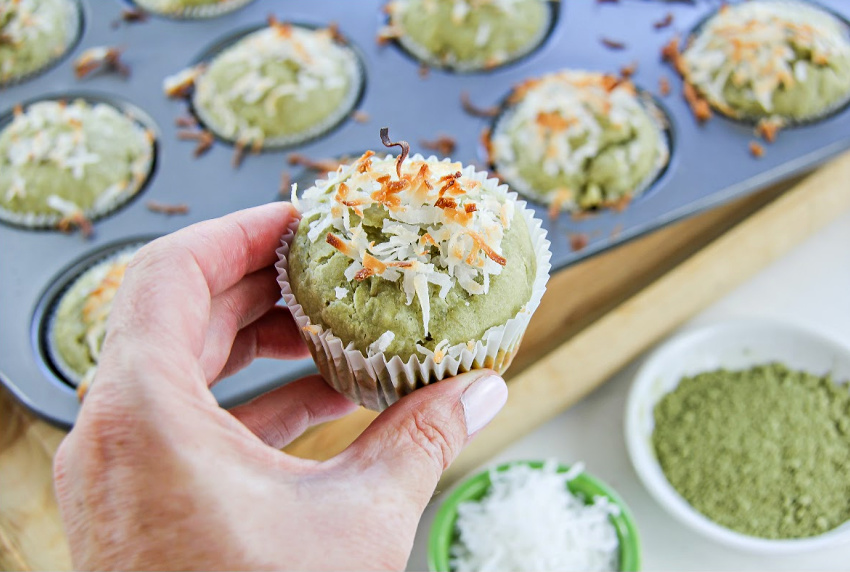 This recipe was just kind of thrown together with what I had on hand so I'm looking forward to trying it again with white chocolate chips, and maybe coconut milk instead of the reduced-fat milk. And yes, I know it's not cake, but as long as I was getting baked goods I figured I could trick my brain … it took eating four muffins to do that, but that toasted sweetened coconut was what did the trick.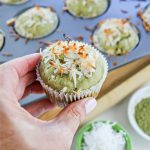 Ingredients
2 cups all-purpose flour
1/2 cup granulated sugar
1 tbsp matcha powder
2 tsp baking powder
pinch salt
1 egg
1 cup reduced-fat milk
2 ripe bananas (the riper the better), mashed
1/4 cup coconut oil, melted
1 tsp vanilla extract
1/4 cup sweetened coconut flakes
Instructions
Preheat the oven to 375F.
Line a muffin pan with non-stick cupcake liners.
In a large bowl, whisk together the dry ingredients - flour, baking powder, matcha, salt, and sugar.
In a second bowl, blend the banana, coconut oil, vanilla extract, egg, and milk.
Make a well in the center of the dry ingredients and add the wet ingredients to it.
Mix with a wooden spoon.
Spoon the ingredients into the muffin tins, and then sprinkled sweetened coconut flakes on top.
Bake in the oven for approximately 20 minutes.
Pop a toothpick in the center of one of the middle muffins.
If the toothpick comes out clean they are done, if not, pop them back in for another couple of minutes.
Set aside to cool.
Enjoy!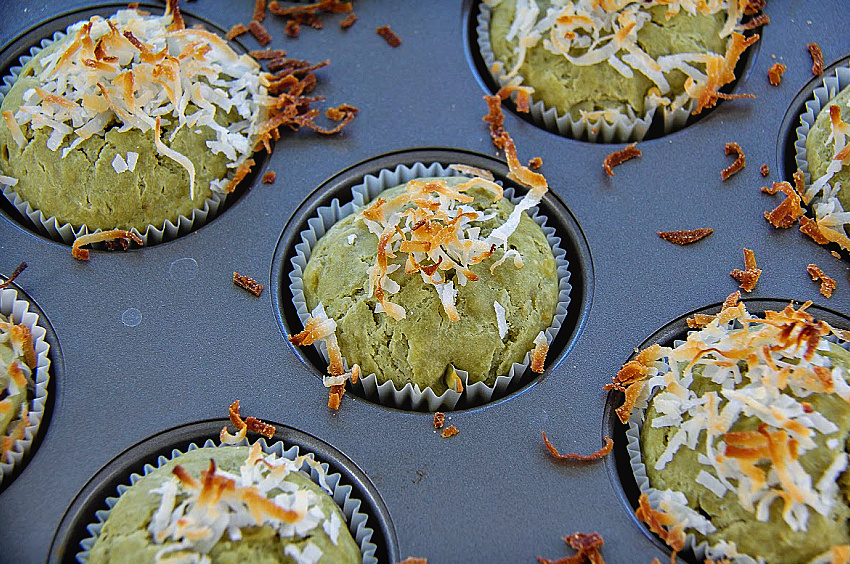 Please pin this post for later: