Personalized pencils and a pouch for dad to store them in are an easy Father's Day gift idea that even the littlest hands can help make.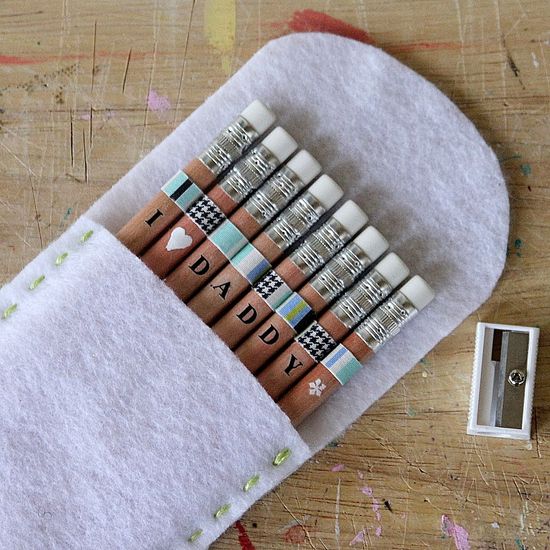 Materials needed:
Plain lead pencils
Textured tape
Alphabet rub-ons
Scissors
Popsicle stick
Felt
Embroidery thread and needle
To make:
Wrap the textured tape around the end of each pencil to add a little color.  Cut the end allowing a little overlap.
Next, using the popsicle stick, very carefully rub over the top of the rub-on letters.  There are lots of possibilities here.  You can send a message to dad, or have each of the children's names on each pencil, or rub small images of things dad loves onto each pencil.
To make the pouch, lay each pencil side by side on a piece of felt that has been doubled over.  Allow an extra 6-7mm  on each side and the bottom, as well as an extra 3-4cm for the length of the back piece only.  Cut your felt.  This is where mom needs to help, using the embroidery thread and needle sew the sides and bottom of the pencil pouch together.  Using the scissors round out or cut a triangle into the long back piece so that it can be tucked neatly inside the pouch to keep the pencils secure.  Or you can add a button, press stud or velcro so that the long piece secures on the outside of the pouch.
AS SEEN ON:
Spearmint Baby … LeapFrog Community … The Crafty Crow … Nickelodeon Parents Connect