These handmade oilcloth popsicle holders are the perfect addition to your summer fun, they also make a great end of school gift for the classroom.
I totally forgot to show you these fun oilcloth popsicle holders I made for the kids in Marisol and Flynn's classroom at the end of the school year.
I had seen felt ones online before, but the thought of having wet, sticky felt that needs to be washed from drips and sticky fingers sent me searching for an alternative fabric that could be wiped clean or rinsed out in the sink. Then I remembered that I had some oilcloth scraps in my craft room and they were the perfect color to matchboxes of Jolly Rancher popsicles that I picked up at Dollar Tree.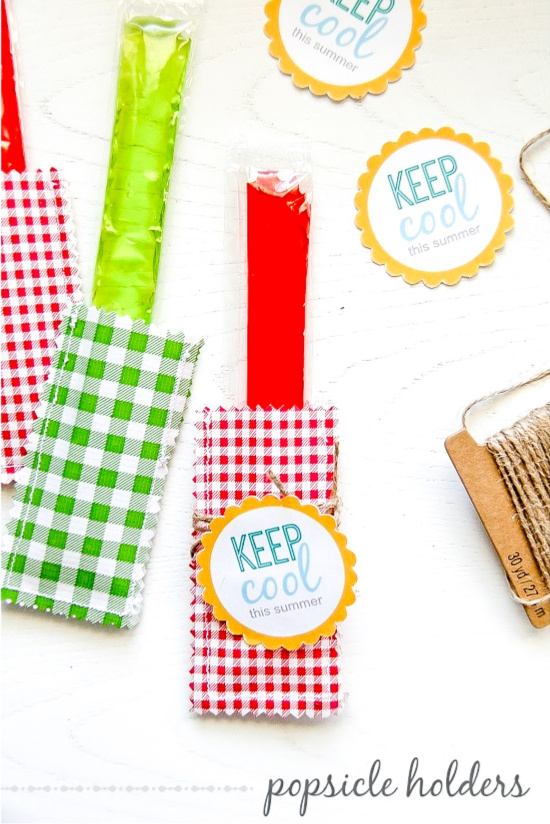 These oilcloth popsicle holders are perfect for keeping little fingers from getting cold and sticky when holding these tube popsicle this summer.
What you need
These are really easy to sew but here are a few things to note:
oilcloth sticks to the sewing machine
don't sew inside out because they are long and narrow and make it too difficult to turn inside out.
Instructions
Measure to the halfway point of your popsicle. Allow a seam of close to a centimeter on either side – a 5mm gap for sewing, plus an extra 5mm to account for the popsicles not being completely flat.
Cut out two pieces of oilcloth and sew the bottom and side seams and then (if you like) use patterned craft scissors to make a pretty edge.
As you can see from the top image I whipped up a few gift tags in PicMonkey too. The kids are going to give these to their friends at school. If you would like to print them out, just click on the image below to open up the PDF.
I hope you are having a wonderful summer.
Please pin this post for later: