These Halloween activities including crafts, movie nights, games, and more are fun for the whole family this year.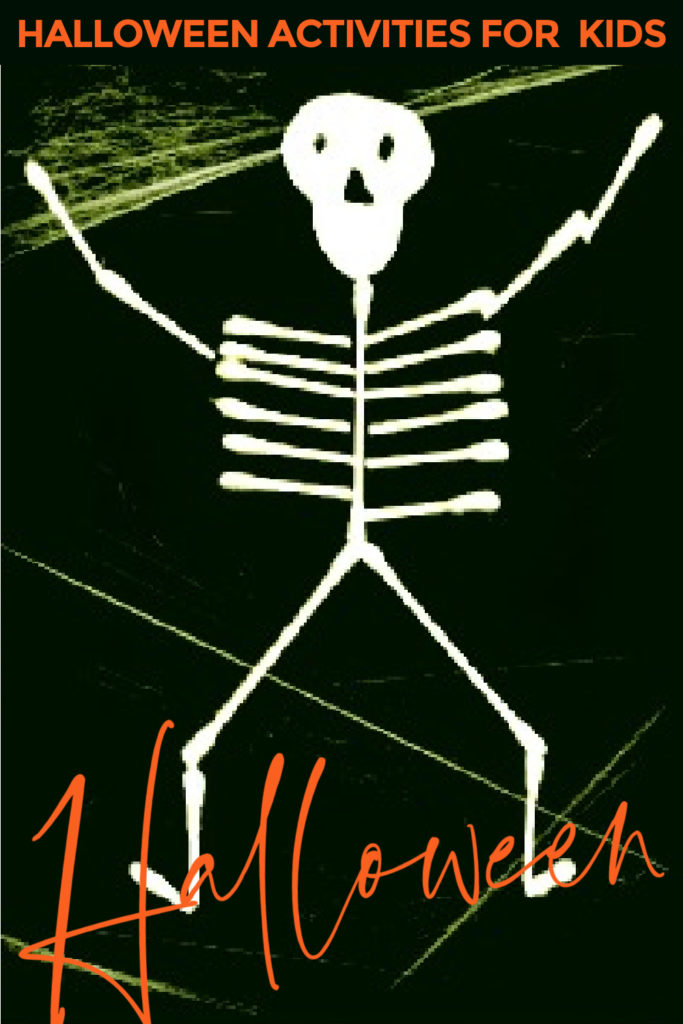 This post was originally created for the website Rusty and Rosy, however, that is now offline so I have moved my content over here.
Halloween activities
Cotton swab skeletons
What you need: colored and white paper or card, cotton swabs, and school glue.
To make: Put a little school glue on a paper plate. Cut cotton swabs into three sizes. Have kids dip the cotton swabs into the school glue and begin assembling the skeleton onto the colored paper starting with the rib cage. Have your kids experiment with moving the legs into different positions to show them walking, dancing, karate-kicking, and kneeling before gluing them down. Make a whole family of cotton swab skeletons and have a race to see who can make theirs first.
Frankenstein balloons
What you need: green balloons, a black sharpie (you can also use black paper and glue).
To make: Blow up your green balloon and tie a knot in the end. Carefully draw Frankenstein hair, scars, and facial features onto the balloon, don't press too hard though or your balloon will pop. Alternatively, cut out the features using black paper and glue them onto your balloon.
Halloween bowling activity
What you need: empty bottles or tin cans, paint, ball or pumpkin
To make: Spray the bottles or tin cans with paint then add facial features for Jack O'lanterns, monsters, ghosts, vampires, skeletons, and Frankenstein.
Take a look at these Halloween tin cans that we've made previously.
Halloween movie night
What you need: Halloween movie, snacks, drinks, blankets, pajamas, and candles.
To make: Freeze toy spiders in ice cubes to place in beverages – use a straw to drink the beverage to avoid swallowing the spider once the ice melts. Make trail mix including popcorn, Reece's Pieces, jumbo Halloween sprinkles (such as skulls or spiders), and pretzels. Bring out a couple of movie options that are kid-friendly and age-appropriate. Turn off the lights, snuggle under blankets and enjoy the movie with snacks and fun drinks.
Here are a few ideas to get you started:
Backyard camping on Halloween
What you need: Tent, sleeping bags, flashlights, pj's, snacks, and drinks.
To make: Pitch a tent in the backyard, turn on the flashlights, and take turns telling spooky stories while enjoying creepy treats and fun Halloween drinks. If you have an outdoor projector and screen set that up too for an outdoor movie night.
Boo! The neighbors
What you need: A small trick or treat bucket, assorted Halloween treats and toys, and a 'You've Been Boo'ed' sign.
To make: Fill the bucket with the treats and toys. Print out a piece of paper letting your neighbor know that they've been boo'ed. Don't forget to leave instructions to "boo" 3 other houses. You will also need to give them a piece of paper to hang on their front door saying that they have been "boo'ed," that way the boo'ing can continue around the neighborhood without the same house being hit more than once.
Here is a You've Been Boo'ed idea to get you started.
Halloween rock painting
What you need: Rocks from your garden and outdoor paint.
To make: Paint the rocks and add fun facial features to look like ghosts, pumpkins, Frankenstein, vampires, and monsters.
Here are some really cute Halloween rocks we've previously painted to give you some ideas.
Halloween candy game
What you need: Halloween candy including Twizzlers
To make: Use Twizzlers to create a tic-tac-toe game. Find about 5 matching candies per player, such as Hershey's kisses or Jolly Rancher's to use as playing pieces. Then play tic-tac-toe with your candy!
Egg carton spiders
What you need: Egg carton, pipe-cleaners, black paint, googly eyes, and glue.
To make: Cut out an egg cup from the egg carton, turn it upside down and paint it black. Set aside to dry. Once dry attach googly eyes and pipe-cleaner legs with glue.
Mummy game
What you need: Toilet paper and at least 4 players
To play: Put 2 players on each team, one to be wrapped like a mummy, and one to do the wrapping.  Compete against your opponent to see who can wrap their team member as a mummy using the toilet paper in the quickest time.