This handmade Halloween tin can toss game for kids will not only provide lots of fun in the making, but also in playing. Grab a ball or bean bag for a fun game of knocking down the tins or bowling.
I'm so happy to announce that I've joined the blogging team at Kidzui.  I will be regularly providing  craft activities that parents can do with their children (or that children can do on their own).  Subscribe to the Kidzui blog and stay up-to-date with all the fun things they have going on over there.  And if you aren't using the Kidzui Internet Browser when your kids are on-line, check it out and download it because our kids really don't need to be accidentally stumbling onto a site that they should not be seeing.  And, it's FREE!
My first post How to Make a Fun Halloween Activity for Kids went live today and I would love it if you could swing by and say hello and use the tutorial to make this fun activity with your kids this Halloween.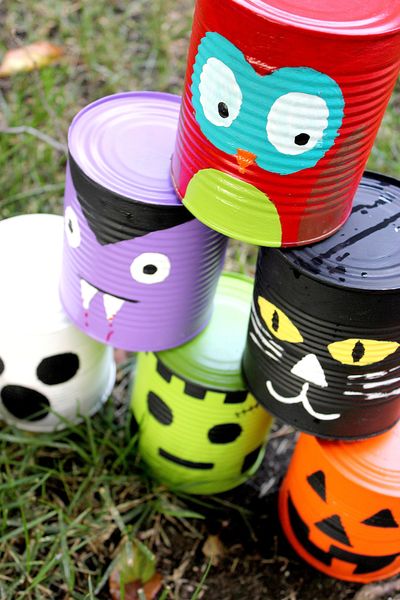 These are very simple, and fun to make.
What you need:
tin cans
spray paint
acrylic paint and a brush
ball
You will need to apply a few coats of the base color before starting the face design on each tin can. Apply a lacquer over the top to help protect the paint from chipping, because these will get knocked around a bit when throwing a bean bag or ball at them.
Have fun!
UPDATE: This craft project was initially created for a website by the name of Kidzui, however that website no longer exists.
Save