This turkey juice box craft is the perfect addition to your Thanksgiving activities this fall, plus kids can help make them too.
I love to make themed treats for movie nights, storytime, and parties.
How adorable are these turkey-themed juice boxes? They are absolutely perfect for storytime with the kids throughout fall. You can also put them on the kids' table at Thanksgiving.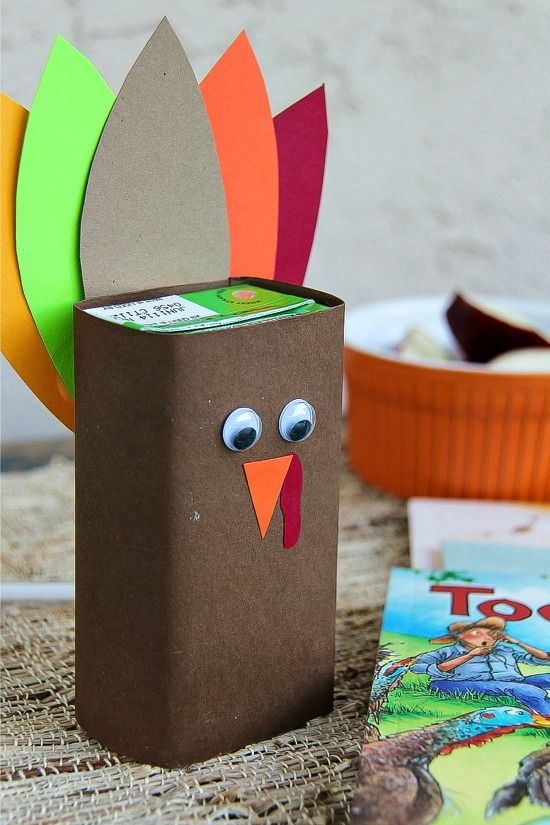 Note: This project was initially created by me for the website Rusty and Rosy, however, that website has been taken offline. I've moved all of my projects over to my own blog.
Turkey juice box craft
Supplies
Your favorite juice box
Paper – in assorted colors
Googly eyes
Glue
Scissors
Instructions
Measure the height and around the juice box. Cut brown paper to make the body of the turkey first, making sure there's enough to cross over at the back and glue into place.
Next, cut out the feathers (you can shape these just like leaves) and glue those into place on the back of the juice box. Next, cut out the beak and wattle and glue those into place too along with the googly eyes. 
Don't forget to serve fun turkey-themed snacks with your turkey juice box.
More turkey crafts
Are you looking for more fun turkey crafts for the kids to make this fall? You need to take a look at these:
Please pin this post for later: