Are you looking for disguise a turkey ideas for your kids? Try our pirate and peacock disguises. Kids will love making them for Thanksgiving.
The kids are given a homework packet each week at school which normally contains math, English, and computer assignments. This week though they also brought home their very first project, to disguise a turkey!
Tom Turkey doesn't want to be eaten for Thanksgiving dinner, so the kids were given the assignment to create a disguise for him. They were provided with a brown piece of paper with a picture of Tom Turkey to be cut out and disguised, then mounted on a blue piece of paper once finished.
Marisol, of course, wanted her turkey to be beautiful, and there had to be glitter. We went through quite a lot of turkey disguise ideas before she settled on a peacock.
Disguise a turkey ideas
Tom 'The Peacock' Turkey
Supplies
Glitter scrapbook paper
Glue stick
Glitter Glue
Crayons – gold, royal blue, and aqua
White paper
Pencil
Instructions
Place Tom on a sheet of glitter scrapbook paper and trace around him to make the basic body for the costume. Cut it out and glue it on.
Draw feathers in assorted sizes onto a sheet of white paper. Color the main section of the feathers with green crayons, then using the glitter glue add beautiful sparkly color to the tip of each feather. Set the feathers aside to dry (we left them overnight). Glue the feathers onto the back of Peacock Tom and then mount Tom onto a sheet of blue paper.
I think Flynn still had Halloween on his mind when he came up with his disguise for Tom. He spent a lot of Halloween dressed as a pirate, so of course, he wanted Tom to be dressed like one too.
Tom 'The Pirate' Turkey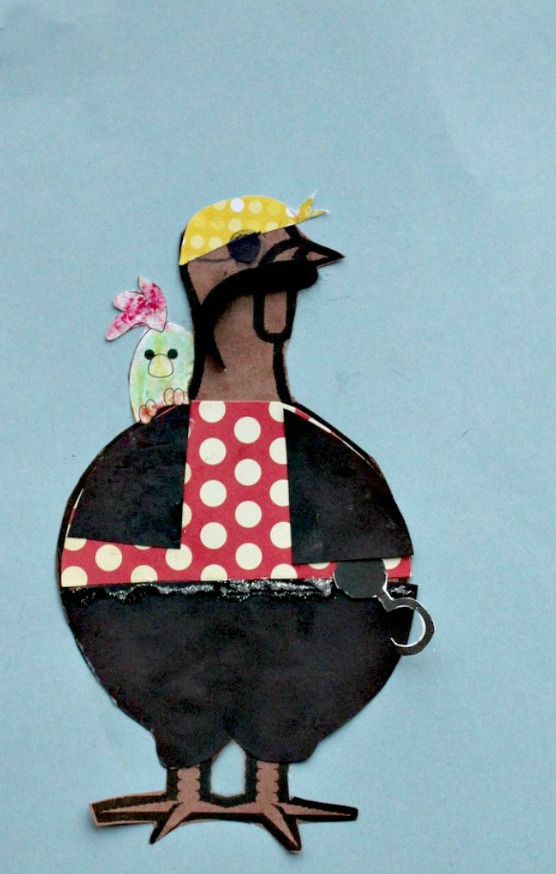 Supplies
Scrapbook paper and/or coloring pages
Glue stick
Crayons
Instructions
Cut out the turkey and place it on a piece of scrapbook paper. Trace around the edge to make the right size for the clothing. Cut it out and glue it all on.
I had a packet of mustaches in my scrapbook supplies so we cut one in half for Tom. Then we cut out a bird and hook from coloring pages which Flynn colored in and stuck onto Pirate Tom.
Please pin this project for later: