Make overnight guests feel welcome with these guest bedroom ideas. Use our tips to pull together a space they will feel at home in.
When we were looking to purchase a new home, one of the things that was a must-have was space for guests to stay overnight. With my family living overseas, Jay living in California, and Mike's son living out-of-state, plus grandkids sleeping over we needed space. The previous owners had used this room as an office, so it's a little small, but it works perfectly for guests.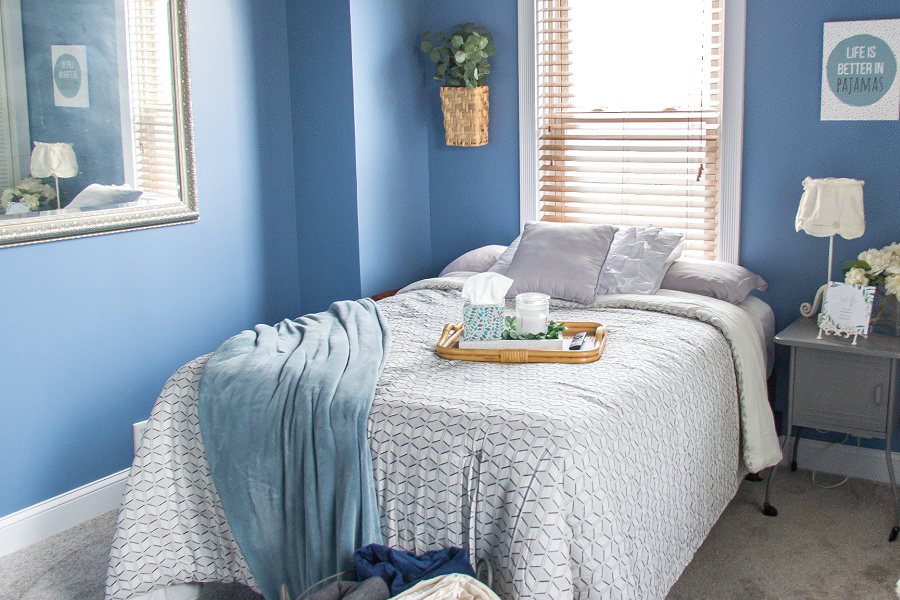 The wall color was already this beautiful shade of blue when we moved in, so it's one of the only rooms we won't be repainting.
We decided to use the wall, carpet, and trim color combinations when it came to decorating the room.
The blue walls make the room look more interesting, but the white trim and ceiling make it brighter so it appears larger. Tones like blue, green, and white make a room more peaceful and serene and apparently help reduce stress. These colors also make the room look brighter and therefore a little larger. Avoid a lot of stuff and very busy fabrics. A statement piece is okay, but by keeping it simple it will be more appealing to guests of different genders and ages.
Almost everything in this room we already had on hand, so we were able to decorate this space without spending a lot of money.
How to decorate a guest bedroom on a budget
We didn't have a lot of money to spend on decorating this room. What we could do though is get creative and pull what we could in from other spaces.
Bed and bedding
We already had a spare bed base and mattress but did have to purchase a box spring. We also had a lot of blankets that we had collected over the years so added a basket of those that matched the color scheme and then draped another over the end of the bed. We already had a basket in storage that we could use. I had previously posted about crocheting an edge on a basket liner. I pulled the liner out because we weren't using it anymore and popped the blankets inside.
One item that I did splurge on was a Nate Berkus comforter from Target. I wanted something with a very simple pattern that brought in some of the colors of the room.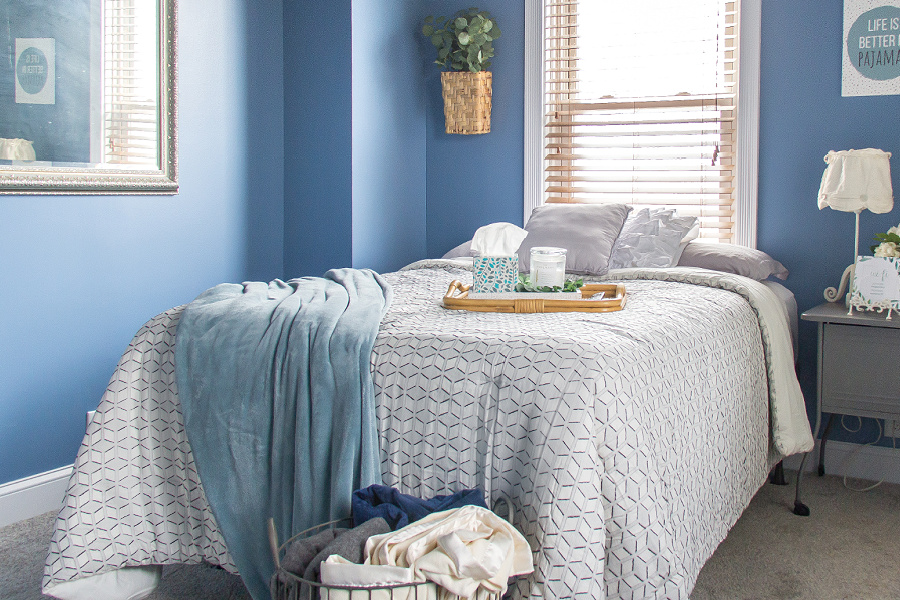 Guest bedroom update
Since publishing this post about our guest bedroom, we have knocked one thing off our to-do list and that is to build a headboard for the bed. There were two reasons we wanted to do this; firstly, to stop the pillows from feeling so cold during winter because they are right in front of the window, and secondly, so guests can sit up in bed and have something to lean against. This DIY wood headboard cost us under $30 to make and you can find my instructions to make your own at Make and Takes.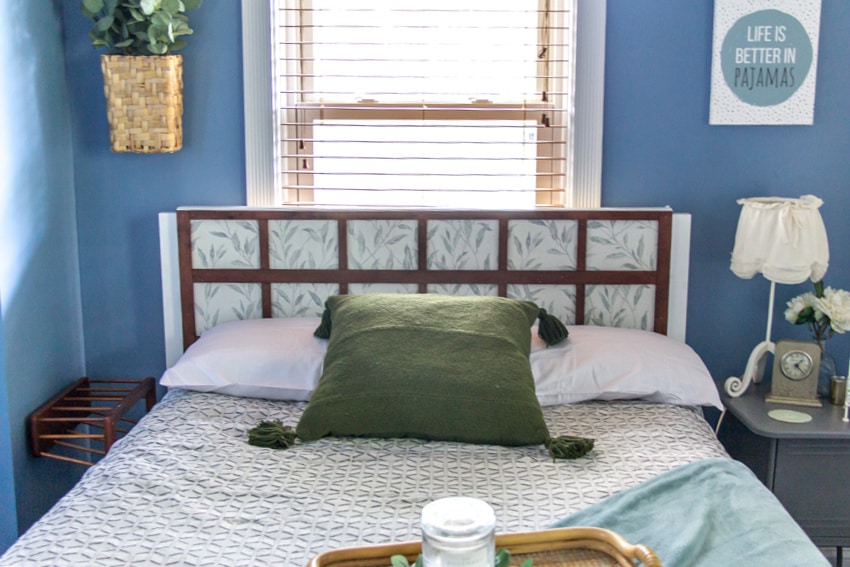 We used Marisol's old bedside table and updated it with a coat of grey paint. A can of spray paint costs very little compared to the cost of purchasing a new bedside table.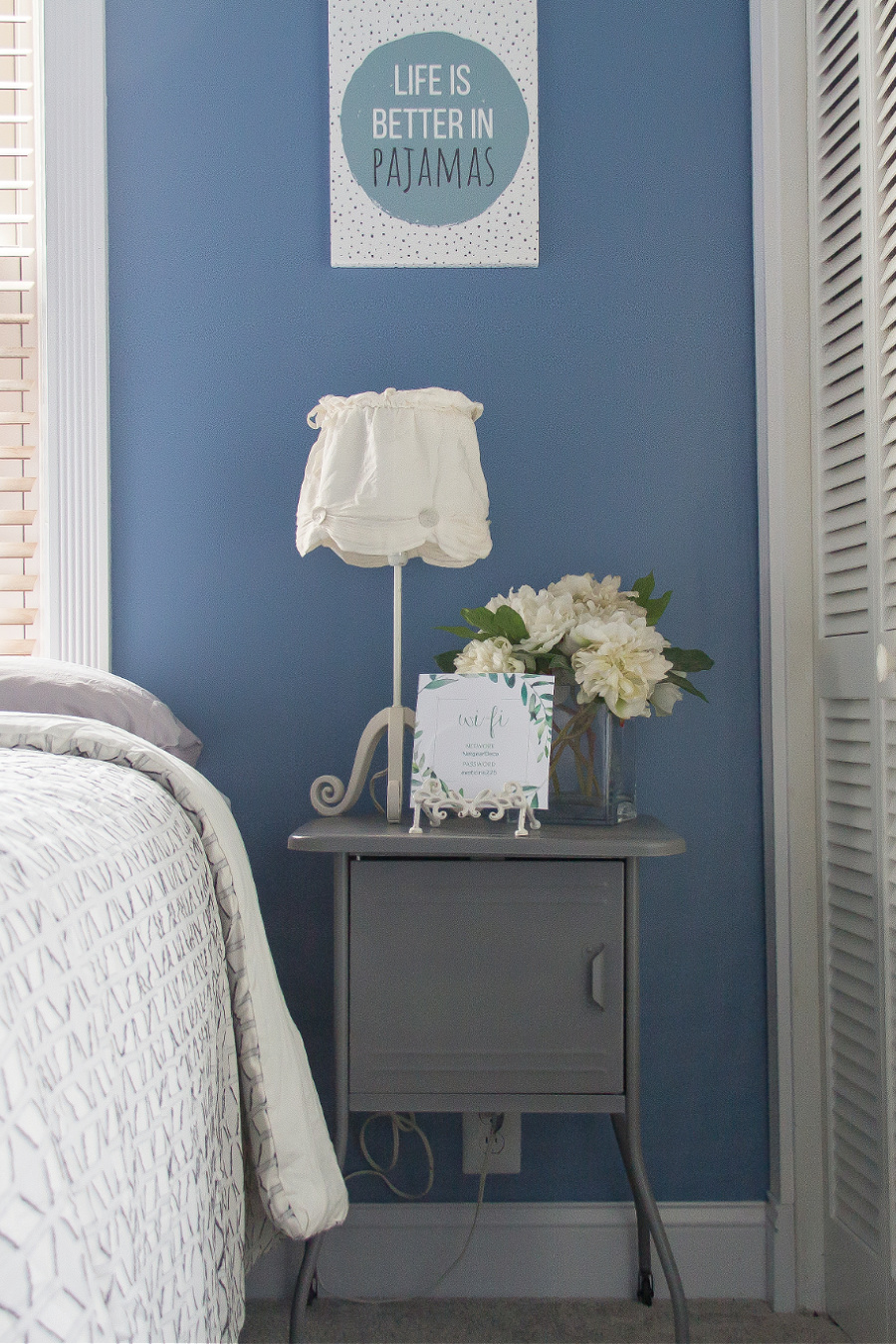 Decor
Use decor that you already have whenever possible.
We have a teenage girl, who at least once a year, decides she doesn't like her bedroom and switches out the colors, decor, and theme. From her bedroom alone we were able to use a bedside table, lamp, flowers, ruffle pillowcase, cushion, and the 'life is better in pajamas' wall print.
I also used other artwork on the walls and a mirror that had previously been in our bedroom and bathroom at our old house but didn't fit in those spaces in our new one.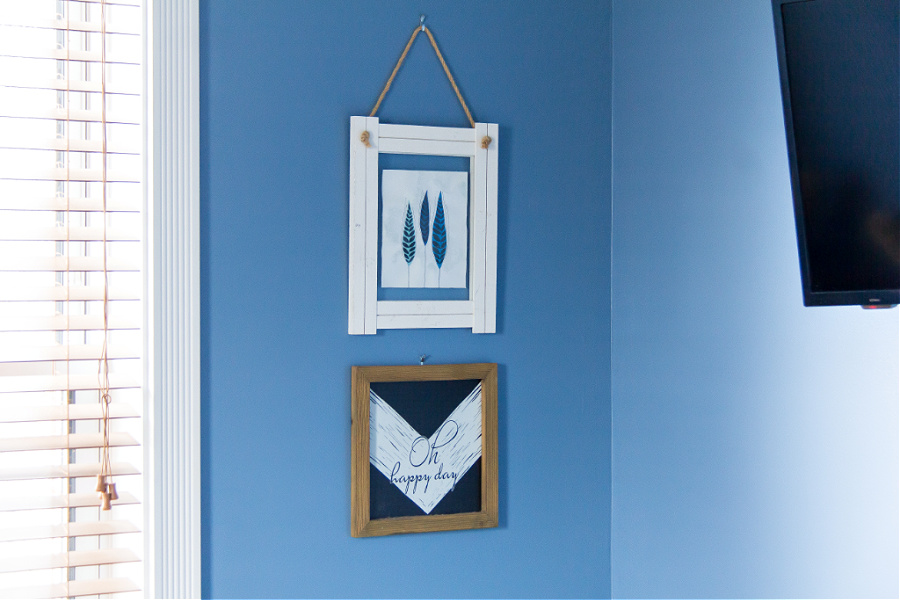 We did splurge on one wall item and that was the basket full of branches hanging to the left of the bed, which we found at Target.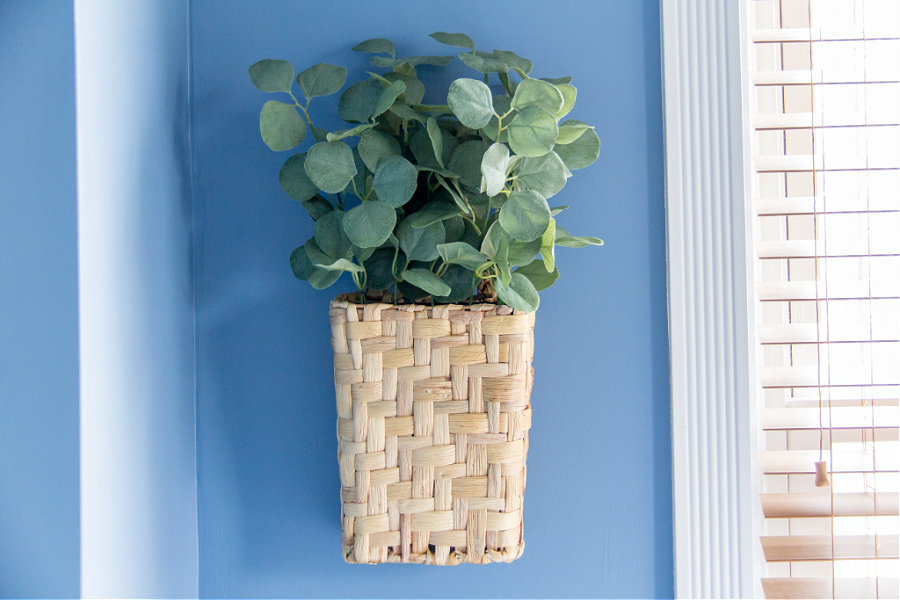 More ideas
Pull in pieces from other spaces, or check your garage or attic for furniture and decor you no longer use.
Paint is a great way to make an old piece look new and match the decor of the room.
Add greenery, whether it be plants or flowers. They make a room feel like home and bring a natural element into the space.
Don't forget candles in neutral scents. Nothing too floral or seasonal, but something calming and relaxing.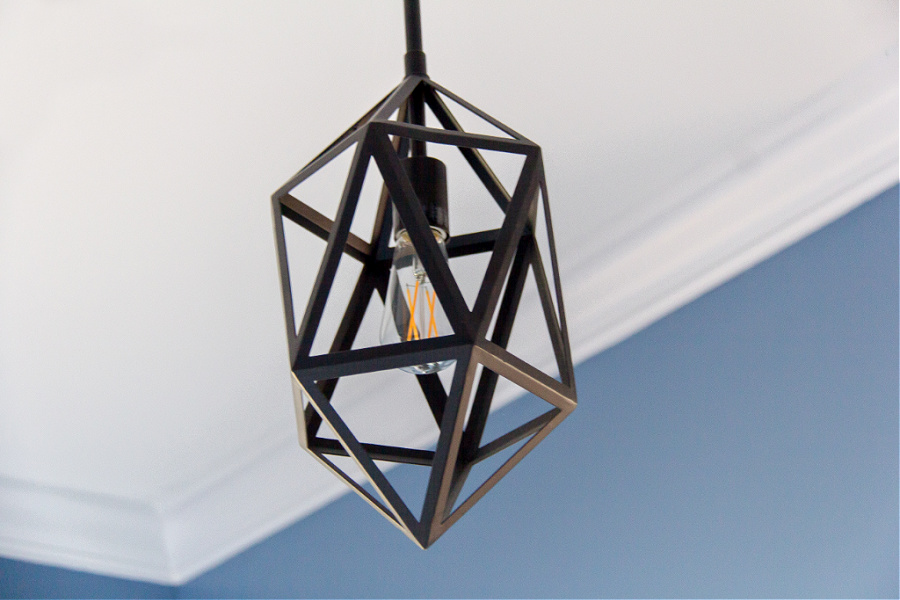 What do you put in a small guest bedroom?
Here are items you should have in your guest bedroom to make overnight visitors feel comfortable and at home. Keep it simple if you don't have a lot of space. There's nothing worse than clutter and not being able to move comfortably around the space.
Bedding
Obviously, the first thing you need is a bed and clean bedding. Don't forget extra pillows. How many times have you stayed at a hotel and the pillows are awful, or there aren't enough of them? Extra blankets won't hurt either. I always run cold at night and need an extra blanket.
Closet or dresser
Nobody wants to live out of a suitcase or overnight bag. You may not have a built-in closet and there may not be space for one, but a dresser is a must-have. Not only is there storage inside, but the top can be used for extra items. Plus, you can hang a television above it.
I picked up this dresser from a second-hand store that I frequent. There were a few marks on the top of it, so I set Mike to work sanding and painting the top and sides white. I think it gives it a little more personality, brightens it up, and ties it into the color scheme a little better. You don't need everything to match perfectly, but tying things together will make the room more appealing to the eye.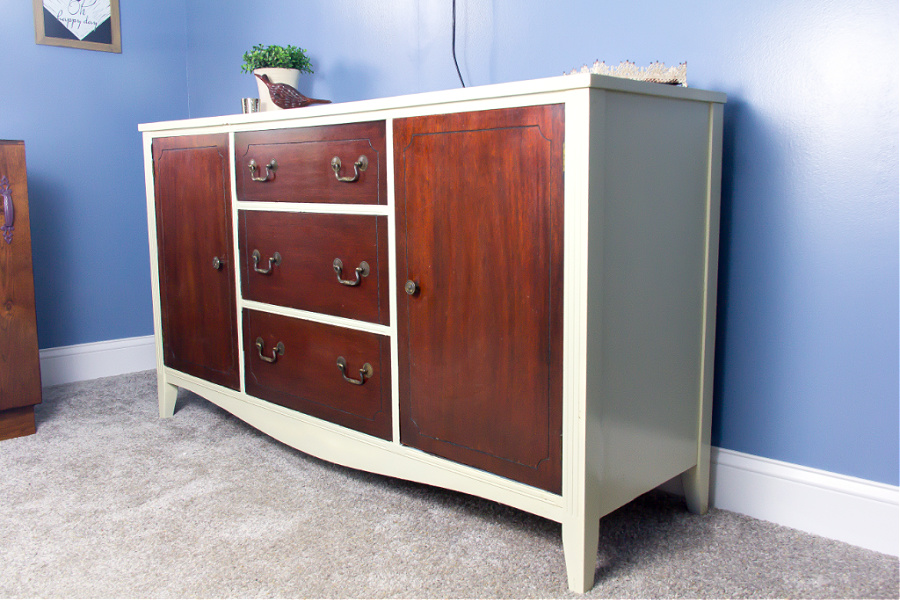 Above the dresser, we hung a smart television which we pre-programmed with Netflix, Amazon Prime, Disney+, and Hulu. I also added a small tray on top for loose change, keys, and wallets. Things that men tend to just throw onto the closest surface.
Additional items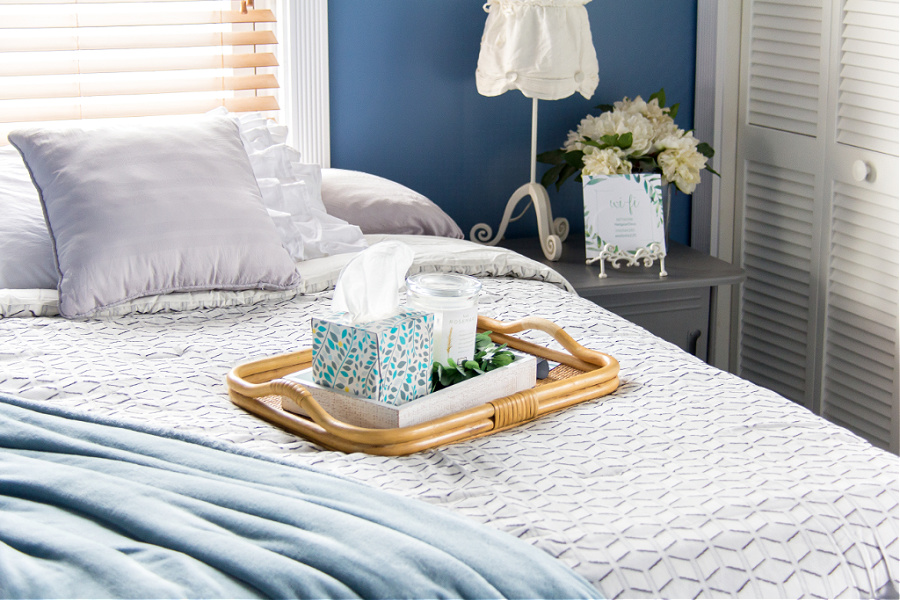 Here are a few additional items you should include:
Portable fan – if there isn't a ceiling fan. Some people like the air or white noise when they sleep.
Television – preferably a smart TV that you can program streaming services onto. Print a card with a list of streaming services available on the television in case they have a favorite series they are watching. Don't forget to set up a guest account so that your (and your kids') accounts aren't being used.
Bed tray tables – for laptops, card games, or breakfast-in-bed. We actually want to build a moving one that is the width of the bed and can be pulled up over the bed, or left at the end of the bed for extra storage. Our tray table works great for now though.
Lighting – reading lights are a must-have, as are candles for those who prefer the ambiance of candlelight in the evenings. Don't forget a lighter. Hang your reading lights on the wall or from a bedhead to save space.
Mirrors – for getting ready in the morning if the bathroom is occupied.
Hooks – for hanging purses or coats.
Tissues
Power outlets – check where the power outlets are and what they need to be used for. Think back to staying in a hotel and needing outlets to charge electronics. Put in a power board if you think they'll need extra outlets or if there aren't any on one side of the bed.
Wi-Fi password – print out a small card with the WI-Fi password on it.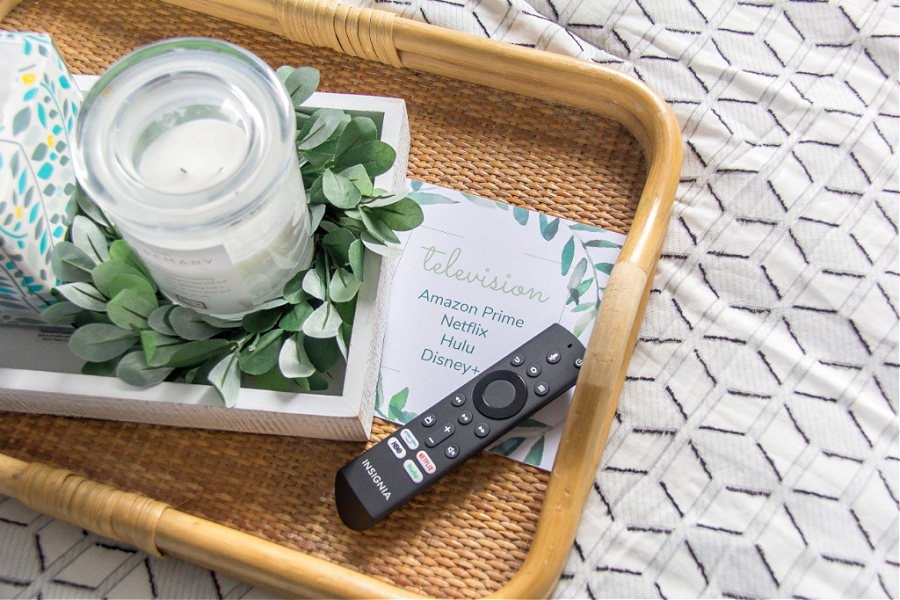 Tip: You can use services such as Canva or PicMonkey to make WI-FI and streaming services cards that you can change and re-print as things change.
What we still need to fix in our guest bedroom
Our guest bedroom is not quite finished yet, we still have a few more projects that need to be completed. I hope this list gives you a few more ideas when creating your own guest space.
Switch the blinds to white ones to brighten the room.
Add hooks to the wall for hanging coats and bags.
Hang or place a full-length mirror in the room.
Movable over-the-bed table for laptops, breakfast-in-bed, or extra storage.